It can take years for aspiring homeowners to save up enough money for a deposit. For instance, those who would want to snap up a Sydney home need to save for 8.2 years on average, in order to save the deposit required for a median-priced house, according to 2017 data from the Australian Bureau of Statistics.
However, despite rising house prices, Aussie first home buyers are still optimistic about breaking into the market. Enter the First Home Loan Deposit Scheme (FHLDS), which could help them get in the market and reach their dream of having their own house.
What is the First Home Loan Deposit Scheme?
FHLDS is an initiative by the Australian Government aiming to support eligible first homebuyers. It provides a guarantee allowing eligible first home buyers on low and middle incomes to buy a home with a deposit as little as 5% without paying for Lenders Mortgage Insurance. Ten thousand first home buyers are expected to be supported by the FHLDS annually.
According to the National Housing Finance and Investment Corporation (NHFIC), participating lenders in the scheme will not charge eligible borrowers higher interest rates.
However, you have to keep in mind that getting a mortgage with a lower deposit does mean paying interest on a larger sum, which will make it more expensive in the long-term.
Under the FHLDS, an eligible buyer could buy the following types of property:
An existing house, townhouse or apartment
A house and land package
Land together with a separate contract to build a home
An off-the-plan apartment or townhouse
An 'eligible building contract' where you have a contract with a licensed or registered builder to build your home within a set timeframe
There are price limits that apply to homes, which vary from state to state.
Eligibility
Some of the factors that determine your eligibility are the purchase price of the property and your income. Here are some factors that may determine who may qualify for the scheme:
Australian citizens who are at least 18 years old
Single with a taxable income of up to $125,000 annually, or couples with a taxable income of up to $200,000 per year. (Income is evaluated for the financial year preceding the one in which the loan is entered to)
Couples are only eligible for the scheme if they are married or in a de-facto relationship
Applicants must have a deposit of at least 5%—but no more than 20%—of the property's value
Loans under FHLDS require scheduled repayments of the principal and interest of the loan for the full period of the agreement (with limited exceptions for interest-only loans)
Applicants must intend to be owner-occupiers of the purchased property
Applicants must be first home buyers who have not previously owned or had an interest in a property in Australia either separately or jointly with someone else
Price thresholds
The scheme is only available for the purchase of a modest home or purchase of land and construction of a modest home. The following property price thresholds will apply in capital cities, regional centres, and regional areas: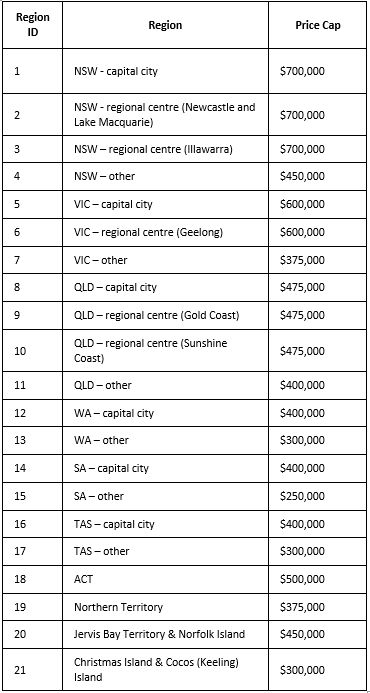 Note: The capital city price caps apply to large regional centres with population over 250,000, and are current as of February 2020.
Source: National Housing Finance and Investment Corporation
Participating lenders
The NHFIC has appointed 27 lenders on the panel of residential mortgage lenders to offer guarantees under the First Home Loan Deposit Scheme. These lenders are:
Offering the guaranteed loans from 1 January 2020:
Offering the guaranteed loans from 1 February 2020:
The process
Here are the steps when applying for the scheme:
Reserve a spot. Your chosen lender will assess if you are eligible for a spot on the scheme. If you are, they will reserve your spot.
Finalise your budget. You have 10 days to obtain a pre-approval for a mortgage to purchase your prospective home. The pre-approval will determine how much you can borrow
Purchase the house. You have 90 days to find, buy, and settle on a house. You also have to make sure that its price is below the value limit for its location.
Move in. You are then living in the house six months of settlement.
Risks to consider
While the scheme intends to help first home buyers to purchase a home with a smaller deposit, it is not without any risk. Some of the risks associated with taking out a mortgage with a small deposit include:
The borrower could be taking on more debt and may pay more in interest
Lower amount of home equity which could prove difficult when refinancing to a new loan
Limited loan options which mean you may miss out on more competitive rates available to borrowers
Before applying the scheme, consider your options. A professional such as a mortgage broker could help you find the best deals in the market. He or she may also give you financial guidance and assist you during the home buying process. Don't have a broker yet? Find one near you.