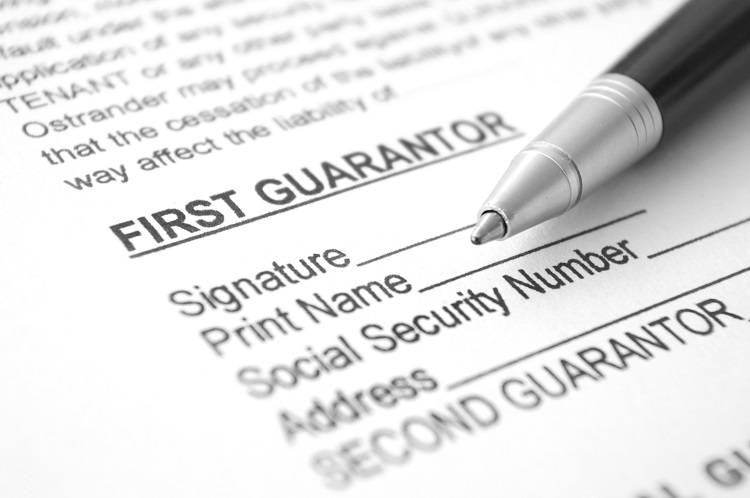 Are your savings not enough for a deposit? Does a lender doubt your ability to repay a loan? If so, you may need a guarantor loan to purchase a home.
Guarantors traditionally use their own property (or the equity in it) as security to guarantee either the entire loan or a portion of it. They assume responsibility for the loan in case the borrower can't make repayments, you can't make repayments, thereby lowering a borrower's risk in the eyes of a lender.
What are the types of guarantees?
Guarantor loans have become prevalent in recent times as they bring less of an upfront cost than a standard home loan, particularly when it comes to the deposit. These types of loan are structured in such a way that the loan is secured by both the property you are buying and the property owned by the guarantor. Here are the four most common types of guarantees:
1. Security guarantee
First time home buyers with an excellent credit history but have no deposit will often use this type of guarantee. The guarantor, called an "equity guarantor" by some lenders, uses real estate they own as additional security for the mortgage in question. If the guarantor has a loan on their property already, the bank can usually take a second mortgage as security.
2. Security and income guarantee
Guarantors of this guarantee are most often parents helping their child who is a student or who has insufficient income to buy a property. The lender will then use the parents' property as additional security and rely on the parents' income to prove that the loan is affordable.
3. Family guarantee
From the term itself, the guarantor here is directly related to the borrower. Parents, siblings, grandparents, spouses, and de facto partners are considered on a case by case basis.
4. Limited guarantee
Here, the guarantor only guarantees a part of the loan. Most often, this guarantee is used with security guarantors to reduce the potential liability secured on the guarantor's property. Guarantees can either be limited or unlimited, depending on both the guarantor's wants and the lender's requirements. If you use a limited guarantee, then you are reducing the guarantor's exposure to your mortgage.
Who can be a guarantor?
Lenders have different requirements for loan guarantors but, generally, guarantors should:
Have equity in their property and a stable income to satisfy lenders
Have a good personal credit rating
Be an Australian citizen or a permanent resident
Be above 18 but below 65 years old (as few lenders accept older people and retirees as guarantors)
How much can you borrow with a guarantor?
With a guarantor loan, you can borrow 100% of the property purchase price or even slightly above that. While a majority of lenders will only give out 100% of the property value even if there is a guarantee, some will gladly offer slightly above the price.
In specific terms, how much you can borrow using a guarantor loan may depend on your purpose for borrowing:
First home purchase: 105% of the property value
Construction: 105% of the total land value and cost of construction
Debt consolidation and purchase: 110% of the property value
Investment: 105% of your investment property's value
Refinancing: 100% of the property value
Technically, there is no maximum loan size. However, if you intend to borrow over $1m, you will need to meet additional credit criteria.
How can you benefit from guarantor loans?
Guarantor loans have several benefits, depending on your circumstances and financial goals. With a guarantor loan, generally speaking, you can:
Buy a property as early as now (as you don't need a deposit)
Get into the property market faster
Avoid the cost of lender's mortgage insurance (LMI)
Unlock better loans with more favourable rates
Consolidate some minor debts (such as credit cards) when you buy a property
Limit the size of the guarantee
Is there a risk in guarantor loans?
Despite the benefits listed above, guarantor loan can also be risky. The guarantor is ultimately liable for your loan if you fail to make repayments, so if you can't repay your loan, there is a possibility that your guarantor's property will completely become the bank's property. Usually, though, the bank will take action on your property first before making your guarantor pay the outstanding debt.
In cases where guarantors don't have the equity or savings to cover the debt, they can either apply for a second mortgage on their property or a personal loan. Only after these avenues have been used up will banks sell their property, only taking enough of the proceeds to cover the loan up to the limited guarantee. The rest of the sales proceeds will then go to the guarantors.
Fortunately, guarantors are only liable to repay the amount they guarantee and once that amount is repaid, they are released from further liabilities.
Do you need to get insurance?Insurance is not necessarily a requirement to qualify for a guarantor loan, but it does allow you to pay your loan even if you are hit with an unfortunate event that can stop you from working. In order to give you and your parents added protection, you may want to consider getting life, total and permanent disability, and/or income protection insurance. It is best to consult a financial adviser first to ensure that you will be able to choose an insurance product that suits your needs and financial status.
When can you remove the guarantee?
Many guarantees are put in place because the borrower cannot put together the required deposit, and so removing the guarantee depends on how much the property appreciates in value and how many extra repayments the borrower can afford to make. Most people are able to remove the guarantee between two and five years after they initially set up the loan.
You can (and should) apply for the removal of the guarantee upon meeting the following conditions:
You can make repayments without any assistance
Your loan is for less than 90% of the property value (ideally 80% or less because if you owe more than 80%, you may have to pay the LMI)
You have not missed any payments in the last six months
What if you want to be a guarantor?
Guaranteeing someone else's loan is a major commitment so before making the decision, you should do the following:
Assess if you can afford to be a guarantor and whether the borrower can afford the loan
Consider your relationship with the borrower
Seek independent legal and financial advice to make sure you understand the loan process and its impact on your financial situation
If you are asked to guarantee a business loan, learn everything you can about the company involved (including its financial status)
Determine the extent of your liability and responsibilities if the borrower defaults
Limit your guarantee in terms of amount and time (if possible)
Make sure you can cover the monthly repayments without outside help
Reduce your risk exposure by ensuring that the loan is not more than 90% of the total value of the property
Get guarantor protection
If, after careful consideration, you have decided to be a guarantor, you should get a copy of the loan contract as it will give you relevant and accurate information such as:
The size of the loan
The rate of interest, fees and other costs
If it is a secured loan (i.e. if the borrower need to offer an asset as security, such as a home or another type of property)
The timeframe needed for the loan to be paid off
The cash amount of the monthly repayments
If you change your mind about being a guarantor, ensure that you will make this decision before the borrower receives loan approval and signs the contract of sale, i.e. to avoid a default on the contract and a lawsuit against the borrower.
Can you sell your property if you are a guarantor?
Before you sign up to the guarantor agreement, you should be aware that you may be unable to sell your property or borrow on your mortgage (top-up). Before you hold off on whatever goals you have for intending to sell your property, you do have some options at hand.
If you owe more than 90% LVR (loan to value ratio), determine if you can come up with your own savings to cover the difference. The other option is that once you indeed sell, secure the guarantee with a dollar for dollar term deposit. For instance, if your guarantee was $100,000, then you will need to provide the lender with a $100,000 term deposit that will be held as security.
Do you need to consult an expert?
It is best to consult a specialist mortgage broker because there are several aspects to consider when applying for guarantor loans. First of all, lenders are particularly conservative with guarantor loans. Moreover, they have different terms and conditions for their guarantor loans – some will allow you to limit the amount of the guarantee while others will not. Aside from this, an expert can help you work out a strategy for removing the guarantee in as little time as possible.
Find a mortgage broker near you.