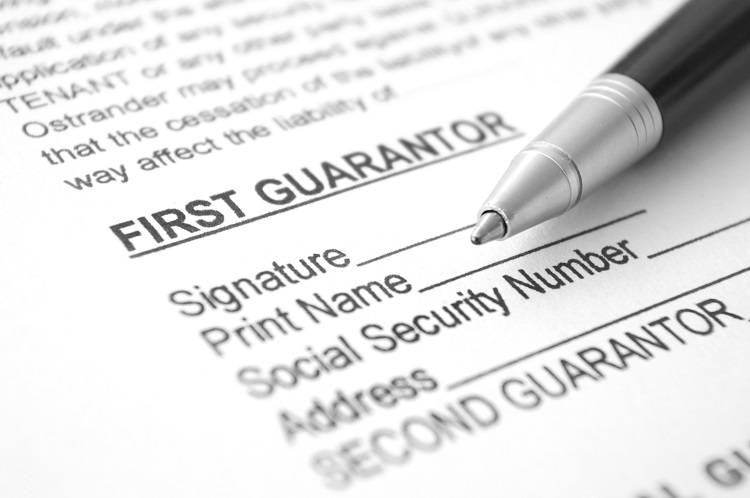 Saving for a home can be quite a challenge — it can take years before you have enough to cover a deposit and other costs. If you think you may not be able to meet the typical deposit requirement, you might want to consider guarantor loans.
What is a guarantor loan?
A guarantor home loan allows a close relative, usually a parent, to use the equity in their home as security for part or all of the home loan. You still need to borrow money from a lender and repay it, but the guarantor provides security for the loan that most borrowers normally provide in the form of a deposit. Using a guarantor allows you to take out a home loan without the usual 20% deposit requirement, which means you do not have to pay Lenders Mortgage Insurance (LMI).
Guarantors can choose to only guarantee a portion of the loan (like 20%) rather than all of it. Once the borrower has repaid the guaranteed portion of the loan, the guarantor's property is safe even if you miss future repayments. The guarantor can then ask to be released from the loan.
Aside from not having the required amount for a deposit, other reasons why you may consider getting a guarantor loan is:
Your credit score is not ideal
You want a lower interest rate with the help of a guarantor
Your conventional loan was not approved for the amount you want
In the event you are unable to make your mortgage repayments, the responsibility then shifts to the guarantor. If the guarantor fails also pay the loan, your lender will typically take legal action to take outstanding debt. Some potential consequences are the following:
Legal action - You and your guarantor could face court judgment, which could lead to wage garnishment and property liens.
Negative impact on credit scores - You and your guarantor will experience a dent in credit scores, which would make it difficult to apply for a loan in the future.
Risk of losing collateral - If the loan is secured by a collateral, such as your home, the lender may take possession of the collateral to satisfy the debt. This could result in you and your guarantor losing their home or other assets.
Who can be a guarantor?
Ideally, you should choose someone you trust — and more importantly trusts you in return — when looking for a guarantor. Many borrowers turn to friends, family members, or business partners as their guarantors.
Your chosen guarantor must meet the requirements of the lender you are applying a loan for. Typically, lenders require guarantors to:
Have sufficient equity in their property, at least 80%, or own the property outright
Have a stable income
Have a good personal credit rating
Be an Australian citizen or a permanent resident
Be above 18 but below 65 years old (few lenders accept older people and retirees as guarantors)
The guarantor's property must be in Australia
Parents as the Guarantor
The increasing costs of living and the rising interest rates are compelling many home loan borrowers to turn to the bank of mum and dad — what should parents keep in mind when agreeing to becoming guarantors?
Parental or family guarantees refer to the facility of using a parent's or family member's equity in their home as a security against a mortgage loan being taken by another member of the family.
With a guarantee from their parents, for instance, first-home buyers can already enter the housing market without needing to save for the typical 20% home loan deposit.
Guarantees also allow homebuyers to borrow more for their home purchase.
Here are seven things parents must know before agreeing to becoming a guarantor:
When using a property as a security, the borrower does not need a big deposit for their mortgage loan application.
Having a family guarantee can potentially mean avoiding having to pay or reducing the cost of lenders mortgage insurance.
Parents bear no cost when they are chosen as the guarantor for a home loan as long as the borrower consistently makes repayments.
Once the borrower was able to build enough equity in their home (usually when their loan is at an 80% loan-to-value ratio), the guarantor can already be released from the agreement.
When the borrower defaults on their mortgage, the guarantor is liable for the entire sum that they have promised to cover, which is the amount over the 80% LVR.
The guarantor's borrowing capacity and ability to guarantee other home loans are diminished during the guarantee period.
The guarantor could be putting their own home at risk when they are unable to repay the initial sum guaranteed when the borrower defaults.
How much can you borrow with a guarantor loan?
With a guarantor loan, you can borrow up to 100% of the property purchase price or even up to 110% in some cases, such as if you are consolidating other debts into the loan. This will depend on the lender, the guarantor's financial situation, and how much of the loan they are willing to be responsible for.
Some lenders may still require you to put down some sort of deposit, typically at least 5% in genuine savings, even with a guarantor.
In specific terms, how much you can borrow using a guarantor loan may depend on your purpose for borrowing:
First home purchase: 105% of the property value
Construction: 105% of the total land value and cost of construction
Debt consolidation and purchase: 110% of the property value
Investment: 105% of your investment property's value
Refinancing: 100% of the property value
While there are no caps as to the maximum value or size of the loan, some lenders might require the borrower to meet additional lending criteria when borrowing more than $1m.
Benefits and risks of using a guarantor
Benefits of using a guarantor
The biggest benefit of getting a guarantor loan is having someone back you up when you apply for a home. Having a guarantor increases the chance of you getting approved even if you have a low deposit or if you have a low credit score.
With a guarantor loan, you can:
Get into the property market faster
Apply for a loan even without the 20% deposit requirement
Avoid paying for LMI
Potentially unlock more competitive home loans
Consolidate minor debts
What are the risks of using a guarantor?
Just like any type of financial product, a guarantor loan can be risky, particularly for the guarantors.
The guarantor is ultimately liable for your loan if you fail to make the repayments. If you are unable to repay your loan, the guarantor is then responsible for covering the mortgage repayments. If they're unable to do so, the guarantor could be forced to sell their home to repay the loan.
In cases where guarantors do not have the equity or savings to cover the debt, they can either apply for a second mortgage on their property or a personal loan. Only after these avenues have been used up will the bank sell their property, only taking enough of the proceeds to cover the loan up to the limited guarantee. The rest of the sales proceeds will then go to the guarantors.
Obviously, this presents a huge risk to the guarantor, particularly if the guarantor is close to retirement. Such a scenario could jeopardise their retirement plans.
Other risks include the guarantor's credit report being ruined if the worst-case scenario happens and neither you nor they can make the mortgage repayments. You'll have essentially ruined their credit report for a debt that wasn't theirs.
These risks can ruin the relationship with your guarantor if they come to fruition, which is why it's important to understand the responsibility you're asking them to take on.
Advertisement
Buying a home or looking to refinance? The table below features home loans with some of the lowest interest rates on the market for owner occupiers.

Lender

---

Variable
More details
FEATUREDOnline ExclusiveUp to $4k cashbackINCLUDES NOV RBA RATE INCREASE

Variable Basic Cashback Home Loan (Principal and Interest) (LVR < 70%)

Immediate cashback upon settlement
$2000 for loans up to $700,000
$4000 for loans over $700,000

Variable
More details
FEATURED

Up Home Variable (Principal & Interest) (LVR ≤ 90)

Up is 100% owned by Bendigo Bank.
Up to 50 offset accounts
New joiners get $10 by signing up to the app using code UPHOMEYM. (T&Cs apply)

Variable
More details

Variable Rate Home Loan – Refinance Only
Immediate cashback upon settlement
$2000 for loans up to $700,000
$4000 for loans over $700,000
Important Information and Comparison Rate Warning
Can you remove a guarantor from the loan?
You may be able to relieve your guarantor of the accountability provided that you meet the following conditions:
You can make repayments without the need for any type of assistance
The principal amount of your loan is less than 80% of your property's value
You have not missed any payments in the last six months
What should you do if someone asks you to be a guarantor?
If you end up on the other side of the equation and are asked by someone to be their guarantor, you need to consider whether your financial conditions are in good shape. Being a guarantor takes commitment and before even saying yes, you should be able to:
Assess if you can afford to be a guarantor and whether the borrower can afford the loan
Consider your relationship with the borrower
Seek independent legal and financial advice to make sure you understand the loan process and its impact on your financial situation
Determine the extent of your liability and responsibilities if the borrower defaults
Make sure you can cover the monthly repayments if needed, without outside help
Reduce your risk exposure by ensuring that the loan is not more than 90% of the total value of the property
Get guarantor protection
Can you sell your property if you are a guarantor?
Before you agree to be a guarantor, you should be aware that you may be unable to sell your property or borrow and make top-ups on your mortgage. However, there are options you can consider if you really need to sell your property.
If you owe more than 90% LVR, determine if you can come up with your own savings to cover the difference. The other option is that once you indeed sell, secure the guarantee with a dollar-for-dollar term deposit. For instance, if your guarantee was $100,000, then you will need to provide the lender with a $100,000 term deposit that will be held as security.
Reach out to an expert
Whether you are planning to have someone as guarantor or you are being requested to guarantee a loan, it is a must that you reach out to an expert.
A professional such as a mortgage broker may help you consider all aspects of your finances before applying for a guarantor loan. As many lenders are conservative with guarantor loans, a mortgage broker may even help you find an alternative mortgage product suited for your needs.
This article was originally written by Geraldine Grones and updated by Gerv Tacadena on 22 February 2023.