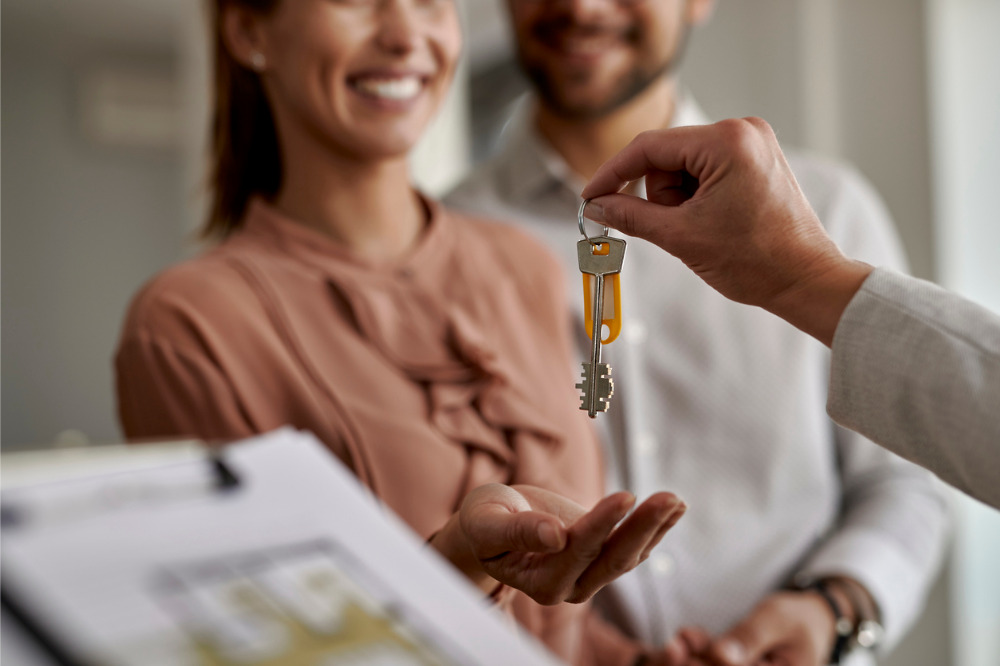 The Great Australian Dream of home ownership has motivated many would-be buyers across the country to reconsider their life priorities and look into their financial health amid the recent global and local events, from bushfires to the pandemic.
While the homeownership journey has become an uphill battle for many due to rising house prices, research shows Aussies still have high hopes of buying a home.
Getting your foot on the property ladder isn't a walk in the park — it involves a lot of planning and effort to get the best deal possible. Your home is the biggest investment you will ever make in your life, so it's important you start things right.
Here are 11 steps to turn your home buying dream into reality.
Step 1: Determine your budget
The first and most important thing you must do to before even proceeding to buying a property is working out your budget. This step involves a little introspection — you need to take a long, hard look at yourself and your finances and determine what you are planning in the years ahead and how much you can afford to repay.
This part of the process can take as little as few months to a year, given that you might need a little time to build yourself a budget plan. You will need to consider how much you can afford each month to set aside for mortgage repayments.
There are different methods of budgeting you can consider trying. The simplest one involves just knowing how much money is coming in and out of your pocket. You can use our Home Loan Calculators to help map out your cashflow.
The most important part of budgeting is having a clear picture of your income and expenses.
Begin with your total monthly income. Ensure you compute with your after-tax income. You also need to note your other income streams such as from investments and businesses, regular income from assets which you will own after you buy a home, and any other income.
This is your total monthly income. The next step is to determine your monthly expenditure. If you are currently renting, you need to exclude your rent payments. This is in the assumption that you are purchasing a ready-for-occupancy house.
Subtract your total monthly expenses from your total monthly income and the number that you have is roughly what you can afford to repay each month on a loan.
However, you also need to consider where your career is headed and whether any salary increases are likely. There are also family considerations. Are you or your spouse likely to need time off work to raise a child, which could eat deeply into your income?
Step 2: Know how much you can borrow
After determining how much you can set aside for monthly mortgage repayments, the next step is to work out how much you can borrow.
This amount will differ from lender to lender, and many offer online calculators that allow you to determine your borrowing limit. Your Mortgage offers different easy-to-use interactive calculators and tools that will help you model any complex mortgage and investment related scenario.
You can also reach out to mortgage brokers — they will be able to inform you of how much the lenders on their panel will lend to you based on your income, debts, assets, number of dependents, and whether you are buying the property alone or with somebody else.
Preparing for the costs
The affordability calculator calculates a very conservative estimate of the amount you will be able to borrow and the costs you will face depending on which state you live in.

You can also use a home loan calculator to get an estimate of your mortgage repayments. The resulting calculations are based on the financed amount requested, the length of the loan term and the interest rate. However, the estimate is neither a quote nor loan offer and you'll need to speak to a financial planner before applying for a home loan.
However, you will also need to prepare for other costs associated with your loan. These costs include upfront fees and ongoing fees. There is also an exit fee should you terminate your agreement with your lender and refinance with another.
The biggest upfront cost that you will need to prepare for is the deposit. Typically, you will be required to have a deposit of 20% of the property's value. You might be able to borrow with as little as 5% deposit, but your lender will require you to pay for Lenders Mortgage Insurance (LMI), which is on top of the other upfront costs of your loan.
You also need to pay for stamp duty on the property, which will cost several thousands of dollars, depending on which state you live in.
Step 3: Shop around for deals in the market
If you are working on your own, you have to always explore the market first before signing anything. Ads on television and radio, newspapers and magazines are great places to find out what deals lenders are currently offering.
Be proactive and contact lenders directly about deals on offer. Whether it's a lower interest rate, zero establishment fees, frequent flyer points or other value-adds, the more you know about the current home-loan market, the better your negotiation skills when it comes to asking your lender for more product features or a lower interest rate.
Don't be scared to ask for more. The home loan market is very competitive, and lenders might be prepared to haggle to win your business. And remember, if you don't ask, you don't get.
You can also rely on your mortgage brokers to look around for deals. They will be able to present some of the best mortgage products in the market that are appropriate to your current financial conditions.
Step 4: Choose a home loan
The next step is to find the right home loan for you. Borrowers in the market for a competitive home loan need to educate themselves about the different available home loans.
Additionally, borrowers need to familiarise themselves with the different types of interest rates on these loans as well as the product features that can help them in their borrowing journey.


Advertisement
Buying a home or looking to refinance? The table below features home loans with some of the lowest interest rates on the market for owner occupiers.
Lender

---

Variable
More details
FEATUREDOnline ExclusiveUp to $4k cashbackINCLUDES NOV RBA RATE INCREASE

Variable Basic Cashback Home Loan (Principal and Interest) (LVR < 70%)

Immediate cashback upon settlement
$2000 for loans up to $700,000
$4000 for loans over $700,000

Variable
More details
FEATURED

Up Home Variable (Principal & Interest) (LVR ≤ 90)

Up is 100% owned by Bendigo Bank.
Up to 50 offset accounts
New joiners get $10 by signing up to the app using code UPHOMEYM. (T&Cs apply)

Variable
More details

Variable Rate Home Loan – Refinance Only
Immediate cashback upon settlement
$2000 for loans up to $700,000
$4000 for loans over $700,000
Important Information and Comparison Rate Warning
Check which loan features work for you
Home loans come with different features and add-ons that can make it easier for you to save while paying for mortgage repayments. The type of interest charged onto your loan is one.
If you'd like the security of knowing exactly the amount of your repayments, then a fixed loan could be for you. If you think interest rates could fall in the future, then a variable rate might be more suitable. Choosing between fixed and variable rates will affect how much you will pay monthly and for the rest of your loan term. While this would require understanding of how the two rates work, the choice will still be up to your current strategy and financial circumstances.
A common mistake borrowers make when choosing a home loan is relying solely on interest rates. While doing so would work to borrowers who just want a no-frills option, it still pays to consider checking out other loan features that can help you get ahead.
Loans which offer redraw facilities are popular as they allow borrowers to repay more than the minimum regular mortgage repayments and withdraw surplus repayments. Some lenders offer free redraw facilities, others charge.
If you have surplus disposable income, then an all-in-one loan or 100% offset account might be the ticket. Putting your savings and income into these accounts offsets the loan principal and reduces the interest you pay on your home loan. This can save thousands of dollars in interest costs over the term of a loan.


Step 5: Get loan approval
Having found the best possible deal, it's time to apply for a home loan, attend a loan interview, and get approval. Make sure you have all the necessary documents ready for your lender or broker.
Procedures vary from lender to lender, but it is likely you will be issued with either a 'home loan guarantee certificate' or a 'pre-approval certificate'. This means that, subject to a few conditions, your home loan either has been, or will be, approved when you find the property you want to purchase. One of the main conditions is often a valuation of the property to ensure a buyer isn't paying too much for a property.
Loan approvals don't last forever. They typically are valid for around six months, but sometimes up to 12 months. If you find your pre-approval has expired or is about to, contact the lender or broker and see if it can be extended or if you have to re-apply.
Step 6: Find your home
Now that you know your budget, it's time to determine how much 'home' it's likely to buy you and in which suburbs you can afford to live in. The real estate section in newspapers, online property listings, and real estate agents are all useful sources of pricing information.
Once you have settled on an area, you should tell a few real estate agents what you are looking for. Remember, real estate agents are employed by the vendor, so make sure you do your own research as well. Domain's Home Price Guide is a good place to start when looking for price estimates for any location.
Step 7: Conduct a home inspection
Once you find the right home, it is time to do the (sometimes literal) dirty work. Conducting building inspections is one of the most crucial steps in buying a home and the most overlooked. If you want to end up with a home that is worth all the money and effort you spent, you have to make sure that you do this step properly.
Homeowners are suggested to arrange for both building and pest inspection, especially when purchasing an established home. This will add to the costs you have to prepare for during the planning stage.
These inspections are likely to cost anywhere between $200 and $600 each. Don't baulk at the cost. It is vital that you find out about any hidden nasties like damp, shifting foundations, faulty wiring and plumbing. Then you can factor in the cost of repairs to the purchase price or decide to drop the deal altogether.
Some of the common things to check when conducting home inspections include electrical and plumbing systems, damp problems, wall cracks, and pest activity.
Step 8: Make an offer
If you're still satisfied with the property after the inspections, it's time to make your next move. While it is important to be cautious in approaching price negotiations, don't be too inflexible. After all, you want this property. The last thing you want is someone beating your best bid by a few hundred dollars, knowing that the property is worth much more.

Private sale offer
The most common way to buy property is by private treaty or sale through a real estate agent or directly from the owner. If a property isn't going to auction, you are saved from the stress of auction day, but are then faced with the daunting question of how much should you offer. If a home price tag says $250,000, this may not be how much the vendor really wants. Many agents say that it's usually wise to make a lower offer within 5% of the asking price, although this percentage can increase in a slow market. The most common tactic is a verbal offer to the seller's real estate agent.
Alternatively, a sales summary can be prepared by your solicitor and forwarded to the vendor. A sales summary contains the date of the offer, the address of the property, the offered purchase price, the deposit amount and the balance to be paid, details of your finance, any special conditions and the proposed settlement date. Once your private-treaty offer is accepted and you've accepted the sale contract, it's time to pay the deposit. This is typically given to the real estate agent, who holds it on behalf of the vendor in a special trust fund until the sale is finalised.
Do not forget to negotiate. There are several things you can bring up to the table to make an offer that is below the asking price. A buyer's agent can help you get the best deal for your target property.
Deposit bonds
Homebuyers also use deposit bonds in place of the cash deposit at private sales and auctions. They buy the bond from insurance companies for as little as 1% of the deposit. The bond is a guarantee issued by an insurer, guaranteeing the vendor payment of the initial deposit on purchase of the property. Borrowers initially pay only for the bond and delay payment of the full deposit amount until settlement, when they are required to pay the full purchase price.

Exchange of contracts
Contracts are normally formally exchanged between the potential buyer and the seller at the time the deposit is paid. In most cases, the solicitor or conveyancer representing each side does the exchanging. Once this has occurred, borrowers are legally bound to proceed with the purchase of the property, unless a special condition is breached that is listed in the terms and conditions of the contract. These should be explained to borrowers prior to money changing hands.

Bidding at auction
If the home you crave is being sold via auction, it is critical that you have pre-approval finance. You also need enough of a deposit or a deposit bond.
While private treaty sales allow a cooling-off period in which buyers can conduct inspections, auctions don't usually allow for a cooling off period. Your bid is binding, so make sure you really want the property before you raise your hand. Most important of all is to not exceed your maximum spending limit.
Inspections on homes up for auction need to be done prior to the bidding stage. Get a copy of the conditions of sale and the vendor's statement well in advance of the auction and have your legal representative check the terms and conditions.
There are usually two types of auctions: on-site auctions and in-room auctions. To bid at either, either express interest to the auctioneer before the auction begins, or simply raise your hand, call a bid, or use any other type of gesture or signal to the auctioneer. The name which you give the auctioneer before the auction is the name which will go on the contract and it cannot be changed later.
Most properties for sale by auction have a reserve price, which is a minimum price the owners are prepared to accept for the property. The reserve price is not made public until the bidding exceeds it. Once the reserve is reached, the property will generally be sold to the highest bidder.
Step 9: Do the legal work
Once you've found the property and you have the contract, it's important that you check the contract carefully to ensure that everything about the property is understood and that there will be no legal surprises after you have purchased it.
Signing a contract without a lawyer looking at it first is madness. If you want to make any changes to the contract, now is the time to do it.

Conveyancing
You also need to arrange conveyancing, which is the transfer of property title from one person to another. Most people employ a solicitor or conveyancing expert.
The services of a conveyancing specialist cost up to $1,500 and the fee will usually include survey, building and pest reports. Many practitioners, however, offer conveyancing services for as little as $600.
Conveyancing fees cover all the costs of the transfer of property, except for stamp duty, and most conveyancing firms will give you a free quote.
Some buyers do their own conveyancing. DIY conveyancing kits are available from the Law Consumers Association in Sydney, Legal Kits of Victoria in Melbourne or the Consumer Law Reform Association in Brisbane.
The DIY approach will save you a considerable amount of money, but it is worth bearing in mind that you will be legally accountable for any mistakes that you make. The more prudent option may be to pay for a professional.
Step 10: Check for government grants
Now that you've gone through several steps, you can now take a deep breath and relax. The pace slows a little now as you wait for your legal team to do the work.
For the next six weeks, sometimes less and sometimes more, your conveyancer or lawyer will make enquiries about the property. Survey and drainage diagrams will be examined, government departments will be written to, heritage orders will be inspected, and council checks will be performed. In other words, the work is usually out of your hands.
A kind vendor may grant you additional time if you are having difficulty meeting the agreed deadline but don't count on it. The chances are that the property is also costing them money (through their own mortgage repayments or lost interest) and they are under no obligation to give you more time. This is the time when buyers and vendors usually get an attack of the jitters. Buyers keep their fingers crossed that everything about the property will be fine and will run according to schedule, and the vendor is praying that the sale goes ahead and they can get their hands on cash.
During this time, you can also check for government grants that can take some of the buying costs off your back. These grants can potentially save you thousands of dollars which you can set aside for other purposes, such as home improvements or investments. There are a lot of grants and schemes available in each state and territory. You just need to ensure that you meet the requirements and submit the relevant documents.
Step 11: Wait for settlement
Settlement day is the day you or your representative meets with the vendor to swap your cheque with their title of ownership. Cherish this moment, because with most people this certificate will quickly go to your lender, unless you are lucky enough to purchase the property outright.
Government departments need to be notified of the change in ownership, and this is typically taken care of by your solicitor or conveyancer. You should have the building insured at the time of settlement otherwise some lenders won't lend you money. To remove any ambiguity, a safe course of action is to insure the property as soon as you exchange contracts.

Enjoy the feeling!
Congratulations, you are now the proud owner of your new home and you have officially broken into the housing market.
Buying your first home is a major achievement and it involves a lot of time and effort comparing home loans, going to inspections, getting loan approval and doing all the legal legwork. Mistakes will be made and lessons will be learnt, but isn't that what life is all about?
What's next for you? Maybe you can start planning for your first investment property!
This article was originally written by Michael Mata and updated by Gerv Tacadena on 12 August 2021.