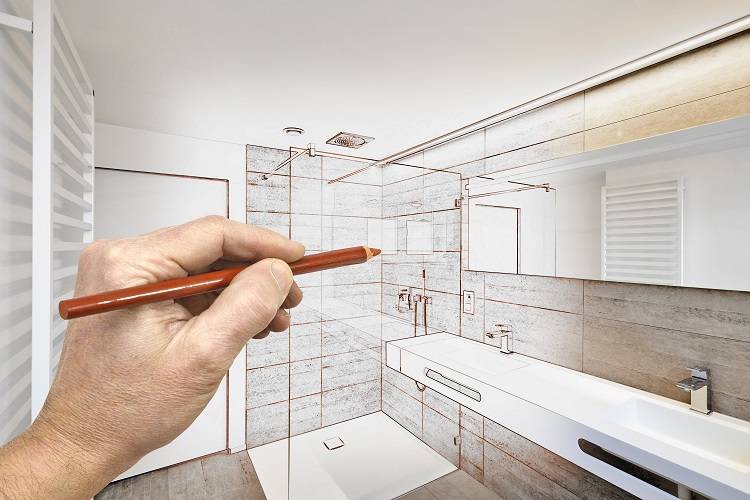 Home renovation is a tool used by homeowners and investors alike to add value to their properties. Whether they are upgrades for personal purposes or a major facelift before putting the home up for sale, renovations can do wonders for a home's value – when done right.
Not to mention that, owing to the television shows documenting the process of turning a dilapidated home into a pristine DIY work of art, some may think the renovation process is such an easy thing to do.
But while you may think renovations are 'just' about rearranging furniture, redecorating rooms, eliminating unwanted walls, slapping on some new paint and calling it a day, a successful job will take a lot of research and patience.
Here are some guidelines on how to tackle renovations:
First off, the key to a successful renovation is improving the parts of the house that catch attention and can hold on to it, from the first look until the tail-end of the home inspection. A kitchen and bathroom overhaul, a front door fix, or a fresh new look to the garden can spruce up any property.
As such, you shouldn't necessarily make it a priority to replace items or utilities that are not obvious to the eye such as wall and ceiling insulation.
Read: How to spot cheap renovation fixes
Next, the property must live up to the aesthetics of the general market. Otherwise you risk losing prospective buyers, or you might find that you're trapped in a slower selling period, which can affect its value.
Also, the overall look of the house must appeal to the buyer's emotions.
How do you know? See if a prospective buyer can see themselves residing in the house as is for the next five years or so – if it's cozy and well put together, the buyer will be thinking "I can just move in."
In this case, the age-old adage rings true: first impressions last.
Finally, your renovation budget must be within your grasp. You don't need to shell out as much money, particularly as some luxury upgrades aren't actually worth it. As a rule of thumb, you want to pay no more than 2% of the property value when renovating big ticket rooms such as kitchens and bathrooms.
But while you don't want to spend too much, you do need to spend the right amount in order to gain maximum result. Calculate your expenses and don't go overboard. Another rule of thumb: strive for a $2 return for every dollar spent. It goes without saying, but you'll need to be wary of poor or subpar improvements.
To help you with your quest to beef up the property's value, here are some of the home improvements that will maximize your return in the long run.
Kitchen
Often known as 'the heart of a home', the kitchen is one of the big ticket rooms well worth investing in, because it pays off.
Kitchens do not usually require a full remodel to freshen up – a fresh coat of paint, new cupboards and countertops, new tap fittings and upgraded stove and other electrics will usually do the trick.
Nowadays people tend to gravitate toward kitchens with open plan spaces, where they can cook, dine and entertain guests all in one large area.
If you plan on tapping into this trend, but walls are hinder you from doing so, it might be a good idea to grab the phone and call a professional to remove them, if possible. You will probably spend at least $500 for it (depending on the project), but that is a paltry sum compared to paying for repairs on a botched project.
However, as kitchens have a lot of components, it is easy for owners to overspend. Remember: keep your eye on the prize when it comes to renovations, or you might find yourself reaping only half of what you sow.
On another note, a butler's pantry is slowly on the rise again in modern kitchens to serve as a place to store cooking utensils out of plain sight to achieve that classic, minimalist look.
Bathroom
Another room that will definitely win the hearts of consumers, bathrooms are definitely worthy of some upgrades when you want to sell your house into the real estate market.
You can spruce it up by doing a paint job and replacing the old tiles, showerheads and handles with new pieces that showcase a modern aesthetic, as well as making the room look bright and clean.
Just like with the kitchen, because a bathroom is comprised of a number of fixtures and fittings, property owners may fall into the trap of overspending on bathroom renovations. Take a breathe and remember that you don't need to spend as much as you think to give life to the room.
Flooring
A new set of floors can make your house look clean, modern and luxurious – while outdated flooring can weaken the home's overall impact.
While it can be costly, definitely consider hardwood or tiled flooring instead of carpet, as they can automatically boost the property's value.
Carpets were once a fixture in everybody's homes, but not only does it have the tendency to soak up odors and retain them, cleaning them can be burdensome for some, especially if you own pets.
That said, it is still a great option for bedrooms, due to the warmth and comfort it provides. If you're dead set against carpeting, rugs can give a similar effect.
Paint
A new coat of paint on the interior or the exterior of a home is one of the easiest and cheapest ways to achieve a cosmetic overhaul.
Should you decide to go this route, many experts suggest that a neutral palette is a great way to uplift the interior's look without keeping potential buyers from seeing the quality of the home.
Curb appeal
Curb appeal, also known as street appeal, is an essential renovation element that should not be ignored when assessing a property for improvements.
What is it? regardless of the name, curb or street appeal focuses on the house's façade, evaluating its attractiveness to buyers based on the things they will see as they approach the property for the first time.
The key here is to entice prospective buyers through the front door, an important factor in cultivating a property's street appeal. It can be a great indicator of what's inside, stoking the buyer's curiosity.
Throw some fresh paint into the mix, new trim and fencing (if applicale), as well as a new house number and a letterbox to complete the look.
Don't forget to clean the garage too.
Backyard
An outdoor space like a patio or an alfresco-ready area can give prospective homeowners visions of lounging about or entertaining outside of the home, so if you have neglected your backyard it may be well worth cleaning it up and adding a dapper touch to it if possible.
You can also consider adding an all-weather area as an extension to the home. Any external touches like these provide a strong impetus for buyers to grab ahold of the property, which should assuage worries about whether the property will successfully sell.
Garden
Related to the backyard, adding some green into your property can instantly add color and life. The best part? You can do it without exerting much effort or money. So, if you haven't started already, it might be a good time to start a garden project.
Visit the nearest nursery or plant store in your neighborhood and start adding plants, shrubs and trees to your place.
Just be wary of being too elaborate, as complex gardens can be hard to manage for those who don't possess the green thumb, which may include potential buyers.
Tech features
Riding on the wave of modern technology, some dwellings have features and amenities that used to be straight out of science fiction. While these can be intimidating to some, they can definitely bump up a property's value.
If you can afford it and it is within your budget, you can equip your home with hi-tech devices like music systems streamed through ceiling speakers, smartphone-controlled equipment and remote-controlled garage.
Lastly, what about improvements that don't bump up the market value of a property?
Here are some of the upgrades that will only give you minimal return against thousands of dollars you have spent:
Swimming pools
Hidden renovations (such as wall and ceiling insulation, double glazing, air condition systems, etc)
Extravagant kitchens and bathrooms
Complex gardens