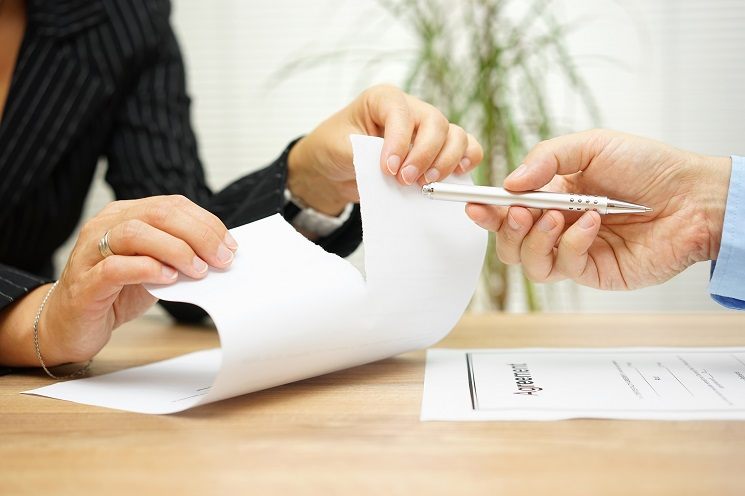 Let's say you're well on your way to buying a home. You've found the right house, the buyer has agreed to sell it to you, and you've even found a lender willing to give you a home loan that you were happy with – even though you're a first time homebuyer, and you really had no idea how things were going to turn out.
Seems pretty good, right? But let's say things take a turn for the worse: Maybe you and your agent don't get along, or perhaps a new job offer has made you reconsider moving into the area. These things happen. Maybe you don't actually love the house after all. Whatever the reason, you've decided to cancel the home loan agreement. So what do you do? What can you do?
How to cancel your Home Loan Agreement
Before settlement, you are well within your rights to cancel a home loan agreement. There are some steps you should take, though, to ensure that the process goes as smoothly as possible. Otherwise you may find yourself subject to a bevy of fines, as well as a potential lawsuit from the seller.
First and foremost: Call your lender. Tell him or her over the phone that you would like to cancel the agreement. You will likely have to provide a reason for doing so, so make sure you have one at hand. They can provide some insights about the issue that has arisen, as well as highlight any financial penalties that you may have incurred, depending on how far along in the process you are.
Once the phone call is over, make a note of the time and date that you made the phone call. Being organized is a key part of the home-buying process, and it will help you here, as well.
Secondly: Cancel your loan agreement in writing. It doesn't matter if this is sent via a letter, a fax, or hand-delivered, you will want to make sure that you have an actual document informing your lender that you wish to cancel the agreement.
Once you have a written document asking for a cancellation, sign it and make copies. The last thing you want is for your only copy of the letter to be lost in the mail or otherwise missing, so having one (or more) copies for your records will help you stay organized.
When the bank or lender receives the letter, the mortgage will be stopped. Depending on the length of time after the agreement was reached, you may be able to recoup some of the fees associated with the agreement. Be advised, though, that you may be in breach of the contract, so you will want to go through your home-loan agreement for any contingencies that may apply.
Contingencies for Termination
Every contract has contingency plans for termination, and home-loan agreements and purchasing agreements are no different. If you want to proceed with buying the property, just with a different lender or no lender at all – let's say you inherited some money unexpectedly and no longer need to take out a loan for the purchase – you will want to check the home-loan agreement. If you have decided against buying a specific property, you will want to check the purchase agreement.
Because a home-loan agreement will primarily be concerned with the borrowing amount, the annual percentage rate and the repayment plan, you may have to read very carefully to find anything related to ending the loan. If you have not yet signed and returned the original loan offer, make sure you look for an Offer Lapse Date.
The Offer Lapse Date is a period of time outlined in the home-loan agreement that marks the amount of time the contract must be signed and returned to the bank: otherwise the agreement will expire. Typically this period will last between 30 and 45 days.
Another common contingency is an appraisal contingency. Imagine you secure a home-loan for $300,000 on a property that you are agreeing to buy for $325,000. Now imagine that, upon appraisal, the property is only worth $225,000. You definitely don't need a loan for $75,000 more than the property value, and most home-loan agreements will have language in place to protect you from taking out significantly more than you need to borrow.
Other standard loan contingencies have to do with your employment, your credit report, and the lender's analysis of your financial situation – that's how they approve you for the loan in the first place.
If you're looking to cancel a home-loan agreement because of a change of job or because you have recently come into some significant debt that appeared after you were approved for the loan, it's possible that you may no longer be eligible for the loan (and it's possible that you know this, which is why you're trying to cancel).
In all cases, be sure to call your lender and explain the situation: everyone's reasons and circumstances are unique, and making sure you discuss the specifics with your lender is one of the safest ways to understand exactly what your options are.
Remember the Cooling-Off Period
If you agreed to buy the home via a residential sale -- as opposed to an auction -- the contract probably included a period of time known as "cooling-off", where the buyer can cancel the contract for a nominal fee: usually this falls within .2 and .25 percent of the contract, although this can vary between each Australian State and territory, so knowing the specifics of your area is of the utmost importance.
Depending on where you are, the cooling-off period can range from two to five days after signing the contract. It's important to point out that Tasmania and Western Australia do not have mandatory cooling-off periods, and if there is one, it will be because both parties agreed to one and put it in the contract.
If you are backing out of a home loan agreement because you have decided against buying the house you'd agreed to buy, the cooling-off period might be exactly what you need to help you out of your situation.

Advertisement
Buying a home or looking to refinance? The table below features home loans with some of the lowest interest rates on the market for owner occupiers.

Lender

---

Variable
More details
FEATUREDOnline ExclusiveUp to $4k cashbackINCLUDES NOV RBA RATE INCREASE

Variable Basic Cashback Home Loan (Principal and Interest) (LVR < 70%)

Immediate cashback upon settlement
$2000 for loans up to $700,000
$4000 for loans over $700,000

Variable
More details
FEATURED

Up Home Variable (Principal & Interest) (LVR ≤ 90)

Up is 100% owned by Bendigo Bank.
Up to 50 offset accounts
New joiners get $10 by signing up to the app using code UPHOMEYM. (T&Cs apply)

Variable
More details

Variable Rate Home Loan – Refinance Only
Immediate cashback upon settlement
$2000 for loans up to $700,000
$4000 for loans over $700,000
Important Information and Comparison Rate Warning