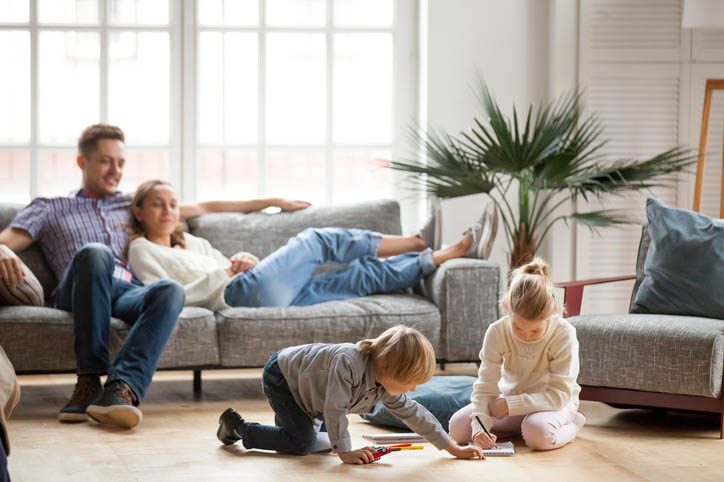 But if your morning ritual leaves you wondering why your home isn't worthy of being photographed for the glossies of a home design magazine, there's no better time than now to elevate the space – and you don't need to run your pockets dry to do it.
Here are 5 affordable and easy ways for any renovation guru to breath fresh energy into their space.
1. Treat every wall as a canvas filled with artistic potential
It depends how creative you want to get, but a new coat of paint is the most cost-effective way to completely modify the identity and character of a home.
Whilst neutral colours such as greys, light browns and shades of cream, starting from pristine white, can instil an openness, air filled quality to a space, darker shades such as navy, forest green and deep brown, most effectively as feature walls, can create instant dramatic effect and a sense of cosiness.
A paint job can also cover any imperfections and elevate outdated wooden accents that were once admirable in their hey-day, but went drab over time, such as stairs, doors and skirtings.
Handy design tip: For the adventurous, paint the doors a different colour. When offset against white, a grey or navy door can instil contrast and architectural depth. If you want to celebrate vintage furnishings or accents, give them a coat of white paint, then once dry, brush at the paint (carefully) with a kitchen scourer to reveal a rustic finish.
2. Use old furniture as jaw-dropping bathroom features
Out with the old and in with the new, but does what's going out always have to be included in the monthly council pick up?
Bathroom renovations have never been more rebellious; renovators are embracing the eclectic more than ever in a turn-away from clean uniform design. One way this is being done ­– as revelled at on prime-time renovation shows – is the transformation of old furniture into bathroom sinks and storage units. And if you don't already have an oldie filled with potential to your left, then you are bound to pick up a bargain at a thrift store or snoop out a discarded one in your local neighbourhood.
Handy design tip: Use a beautiful glass bowel as the kitchen basin, to sit on top of the re-purposed cabinet. Finish the ensemble with vintage fixtures.
3. Think out of the tile, like a designer
Don't fall victim to thinking one tile dominates all, nor disappointed when you find out that the stylish tile design you were relying on to transport your guests to an atrium in Morocco costs a fortune. When brainstorming tiles for the kitchen or bathroom, think about offsetting a stand-out tile against a more affordable, neutral one.
Handy design tip: Use colourful motif or patterned tiles to create a strip along the wall or alternate these vibrant tiles with an affordable one. It can cut the cost in half, whilst not sacrificing your Moroccan dream.
4. Turn your lighting to the down
Quiet to the contrary, but if you want to instantly increase the value of your property and give it new light, literally, then downlights are your calling.
You will need to hire an electrician to execute the job, which can vary in price, but it's a smart move when comparing the reasonable costs of installing downlights against their perks, which includes their energy efficiency, long-lasting make, and of course, their role in drastically elevating any room into an instantly modern and luxurious space.
5. Give existing kitchen cabinets a facelift
Kitchen renovations tend to send the piggy bank squealing. But being aware of handy ways to give your kitchen cabinets a face lift, rather than ripping them out completely, will save you thousands. It's not just about painting them.
Refacing is the next best way to transform an out-dated kitchen, done by placing and sealing a laminate or vinyl over the body of the cabinets, followed by fitting them with new (shinier) handles. The environment will be grateful for not being given your old cabinets as waste.
In light of these few – but super handy tips – renovations no longer need to follow set rules. Home owners are rather encouraged to explore eclectic approaches to design, and mix the old with the new, giving them more creative licence to transform their properties at a pleasant cost, and with more confidence.
Maximising your renovation profits
Renovate the right way and you'll add significant value to your property, but if you over-capitalise on the wrong improvements, you risk chipping away your profits at the very outset. For renovators, the challenge is to "not only improve a space, but also to increase the property's value here are five tips to help you maximise your profits on your next renovation.
1. Start small
For your first renovation, don't bite off more than you can chew. "Purchase 'cosmetically tired' rather than 'structurally tired' properties," Gray advises. While a renovator's delight may be going for a steal, he warns, "Structural work is often where problems occur and budgets blow out."
2. Get the property valued
There's no point spending tens of thousands on renovations if you're not likely to get the returns in the final sale. "A valuer will be aware of circumstantial factors, such as the highest possible sales price for homes in your street," Gray says. He recommends you get the property valued before and after the renovation, so you can quantify how much value the renovation added.
3. Be conservative, not cheap
When organising tradesmen, always source at least three quotes for every job, but don't always opt for the least expensive tender. Make sure factors such as their professionalism, timeliness in responding and credentials are factored into your decision. "Cheaper tradespeople will do it in their own time and not always to the best standard," Gray cautions. "Paying a fair price for a tradesperson will often give you better quality in a shorter space of time."
4. Consider project management
If you work full-time, have a family or have other commitments that keep you busy, consider hiring a project manager to run the day-to-day renovation. It will potentially save you money in the long run, as their expertise will guide you towards making smart decisions and will keep the project to budget ­– and more importantly, it will save your sanity. "This can be anyone experienced in renovations, from an architect to interior designer," Gray says. "They can help find trustworthy tradespeople, keep costs low and manage different tradespeople for different jobs."
5. Double check your costs
Make sure you're not being overcharged by suppliers and tradies by enlisting a quantity surveyor for the bigger jobs, to provide a list of labour costs, material costs, and tax deductions you can claim.