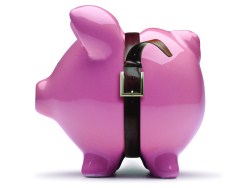 In the spirit of setting New Year's Resolutions, we thought it was best to include some tips on how to realise your financial goals for 2012.
MoneySmart, the personal finance website run by the Australian Securities and Investment Commission (ASIC), has revamped its personal budgeting tool to help individuals kick start the year with your budget in order.
This is in addition to the other regular tools on the website such as a credit card calculator, to identify the fastest way to pay off your debts, and the savings goals calculator.
"Getting out of debt and getting sorted financially are top new year's resolutions for many people this year", said MoneySmart's Delia Rickard.
It's simply a matter of punching in how much you earn and spend into these free online calculators, so there's no excuse for not keeping your finances in check.
If you haven't set any goals for your dollars yet, it's never too late to start. Here are some offered by MoneySmart:
1. Create a budget to get your money sorted
2. Start paying off your credit cards (pay the one with the highest interest rate first)
3. Set up a direct debit to put money into a savings account each fortnight
4. Pay extra off your mortgage while interest rates are low
5. Switch loans if you can get a better deal.
-- By Stephanie Hanna