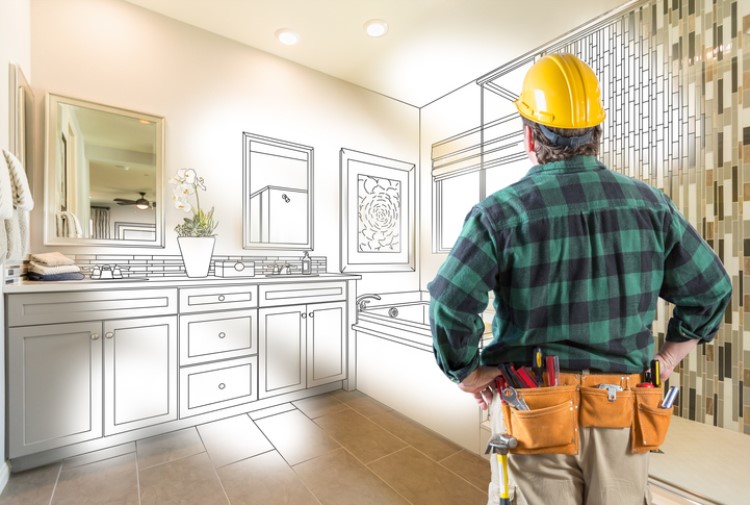 Wears and tears are quite normal for any property—especially if you have had it for years. However, a home renovation may be in order if there are annoying issues that need fixing, or you simply want to mix things up to make your dwelling more exciting.
Renovations are quite an undertaking, with Aussie homeowners spending more than $76 million during 2015-2016, according to the Australian Bureau of Statistics.
The kitchen is the most popular room to renovate, based on the annual Houzz & Home Australia survey. This is followed by living rooms, bedrooms, bathrooms, and laundries. The top two considerations for renovating are to stay in their current home or area, outranking return on investment, the survey also found.
Whether you want to spruce up your humble abode or add some features to boost its value, how much you need for a reno project varies. The money you need to shell out depends on the fixes or updates you want to do, fees you may have to pay, the construction team you need to hire, and other costs you may have to incur along the way.
Funding renovations
There are loan options in the market that may help you with repairs and renovations that will transform your house into a personal paradise. Some of these are:
Home equity loan. This is one of the most common methods of borrowing for a home renovation. It may be a good option for financing major renovation projects. Some banks may allow you to borrow up to 80% of your home's value.
Since this type of loan is often large, you may bear increased repayments for a longer period.
Mortgage refinance. Refinancing means swapping out your existing loan for a new one. It may be a good idea to fund renovations. You could refinance your mortgage to find better deals in the market that caters to your financial position.
Keep in mind that when refinancing your mortgage, there are fees involved that you may need to pay. Some of these are:
Discharge fee
Valuation fee
Land registration fees
Application fees
Break fees
Lenders Mortgage Insurance (if you have less than 20% equity in your home)
Other fees

Credit cards. A low-interest credit card may be a good option for minor, do-it-yourself renovations. The kind of credit card you should get depends on how you want to pay off your debt.
To know more about choosing the right credit card, visit the Australian Securities & Investments Commission website.
Personal loan. This type of loan may be a suitable and cost-effective way to fund your home renovation. For smaller projects, consider an unsecured personal loan, usually up to $30,000. This type of loan, however, has higher interest rates than a mortgage and has a term of up to seven years.
For larger projects like building an extra room or remodelling your backyard, consider secured personal loans. These loans may allow you to borrow a higher amount for slightly lower interest rates over a longer period.
A personal loan entails related costs you have to pay such as application fees and annual fees.
Construction loan. If you do not have enough equity in your home, consider a construction loan. It works similarly to home equity loans, except for the fact that the amount is based on the final value of your property post-renovation.
The estimated amounts for your home construction may not be given away in one go. Your lender may give portions of your loan amount in stages. This is called drawdowns or progress payments.
The progress payments may cover the following stages:
First stage: Slab down or base. The first loan amount may cover the cost of building the base of your home, including the foundation, ground levelling, and plumbing. It may comprise of 10% of your contract and may take up to two weeks.
Second stage: Frame. Your lender pays for the expenses used to build the frame of your property. It may take 15% of your total contract and takes up a month to complete.
Third stage: Lock up. This stage gets 35% of your contract as it is used to build external walls, doors, and insulation of the house. It may require four weeks to finish this stage.
Fourth stage: Fixing or fit in. Your lender pays for all the fixtures and fittings for your home such as shelving, cabinets, doors, and tiles. Plumbing and electrical systems will also be finished. This stage makes up 20% of your contract.
Fifth stage: Completion. This stage covers the finishing touches of your home like painting, fence installation, and polishing. This may take up to 15% of your total contract.
Once your lender approves your construction loan, they will make the payments to your building during every stage of construction. In every stage completed, you may have to present an invoice from your builder before the lender issues payments.
Overdraft. A line of credit or an overdraft may be a good idea for long-term renovations. It will be attached to an account or a revolving credit line. It may allow you to access additional funds by drawing on the equity value of your home.
In an overdraft, the interest may only be charged on the balance you owed and not on the total loan amount. You may also re-borrow the unused funds without reapplying as you settle your balance.
However, this has a larger interest rate compared to the standard variable cash rate. It also imposes fees for using the credit facility.
Know the rules
Before you tear out that wall to make an open space living room, you must know that there are renovation rules you need to follow depending on the state or territory where your home is located. You are also required to acquire all necessary permits and pay all fees your reno project entails.
In general, your renovation should meet basic requirements for health, safety, and structural soundness. This is set by the Building Code of Australia.
Some repairs and renovations may not need approval such as painting, cabinet installation, and replacement of existing windows or doors.
To know more about renovation rules in your area, visit the following government websites: