House rents are on the rise again in the majority of Australia's capital cities, with sharp increases reported over the December quarter, states new data from the Domain Group.
While the increase in house rents spell great news for landlords, the opposite is true for tenants who're struggling to secure affordable accommodations in tight rental markets.
Most capital cities, with the exception of Brisbane, Perth, and Darwin, recorded increases in house rents over the quarter. Hobart reported the highest growth rate of 7.6%, hitting a new record high of $355 per week. House rents in Canberra also surged over the December quarter, rising by 5.3% to $500 per week (an annual increase of 7.5%, which was the highest result of all the capital cities).
Significant increases were also recorded for Sydney, Melbourne, and Adelaide, with house rents up by 1.9%, 2.5%, and 2.9% respectively over the December quarter.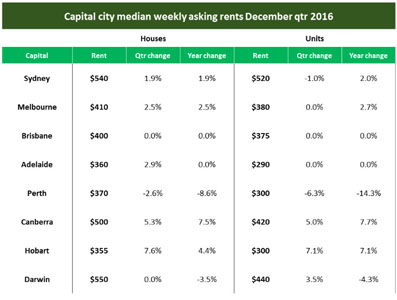 In contrast, house rents in Brisbane and Darwin remained steady over the December quarter, reflecting more tenant-friendly local market conditions. Brisbane's house rents have been steady over the last three years, with Darwin rents declining by 3.5% over 2016.
"The Perth rental market continues to be a clear underperformer with house rents falling by 2.6 per cent over the quarter and down by 8.6 per cent over the past year," said Dr Andrew Wilson, chief economist at the Domain Group. "Perth house rents at $370 per week are now at their lowest level in 7 years and, on current trends, are set to soon become the cheapest of all the capitals."
Rising house rents have translated into increased gross rental yields in Sydney, Melbourne, Adelaide, and Canberra. Hobart has the highest gross yields for houses at 5.53%, just ahead of Canberra at 5.75%.