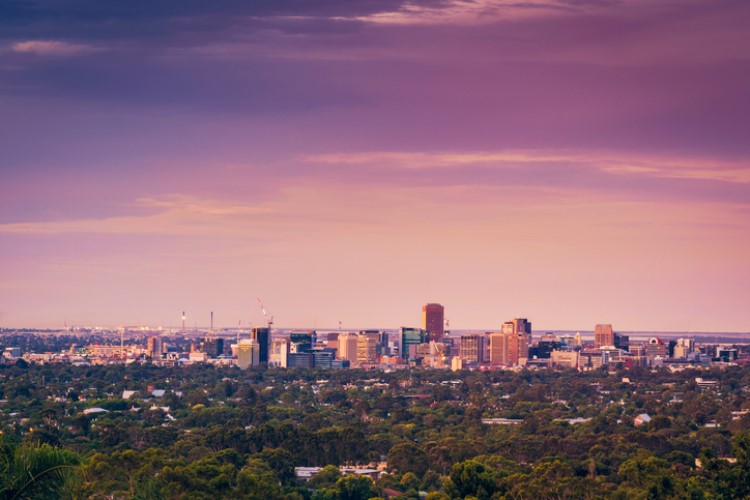 A new report from People's Choice Credit Union revealed the best suburbs in Adelaide where homebuyers can enjoy both housing affordability and liveability.
The latest edition of People's Choice of Housing named 50 suburbs that ranked the best in terms of housing affordability and liveability. In addition, the study took into consideration the financing aspects of getting a home in each specific suburb included in the list.
People's Choice Credit Union CEO Steve Laidlaw said it is important for homebuyers to consider not just the average housing price in a suburb but also its liveability.
"It's one thing to be able to afford to live somewhere — you also have to want to live there. Liveability can mean different things to different people, so we've looked at a broad range of factors that go behind the costs of buying a home: public transport links, driveability, crime rates, schools, and economic prospects, "he said.
Topping the overall list were Happy Valley and Glenalta, which have respective median house prices of $390,000 and $527,125. Glenalta topped the liveability list while Happy Valley placed 11th.
Hawthorndene, which has a median house price of $519,250, ranked third in the overall rankings and placed second in the liveability list.
Laidlaw said the proximity of Glenalta and Hawthorndene to the city and their low crime rates boosted their appeal to homebuyers despite being relatively more expensive than other suburbs in Adelaide.
Check out the tables below to see the top 50 suburbs which aced the affordability and liveability scorecards.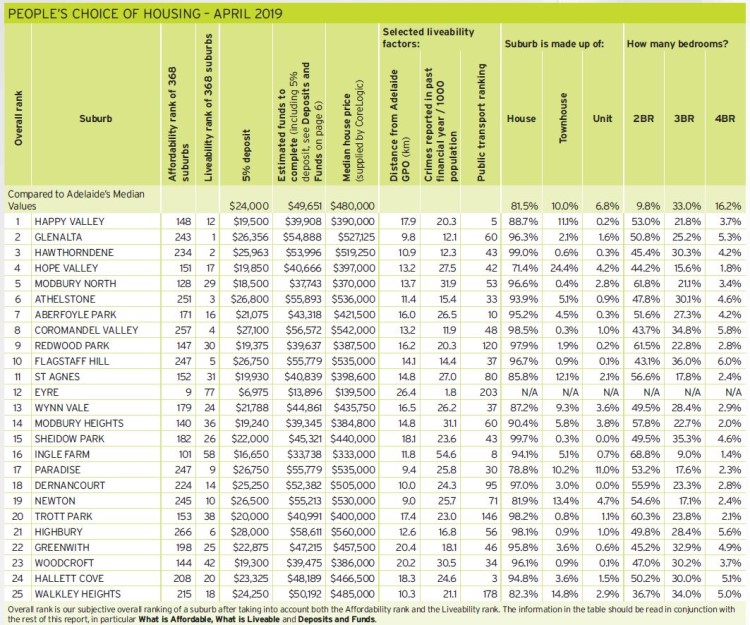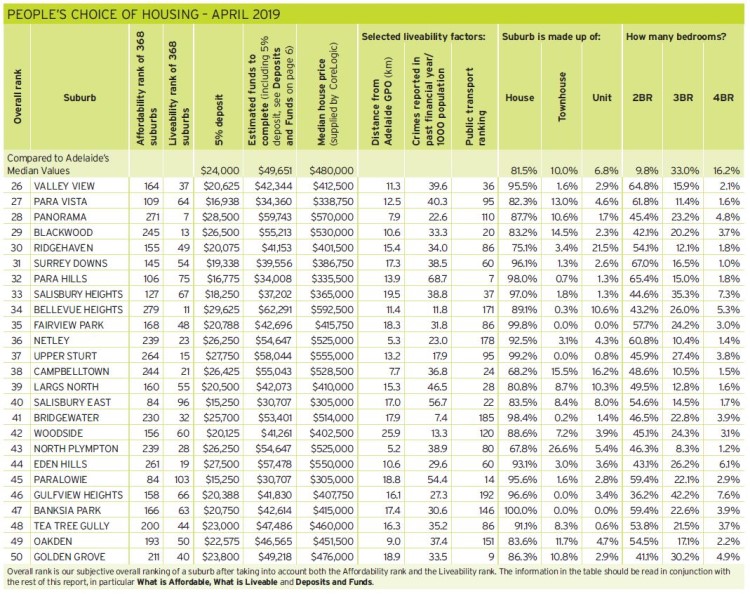 For those looking for units, the report also indicated the top 20 suburbs that offer the best apartments in the city. Magill, a suburb located seven kilometres away from Adelaide CBD, placed first in both the overall ranking and liveability list.
"We get it: not everyone wants a three-bedroom home with a backyard. And not everyone can afford it," Laidlaw said.
The table below shows the top 20 suburbs for units: