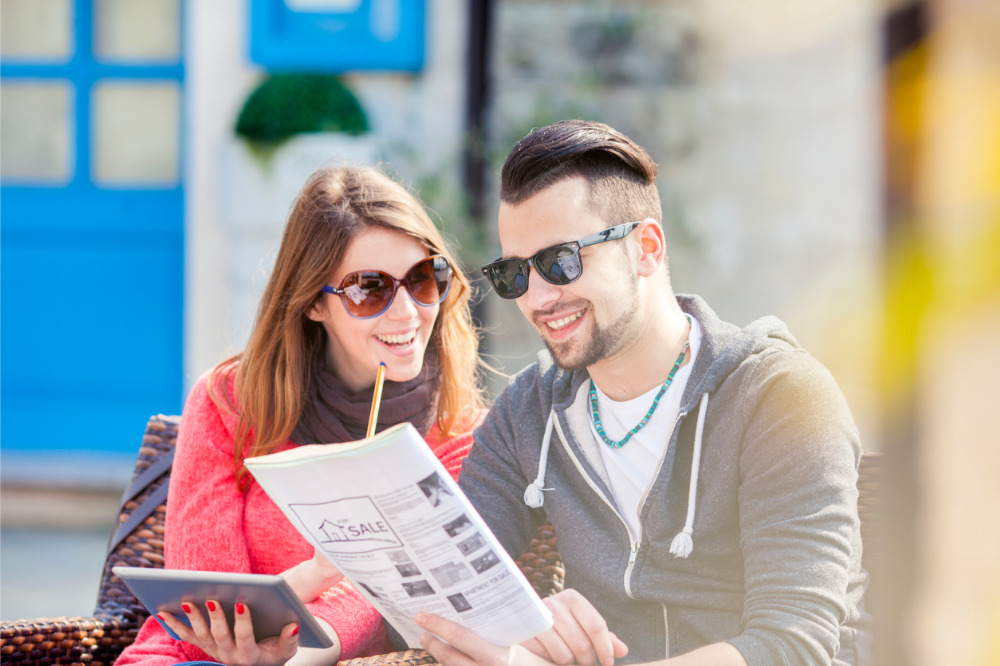 A range of pandemic-fuelled factors has triggered a surge in the number of Australians interested in purchasing a home – but a change in buyer preference has pushed demand away from the inner cities to the suburbs and city outskirts, recent data has revealed.
Realestate.com.au has developed a new metric that tracks the number of "highly engaged" or serious buyers who are looking at properties at specific suburbs, creating an accurate picture of demand in the area.
The property market intelligence website described a highly engaged buyer as someone who is likely to make a home purchase based on their online activity, including "returning to a listing multiple times, looking at floorplans, emailing or calling the agent, and scheduling an appointment."
Data gathered by the group in the 12 months ending in February showed a strong buyer preference for "lifestyle factors," such as larger spaces and seaside living, which director of economic research Cameron Kusher said was a "COVID-effect."
"Demand has shifted to outer and near capital city markets over the past year as people are much more interested in lifestyle and space as opposed to historically, where the focus has been proximity to work," he told Realestate.com.au. "With flexible working arrangements, meaning people don't have to be in the office every day, demand has shifted to these areas."
Australia's most popular suburbs for homebuyers
Buderim on Queensland's Sunshine Coast was the most sought-after suburb for houses in the country, with 42,239 highly engaged buyers looking at properties there. It was followed by Melbourne's Berwick and Sydney's Kellyville, with 41,481 and 37,371 serious property seekers, respectively.
Half of Australia's top 10 most in-demand suburbs were in Victoria's Mornington Peninsula region, namely Mount Martha, Frankston, Mount Eliza, Mornington, and Rye.
By contrast, demand for units was stronger in inner-city suburbs, which Kusher said was primarily influenced by supply.
"A lot of outer capital city and regional markets don't actually have a substantial supply of units, they are only located in specific locations of the country so that is why we are seeing stronger demand in these areas," he said.
Melbourne, with 51,787 serious buyers, was the most popular suburb for apartment units nationally, followed by Surfers Paradise with 40,938. The coastal town in Queensland's Gold Coast was the only non-capital city market to make the top 10.
Here is a state-by-state breakdown of Australia's most in-demand suburbs based on Realestate.com.au new metric. You can access the website's interactive graphics showing the number of active property seekers in all suburbs across Australia through this link.
Victoria
Houses

Suburb

Highly engaged buyers

YoY growth

Buyer type

Subsequent buyers

First home buyers

Investors

Berwick

41,481

53.0%

46%

41%

13%

Mount Martha

34,874

47.4%

75%

12%

13%

Frankston

34,355

44.7%

38%

43%

18%

Mount Eliza

32,084

53.6%

84%

7%

9%

Mornington

31,843

57.5%

62%

24%

14%
Source: Realestate.com.au
Units

Suburb

Highly engaged buyers

YoY growth

Buyer type

Subsequent buyers

First home buyers

Investors

Melbourne

51,787

14.1%

40%

34%

26%

South Yarra

38,288

30.2%

38%

47%

16%

St Kilda

35,596

32.0%

33%

52%

15%

Richmond

31,423

17.8%

32%

53%

15%

Hawthorn

27,503

18.6%

32%

50%

18%
Source: Realestate.com.au
New South Wales
Houses

Suburb

Highly engaged buyers

YoY growth

Buyer type

Subsequent buyers

First home buyers

Investors

Kellyville

37,371

39.7%

63%

29%

8%

Castle Hill

30,017

34.3%

70%

18%

12%

Baulkham Hills

25,789

22.8%

59%

29%

13%

Blacktown

24,410

48.4%

34%

45%

21%

Port Macquarie

21,447

43.7%

59%

19%

22%
Source: Realestate.com.au
Units

Suburb

Highly engaged buyers

YoY growth

Buyer type

Subsequent buyers

First home buyers

Investors

Mosman

17,754

44.7%

54%

26%

20%

Randwick

16,541

39.4%

43%

41%

16%

Wollongong

15,969

53.8%

35%

38%

27%

Sydney

15,767

31.2%

55%

17%

28%

Dee Why

15,673

23.1%

42%

41%

17%
Source: Realestate.com.au
Queensland
Houses

Suburb

Highly engaged buyers

YoY growth

Buyer type

Subsequent buyers

First home buyers

Investors

Buderim

42,239

50.8%

74%

14%

12%

Camp Hill

29,439

50.4%

65%

22%

13%

Helensvale

29,420

51.2%

68%

22%

10%

Coorparoo

28,766

49.9%

67%

21%

12%

Southport

26,838

49.8%

56%

22%

22%
Source: Realestate.com.au
Units

Suburb

Highly engaged buyers

YoY growth

Buyer type

Subsequent buyers

First home buyers

Investors

Surfers Paradise

40,938

60.6%

48%

13%

39%

Southport

21,333

39.1%

48%

25%

27%

Broadbeach

19,332

55.9%

54%

11%

35%

Maroochydore

19,209

66.0%

50%

18%

32%

Palm Beach

19,047

44.4%

50%

23%

28%
Source: Realestate.com.au
Western Australia
Houses

Suburb

Highly engaged buyers

YoY growth

Buyer type

Subsequent buyers

First home buyers

Investors

Scarborough

15,797

49.7%

55%

34%

10%

Dianella

14,926

32.3%

56%

36%

8%

Baldivis

14,647

60.2%

54%

38%

8%

Duncraig

14,229

36.7%

64%

30%

6%

Canning Vale

13,743

43.4%

48%

45%

7%
Source: Realestate.com.au
Units

Suburb

Highly engaged buyers

YoY growth

Buyer type

Subsequent buyers

First home buyers

Investors

Scarborough

13,268

40.7%

42%

41%

17%

Perth

11,790

46.1%

43%

34%

23%

East Perth

10,050

35.9%

42%

35%

23%

South Perth

9,763

33.6%

56%

24%

30%

West Perth

9,325

60%

44%

34%

22%
Source: Realestate.com.au
South Australia
Houses

Suburb

Highly engaged buyers

YoY growth

Buyer type

Subsequent buyers

First home buyers

Investors

Prospect

19,226

39.4%

59%

25%

16%

Hallet Cove

16,703

38.4%

53%

37%

10%

Norwood

16,517

53.7%

71%

13%

15%

Morphett Vale

16,429

47.6%

38%

48%

14%

Magill

16,000

13.9%

55%

33%

12%
Source: Realestate.com.au
Units

Suburb

Highly engaged buyers

YoY growth

Buyer type

Subsequent buyers

First home buyers

Investors

Adelaide

20,427

26.2%

42%

22%

36%

Glenelg

7,698

24.5%

54%

9%

37%

Norwood

7,637

13.4%

45%

28%

26%

Glenelg North

6,172

14.9%

44%

17%

39%

North Adelaide

5,674

1.8%

49%

21%

30%
Source: Realestate.com.au
Tasmania
Houses

Suburb

Highly engaged buyers

YoY growth

Buyer type

Subsequent buyers

First home buyers

Investors

Sandy Bay

13,526

20.6%

68%

10%

22%

Kingston

11,796

23.6%

50%

35%

15%

Howrah

10,758

10.9%

52%

36%

12%

Lindisfarne

10,686

27.9%

55%

30%

15%

Devonport

10,269

21.1%

47%

31%

22%
Source: Realestate.com.au
Units

Suburb

Highly engaged buyers

YoY growth

Buyer type

Subsequent buyers

First home buyers

Investors

Sandy Bay

5,242

-3.4%

46%

21%

33%

Kingston

4,027

42.4%

39%

44%

17%

Bellerive

3,621

63.1%

43%

34%

23%

Hobart

3,592

18.2%

43%

17%

41%

Claremont

3,501

83.8%

36%

43%

21%
Source: Realestate.com.au
Northern Territory
Houses

Suburb

Highly engaged buyers

YoY growth

Buyer type

Subsequent buyers

First home buyers

Investors

Leanyer

4,231

46.6%

40%

55%

5%

Humpty Doo

3,797

89.9%

59%

37%

4%

Durack

3,652

53.3%

44%

51%

6%

Howard Springs

3,239

49.1%

64%

29%

7%

Muirhead

3,024

99.9%

34%

55%

11%
Source: Realestate.com.au
Units

Suburb

Highly engaged buyers

YoY growth

Buyer type

Subsequent buyers

First home buyers

Investors

Darwin City

5,115

67.5%

41%

34%

25%

Stuart Park

3,114

60.4%

41%

47%

12%

Larrakeyah

2,826

43.3%

56%

24%

30%

Nightcliff

2,398

80.6%

39%

49%

12%

Fannie Bay

1,965

97.3%

41%

45%

14%
Source: Realestate.com.au
Australian Capital Territory
Houses

Suburb

Highly engaged buyers

YoY growth

Buyer type

Subsequent buyers

First home buyers

Investors

Kambah

6,433

122.1%

46%

41%

10%

Ngunnawal

5,415

104.5%

37%

55%

8%

Wanniassa

4,142

99.7%

44%

46%

10%

Bonner

3,802

69.2%

39%

54%

6%

Macgregor

3,687

75.8%

34%

59%

7%
Source: Realestate.com.au
Units

Suburb

Highly engaged buyers

YoY growth

Buyer type

Subsequent buyers

First home buyers

Investors

Kingston

4,261

92.1%

46%

24%

20%

Braddon

4,154

76.2%

39%

42%

19%

Bruce

4,042

89.7%

35%

48%

17%

Belconnen

3,845

87.9%

33%

45%

22%

Griffith

3,472

121.3%

42%

35%

23%
Source: Realestate.com.au