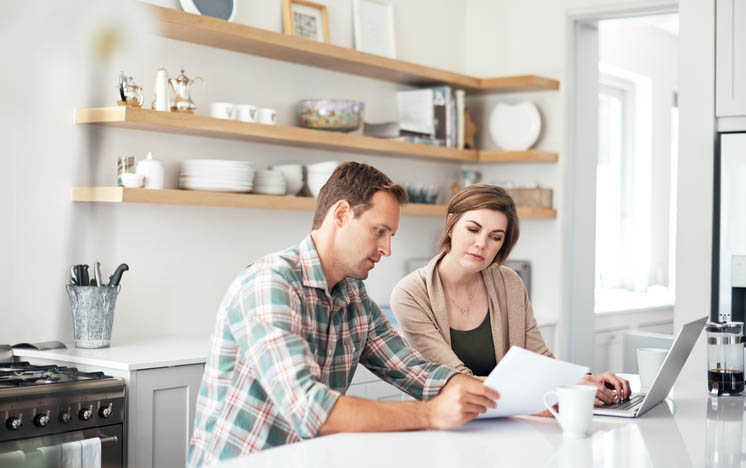 If you think buying a home in Australia is no different than buying the newest iPhone, then think again. While the complexity of home purchases should not discourage you from entering the housing market, it still pays to know the nuts and bolts of the process and the costs associated with it.
One of the most common pieces of jargon in the home buying sphere is stamp duty. Simply put, stamp duty is one of the costs a buyer has to settle aside from home deposit and monthly mortgage repayments.
When buying a home, it is important to consider stamp duty as one of the major costs to keep in mind. Each state has its own stamp duty rates, which can be a headache, so YourMortgage Australia compiled this one-stop guide to equip you with everything you need to know about stamp duties.
Defining Stamp Duty
Buying a home is one of the biggest transactions an Australian will make. As such, home buyers must fully understand each step of the process, from saving for a deposit, to inspecting the house, signing the contract, and paying additional fees in relation to the purchase. Failing to consider stamp duty as one of the major costs in the process might be a huge problem later on.
Stamp duty, also known as land transfer duty, is a general tax imposed to the purchase of real estate. The Australian government imposes such duty to several types of asset purchases. In this case, stamp duty applies to home purchases — be it for your own use or for investment. Stamp duty payments are collected by the state and invested in projects ranging from infrastructure to healthcare.
Paying Your Stamp Duty
The responsibility of settling stamp duty lies solely on home buyers. The tax is usually payable to the state within 30 days after the settlement of your property purchase or, if buying off the plan, the tax must be settled within three months from the date of completion of the agreement.
However, the schedule of stamp duty payment varies from state to state. For instance, stamp duties in New South Wales is payable within three months of settlement. The same rule applies to Tasmania. In ACT, the tax is payable within 14 days of receiving a Notice of Assessment from Access Canberra, an online portal used by the state to process tax payments. To make sure that you do not fall behind schedule, check with your local government for specific rules.
Stamp duty can be paid through BPay, Electronic Funds Transfer, Overseas Electronic Funds Transfer, mail, or by advance payment. Other options include credit or debit card and even cheques.
Calculating Your Stamp Duty
Stamp duty is calculated as a percentage of the market value or the purchase price of the target property. But here's the general rule: the cheaper the property, the less stamp duty will be imposed.
Each state has its own stamp duty scheme. This means that a property in New South Wales may bear a different stamp duty if it were in Queensland. The set of tables below shows the standard rates each state uses when imposing duties on properties. You can also use YourMortgage Australia's Stamp Duty Calculator to assess how much you would have to pay.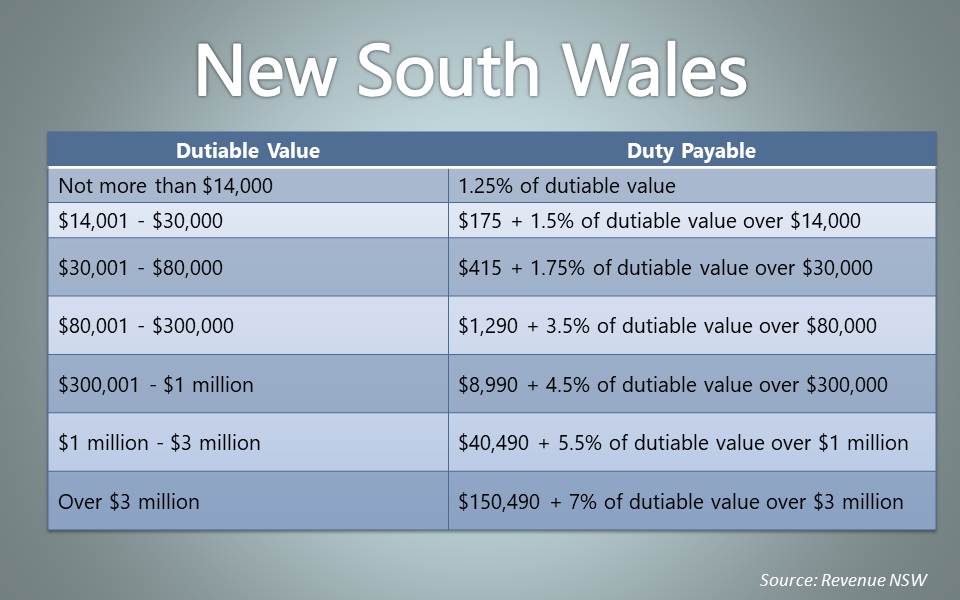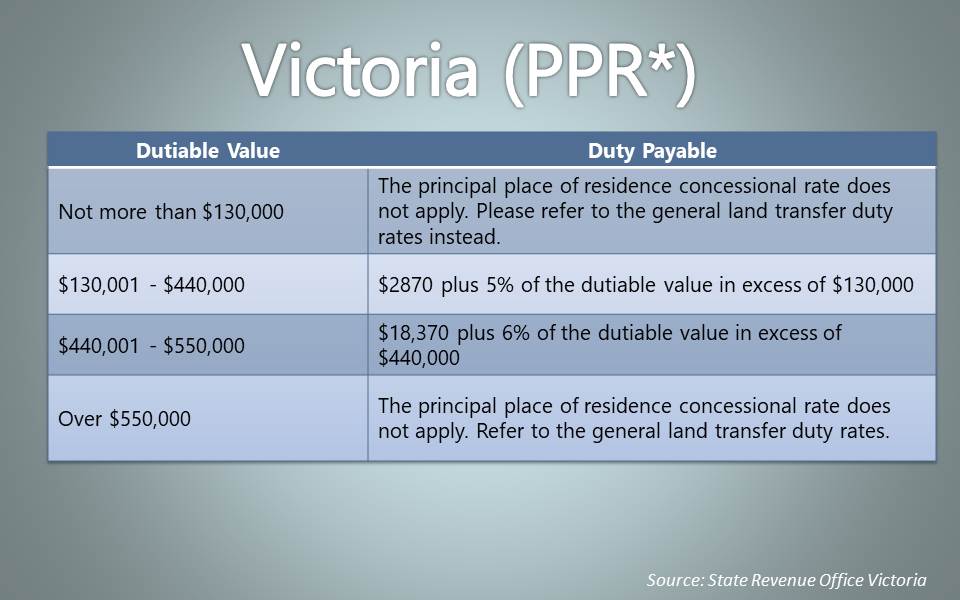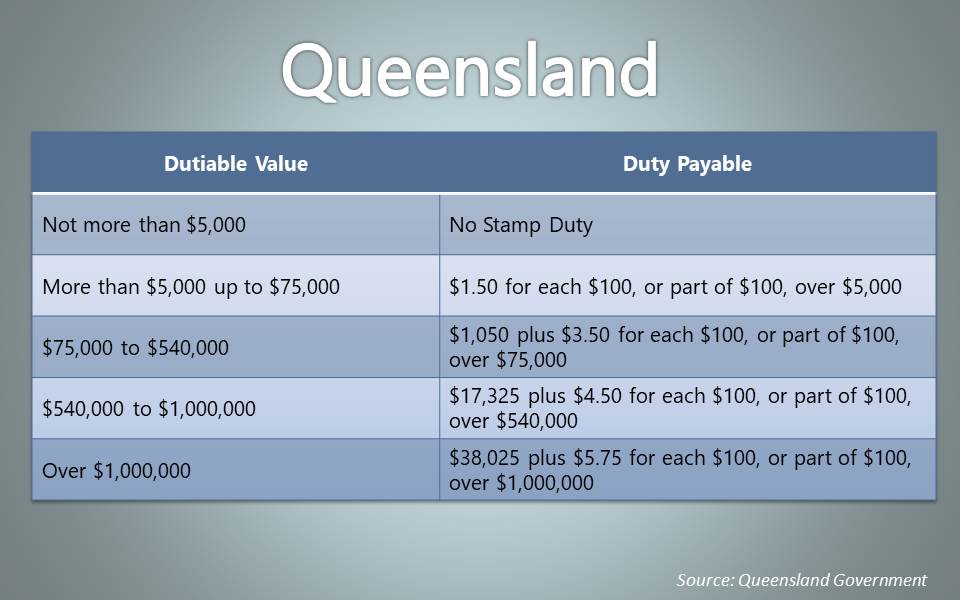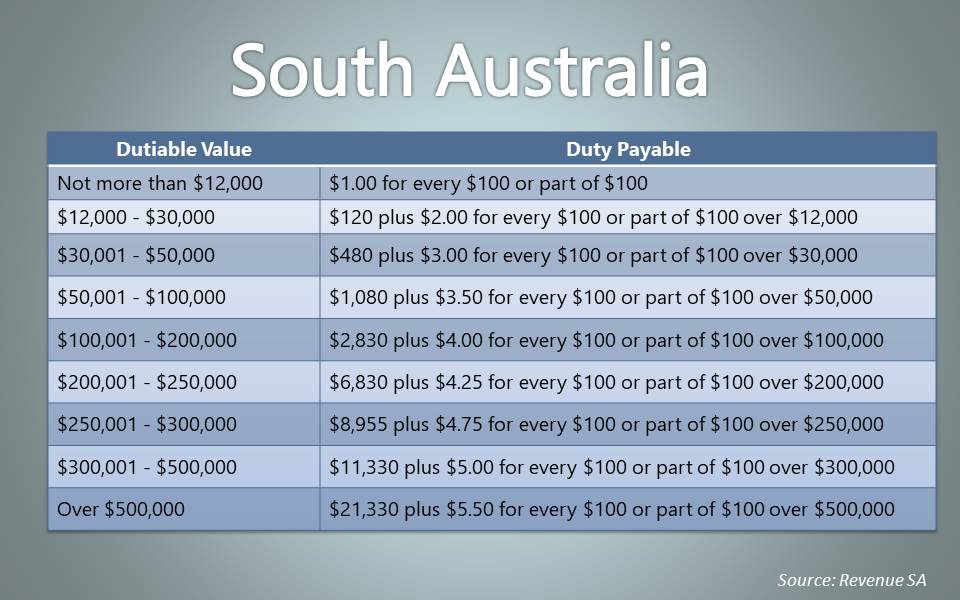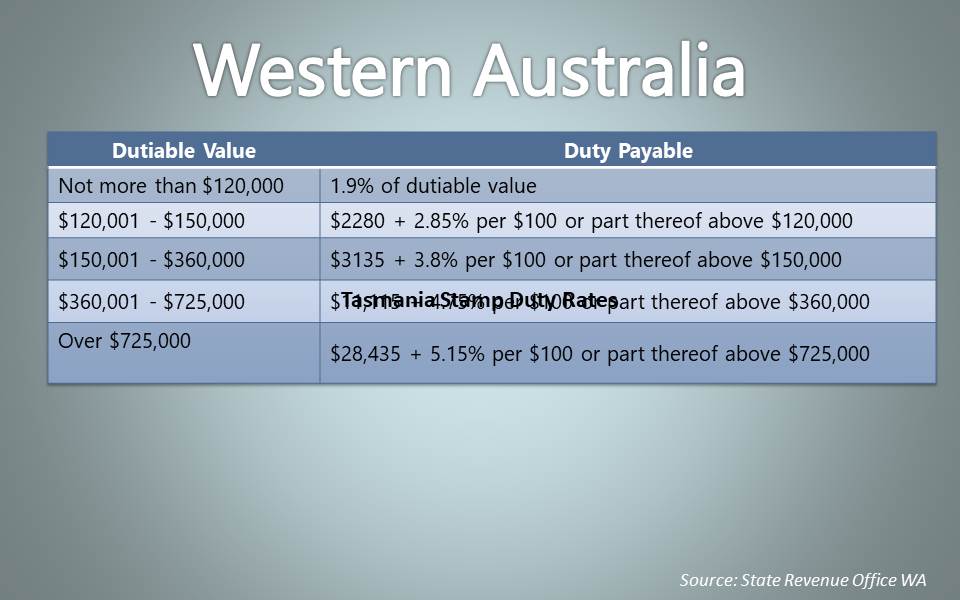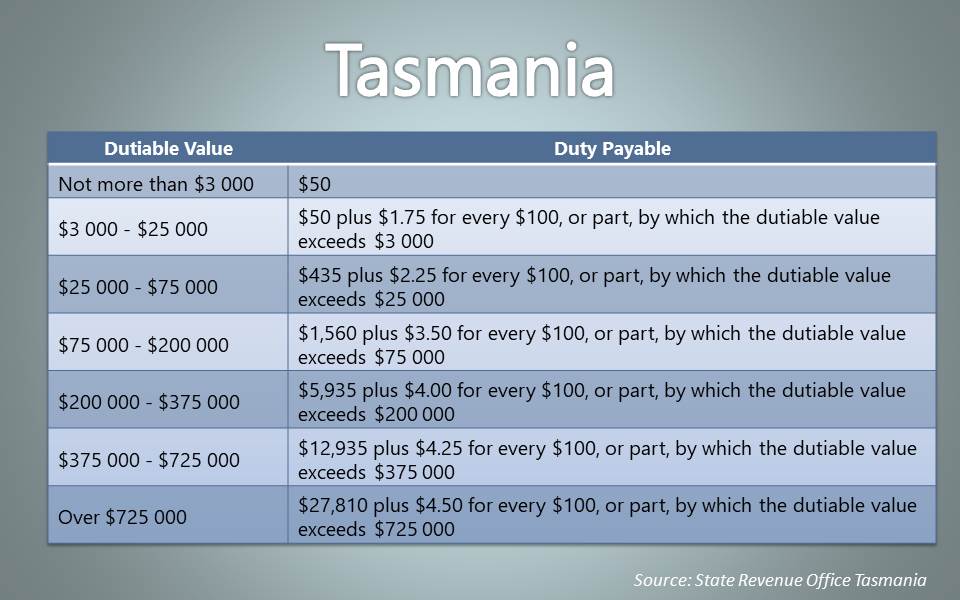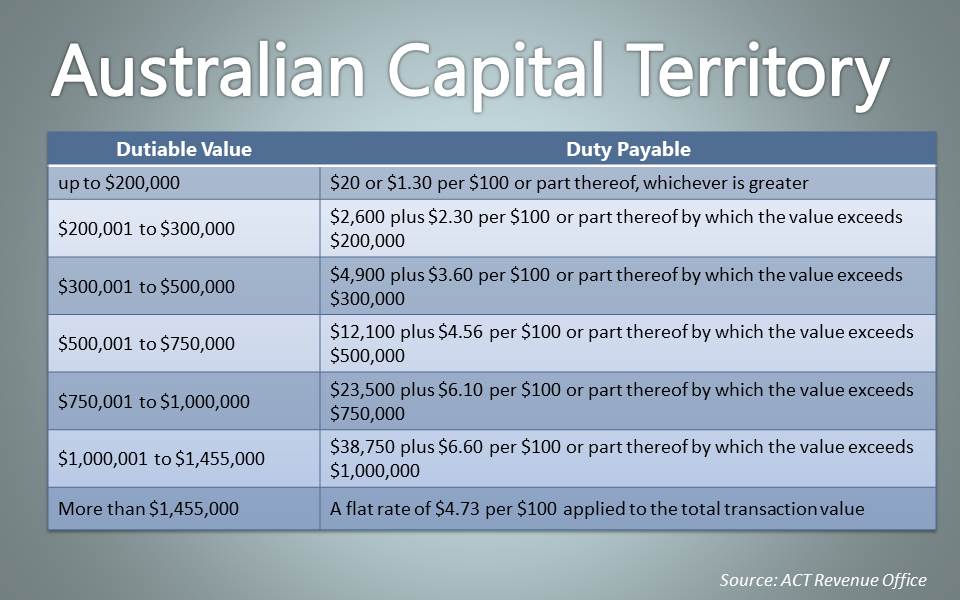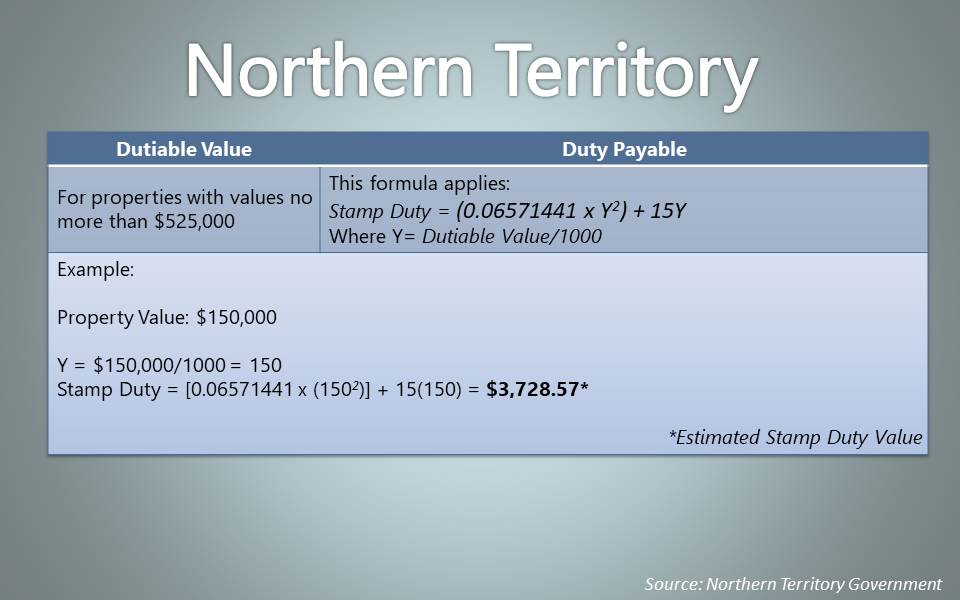 Stamp Duty Concessions and Exemptions
There are exemptions and concessions in place for special cases of property transfer and each state has their own set of rules in granting such. Typically, states lift stamp duties when a property is transferred to an individual whose marriage was dissolved or annulled. Exemptions are also available for those who are transferring the ownership of their property to their spouses. Discounts are also given in instances when a property of a deceased individual is transferred through a beneficiary.
Each state also has their own stamp duty concession scheme for first home buyers. If you are a first-home buyer, you should not miss out on the concessions in place that will help you in buying your first dwelling.
In New South Wales, first home buyers can apply for First Home Buyers Assistance Scheme to access exemptions on transfer duty for established properties valued up to $650,000 and for new homes valued up to $800,000. Exemptions are also in place in Victoria, especially for properties with values not more than $600,000.
First home buyers in Queensland can also avail of stamp duty exemptions, but their properties should not be valued more than $550,000. If the value of the house exceeds the said amount, they can instead apply for stamp duty concessions.
Similar exemptions are also present in Northern Territory for properties with values up to $650,000. Meanwhile, first home buyers in Tasmania who are planning to purchase a property worth up to $400,000 can avail of a 50% stamp duty discount, allowing them to save as much as $7,000.
Discounts are also given to first home buyers in Western Australia, particularly to those who eye snapping up a dwelling amounting up to $530,000.
First home buyers in ACT are not required to pay any stamp duty.
Discounts and grants are also available for downsizers and pensioners. To know more about your state government's grants and services, check the following government websites: