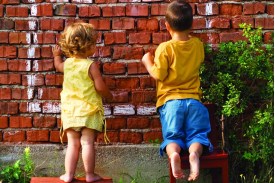 Attention women of Australia, if you want a $5,400 baby bonus you need to get moving. The treasurer, Wayne Swan, has announced the bonus will be chopped by $400 per child in a measure that will save the Commonwealth coffers $89.1 million in 2012-13.
That's a drop in the ocean when you're attempting to fix a $37 billion deficit. Doesn't the treasurer know the nation's birth rate is in decline?
The baby bonus is paid to Australian residents who will earn less than $75,000 in the six months following the birth or adoption of a baby. It's paid in 13 fortnightly instalments.
You can't receive the baby bonus and paid parental leave for the same baby. If you're eligible for both and you can't receive it if you're also entitled to paid parental leave.
Paid parental leave was introduced in January 2011 and is available to all those earning less than $150,000.
If you want to find out whether you're better off opting to receive the baby Bonus or paid parental leave for your next baby, Centrelink has a calculator that helps you compare the value of both.
The first year after the arrival of a baby can be expensive, particularly if one parent opts to be out of paid work for a period to be primary care giver so it's worth checking out your entitlements and taking full advantage of what's available.