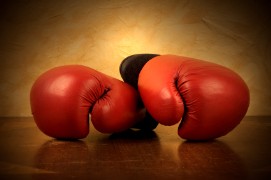 On Friday morning punters were being offered $1.15 on Julia Gillard to win Monday's leadership battle but when it comes to how the leadership battle will impact on your finances it's a 50:50 bet.
The Australian stock market wasn't paying any attention to the Canberra capers. It is reporting season and all eyes are on whether or not earnings announced by our big listed companies for the first half of 2011-12 have met expectations.
Chris Tedder, research analyst for Forex.com explains that if Australia had an emerging economy with a high level of political instability, a leadership coup could send shockwaves through the economy and even send our dollar spiralling against other major currencies.
However, Australia's economy is strong and our political system stable in spite of the Federal ALP's best efforts to self-destruct.
"Political destabilisation in a developing country where you usually get violent leadership changes can have an impact on financial well-being. Iran at the moment with the threat of Israeli air strikes is a good example," says Tedder.
However, Australian shares, property prices and the Aussie dollar are likely to be basically untouched no matter what the outcome of the battle for the office of Prime Minister.
Irrespective of who is at the helm, it will remain an ALP federal government and there are not expected to be any major shifts in policy direction.
Rudd has stated in the media that he would keep the carbon tax if he replaced Gillard so that means we could still all expect to see a cheque in the mail before the new tax was introduced. However, Gillard said there would be no tax so can we rely on what any politician says in the media?
Will it move the markets?
When Kevin Rudd was swept to power in 2007, the All Ordinaries Index has headed sky high in the high 6000s. By September 2011 it had crashed to lows around 3,200 following the onset of the GFC.
By the time Gillard took over the market was in recovery mode at around 3,900 to reach a high above 5,000 by April 2010 and it currently sits at around 4350.
Of course Rudd, Gillard and Swan all claim to have a hand in guiding Australia through the worst of the GFC but the truth of the matter is no one politician has a huge impact on how Australian markets move.
What about interest rates?
Ditto official interest rates. The RBA has its settings for inflation and they are not likely to change irrespective of who is the political leader of the nation. The likelihood of a rate decrease in March seems to be fading and the banks have proclaimed that they will determine their own rates anyway.
What should you do?
There's no real need to adjust your portfolio or make any major financial decisions based on the leadership challenge as its impact on markets is expected to be minimal.
There may be a bit of an up-kick for the dollar and the ASX if the stoush is settled with a clear outcome on Monday. However, if the loser moves to the back bench without promising not to challenge, we can all expect the instability to continue.
For now, just sit back and watch the circus.