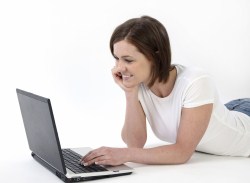 YMM finds fantastic ways to earn some cash off the Internet, scam-free.
Selling on eBay
We've all used eBay at one point in our lives, and this is the classic way to make some cash online. Whether it's your pre-loved tennis racquets or a hand-made pin cushion, you can always find someone willing to buy it. Using eBay as your marketplace doesn't come free, though. Sellers are charged an insertion fee for placing an item on the virtual market and a final value fee when someone buys your product. As a registered seller on eBay, you'll receive sales reports and tips on how to price your product to maximise your chance of making a sale.
Domain flipping
Domain names are big bucks these days – investmentproperty.com.au was bought for $125,000 last September, breaking the record for the most money paid for an Australian domain name. Domain flipping involves buying a domain name and building the website over time, in the hope of generating traffic to the site. Once substantial traffic is generated and the site's value improves, you'll be able to sell the domain name (and hence the website) at a higher price and make a profit.
Blogging (and marketing)
Think you're a master of the written word? Or perhaps you'd like to share your rare expertise and passion for Korean cinema. Well, you can earn cash from penning your thoughts online. Many bloggers use free webhosts, such as wordpress and tumblr. However, if you want complete control over the layout of your blog, then you might consider paying for the service.
How do you transform your writing bug into a money-making venture? Sign up with Google Adsense. Google Adsense places targeted ads on your blog – in other words, ads that relate to whatever you blog about – and you receive cash every time someone click on the ad. On top of that, you retain reasonable control over the process - you can choose which ads appear on your blog, and how they're displayed.
Rent it out
If you're not ready to say goodbye to your Titanic DVD, then you can make some cash by renting it out. Dubbed as the "eBay for renters, Open Shed allows you to rent other people's possessions for a price. The only difference is that you need to physically meet with your borrower to exchange items.
Operate your business online
If you already run a small business, consider saying goodbye to your bricks-and-mortar store and allow customers to purchase your products online. If it's feasible and you're self-employed, operating from home eliminates rental costs and cut down a host of other fees.