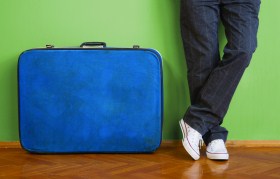 When you're abroad, the last thing you want is to let your dollars slip in credit card fees.
Travelling Aussies are forking out much more than they should be in credit and debit card fees.
According to RateCity, Aussies spend a total of $142 million to access overseas ATMs each year.
Damien Smith, CEO of RateCity says that whilst you may be able to avoid ATM fees in Australia, it's tougher to escape them while you're overseas.
The average fee for a foreign ATM is $5 for every withdrawal, with most Australians making four visits to an ATM over the course of their holiday. It's important to remember that a credit card which has great value in Australia may bite you when you're travelling abroad.
The numbers are shocking when you look at currency conversion fees, too. Each year we spend $191.7 million in changing currencies, as the average currency conversion fee is 2.7% of the value being converted.
"We estimate travellers are collectively being slugged about $334 million to access their own funds while on holiday," Smith says.
Ditch the fees
Thankfully, you can say goodbye to these fees and leave more money for shopping, drinks and sightseeing. There are several cards on the market that charge neither a currency conversion fee nor an international ATM fee:
• GE Money's 28 Degrees Credit MasterCard
• Maritime Mining & Power Visa credit card
• ECU Australia Access Plus debit card
• Hume Building Society All Purpose S10 debit card
• NAB Gold Banking debit card
If you're not using one of the above cards, you can still minimise your card fees by flexing the plastic at the right time. Reduce your need for cash by making purchases with your credit card – even if you're simply buying lunch.
Another golden tip is to never use a credit card to make an ATM withdrawal – otherwise you'd be looking at an interest rate of about 20% for the cash advance.
-- By Stephanie Hanna