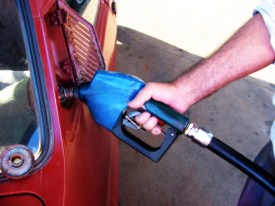 Petrol prices have fallen to a 10-week low and economists have tipped cheap fuel is set to continue in the coming weeks.
The average price for fuel has fallen by 2.5 cents to 141.6 cents/litre since last week, according to data released by the Australian Institute of Petroleum.
The national average price in metropolitan centres fell by 3.2 cents to 139.7 cents a litre, while the regional average price fell by 0.9 of a cent to 145.6 cents a litre.
Commsec economist Savanth Sebastian said in a statement that the fall in petrol would be "great news" especially as we enter the Christmas season. He added that further price cuts are likely to come.
"The wholesale price of fuel has fallen by over eight cents a litre in the past three weeks and the retail price has only fallen by just less than five cents a litre," Sebastian said.
"In other words, petrol retailers are still playing catch up and it should ensure that pump prices fall by around another two-three cents a litre over the next week," he added.
It's not all good news though, and Commsec urged motorists to take advantage of the cheaper fuel prices, as confidence returning to overseas markets is likely to lift the price of crude oil.
The cheapest city to fill up?
Darwin remains the city with the most expensive petrol, but has come down by 0.9 cents to reach 152.0 cents/ litre. Melbourne is the winner though, and has the cheapest unleaded fuel. The average price has fallen by 4.9 cents and the average is currently 136.1/ litre.