Auction clearance rates recover​y "very healthy"
Australia recorded a preliminary weighted average clearance rate of 69.4 per cent this week on low volume across capital cities​ – a slight increase over last week and the same period last year. RP Data describes the results as "very healthy" in comparison. Sydney and Melbourne are outpacing their gains of last year's cycle of spring rise and winter fall in price. Despite a weak May, Sydney's year-to-date gains are 6.3 per cent versus 5.3 per cent through July 7 last year, and Melbourne's is up 4.5 per cent, faster than the 3.2 per cent rise through June last year. Read the full story here.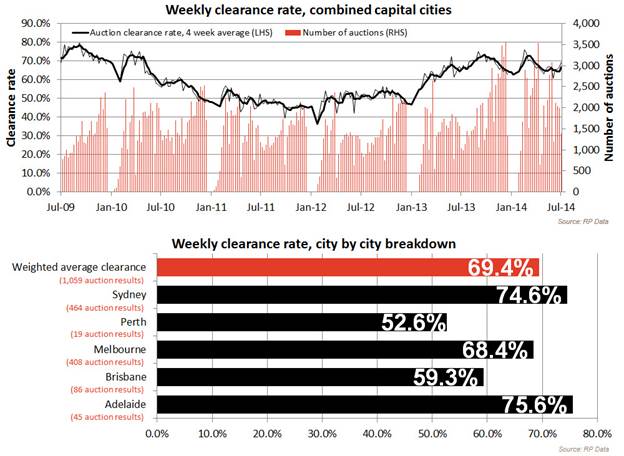 ​​
​​
Solar energy​: is the end in sight for coal?
The wholesale midday price of electricity in Queensland last week fell to less than zero. Coal fired electricity providers paid more than they earned. Rooftop solar is going to put traditional energy generation out of business in its current model. The consequences of this shift on home values and ownership costs – particularly of homes with panels installed – will be profound but remains difficult to project. About 1,100MW of solar has been installed on more than 350,000 buildings in Queensland alone and 3,400MW on 1.2m buildings across the country. But power lines still have a cost to maintain, and it isn't clear how this cost will be distributed if regional power generators no longer remain profitable to operate. Network charges and retailer charges alone add up to more than 19c/kWh, while solar ranges from 12c/kWh to 18c/kWh today. But if utilities cannot adapt to the changing economic model of solar, then 40% of consumers will simply quit the grid, with mass disconnections starting by 2018. Read the full story here.

​​Investorist ​listing more off-the-plan properties than realestate.com.au
Jon Ellis, the founder of Investorist, lists more than 200 off-the-plan apartment projects on his site – more than listings dominator realestate.com.au. But Investorist doesn't target Australians at all. The $5.2 billion in listings is aimed squarely at Chinese property investors, describing his business as more of a large project marketing agency than an off-plan property site. Half of the revenue comes from overseas, from investors without deep enough local connections to navigate the intricacies of the Australian local real estate market. Read the full story here.

​​REA spat with rebelling real estate agents continues
REA Group the News Corp subsidiary that owns realestate.com.au, rejects the charge that it won't deal with a group of real estate agencies who have formed a negotiating alliance – Real Estate Digital Marketing Services – to challenge REA's latest round of ad price increases. REA interim CEO Peter Tonagh said they're willing to play ball with REDMS … if the alliance is legally allowed to negotiate at all. Their collaboration may run afoul of competition regulations. Media agency Vizeum – which represents REA's main competitor Domain – also represents the agents, and has threatened to boycott realestate.com.au without a better deal, REA claims. Read the full story here.