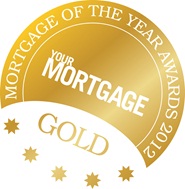 BANK OF THE YEAR
AMP
AMP has charged into the gold medal position of the Bank of the Year award in 2012, improving on a great performance in 2011, which saw it just miss out on the top spot.
Branding itself as 'the bank Australia deserves', AMP has worked hard to give the country's borrowers what they want when it comes to home loans.
In six different awards categories for banks, AMP managed to score four podium finishes, including one gold medal and three silvers. This consistent production of high quality loans got the lender across the line to be named best bank, in a highly competitive field.
Rob Slocombe, chief operating officer for AMP, puts the success down to listening to customers and distributors and acting on their advice.
"We've actively positioned AMP Bank as an alternative to the major banks for different types of customers, including first home buyers, new purchase and refinancing customers, and investors," Mr Slocombe says. "We've refreshed our product range over the last year and have introduced a new variable rate home loan…We've also focused on competitive pricing across both the fixed and variable rate loans."
The highest ranking AMP product was the gold medal winning 3-Year Fixed Rate Loan, which convincingly pushed old rival NAB into second. The introductory headline rate of 6.19% (6.43% comparison), was the best in show, as was the generous 6.57% rate that the loan rolls into after the three years is up.
In addition to the superior rates offered, this fixed product allows for up to $10,000 per year in additional repayments at no extra cost. It also offers free portability and combination access, along with the option to pay interest only.
A reasonable LVR maximum of 90% with LMI, or 80% without, rounds out a nice package for those looking to borrow at least $250,000.
A strong performance in the fixed category was added to by the first of AMP's silver medals, which it received for its 1-Year Fixed Rate loan.
An initial interest rate of 6.09% (6.43% comparison), rolling into a 6.47% rate at the end of the fixed period, had it poised hot on the heels of gold medal winner Bank MECU, with some pretty handy features sealing the high ranking.
These include zero application or ongoing fees, a low total start-up cost of $295 and the option to pay up to $10,000 a year in additional mortgage repayments, at no extra cost. The product also has free portability and combination features and can be used to purchase vacant land.
AMP's second silver came in the category of Best Introductory Loan, where it narrowly missed out on gold to BankWest, but held off bronze winner HSBC.
AMP's Intro Professional Package scores well with its initial rate of 6.42% (6.74% comparison), which is a full 1% below its classic variable rate. Twelve months later, borrowers can still beat the bank's classic variable rate by 0.85%, when the introductory loan rolls over to AMP's Professional Package rate.
A lack of application fees makes the product enticing, as do the unlimited additional repayments, fee-free portability and uncapped free redraws. Borrowers also have the option to select a number of professional package options in a combination, such as 100% offset, line of credit and fixed rate as a combination.
AMP's final foray into the medal rankings came in the form of a silver medal in the Best Basic Variable category, with its Basic Variable Rate Loan product, boasting a 6.62% headline rate, backed up by a 6.67% comparison rate.
This product includes such features as unlimited additional mortgage repayments, no application or ongoing fees, 100% offset and unlimited redraws.
FOUR-TIME MEDALLIST:
Gold Medal - Best Bank 3 Year Fixed Rate Home Loan
Silver Medal - Best Bank 1 Year Fixed Rate Home Loan
Silver Medal - Best Bank Introductory Home Loan
Silver Medal - Best Bank Basic Variable Home Loan