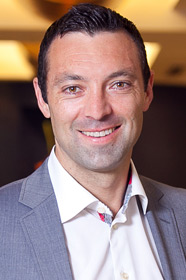 Location:Kingston, ACT
Tiffen & Co have taken out the top spot for the second year in a row. Company director Gerard Tiffen explains how his brokerage has come by such phenomenal success
What's the secret to building a successful brokerage?
Systems, people and the ability to create long-term relationships.
What are the advantages of being an independent brokerage?
In my humble opinion, being able to create your own lifestyle, culture, and standards are the main benefits.
How do you think independent brokerages can continue to thrive in today's market?
As long as we are always looking at what's next and not in slowdown mode, I think independent brokerages will continue to lead the industry. The industry needs impartial advisers that want to succeed and see their clients grow.
What advice would you offer to brokers who would like to set up an independent brokerage?
I think as long as you have a plan and can survive the first three years of business, then it's a great option. I think the days of the one-man band are over, however, and with licensing and compliance it will be harder and harder to survive. And so it should be, as clients need more support than this.
What's your strategy for generating new business?
Create relationships.
What is the most important thing a broker can do to grow their business?
Write one loan, then two loans, then three loans, is what I tell my guys. We are in a very lucky position that we can genuinely nearly put every person we meet into a better loan or cheaper rate that in the long term or short term will save them money. As long as you believe that, then I think you will be great.
What trends have you noticed this year? Have you had to adapt your business strategies to the market conditions?
No real trends, just business as usual. You have to approach every client with their needs at the forefront of everything you do, not what's best for you or what will earn you the most. It's all about the clients, and if you take care of them then everything else will fall into place.
What are your goals and strategies for the year ahead?
Become the
MPA
Number 1 Independent Brokerage for a third straight year!
Have you diversified outside of mortgages? If so, how have you incorporated this into your business?
Yes, we have a full-time risk insurance specialist that offers cover to all our clients. She is great, has the same attitude that we do, and genuinely cares for the client. It's taken a long time to find the right person; however, we have her now.
Company Information
Year Established
1995
Founder
Gerard Tiffen
Head Office
23 Jardine Street Kingston ACT Australia 2604
ACHIEVEMENTS/RECOGNITIONS
Brokerage of the Year , Australian Mortgage Awards 2013, 2012
Top 25 Brokerage, The Adviser 2013, 2012, 2011, 2010, 2009
Boutique Brokerage of the Year, Australian Mortgage Award 2012
Top 50 Dealmakers, MPA
Brokerage of the Year- Finalist , Australian Mortgage Awards 2011
Boutique Brokerage of the Year, Australian Brokerage Awards – The Adviser 2011
Affiliations
Mortgage and Finance Association of Australia (MFAA)
Credit Ombudsman Service Limited (COSL)
Contact Information
Website
http://www.tiffenandco.com
Company Email
enquiries@tiffenandco.com
Community / Charity Involvement
"Walk for Prems" by Life's Little Treasures Foundation (October 2013)
"Believe Achieve Fundraiser" (July 2013)
Australian Red Cross's Club Red

This article was first published on Your Mortgage website. To get the MPA Top Independent Brokerages feature on PDF, please click on the link.