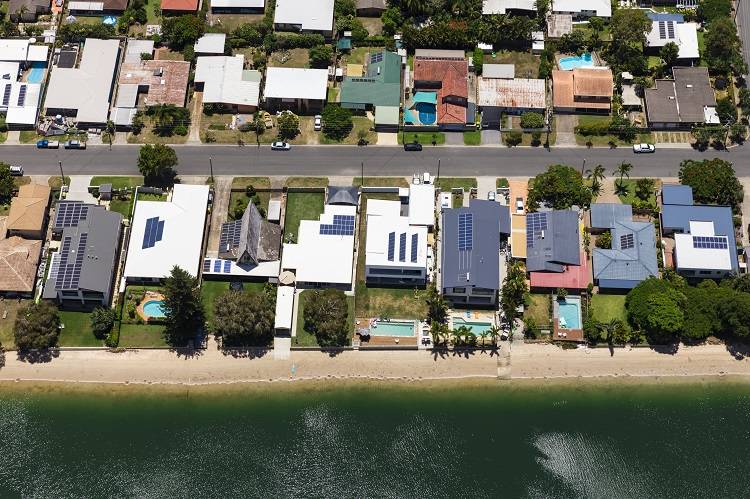 Can you apply for a home loan?
If you are an Australian living abroad, you might be wondering if it is possible for you to apply for a home loan. The answer is yes – however, you will need to meet stricter criteria for approval.
You can usually apply for a home loan under the following circumstances:
You have a large, stable income and a clear credit history
You are self-employed and wish to borrow no more than 80% of the property's value
There are also some things that can make it more difficult to secure a loan harder for you to secure a loan. While none of these issues will outright prevent you from obtaining a mortgage, you may need to look for specialty lenders. Some of these factors include:
The currency of your current income
Whether you receive income from a foreign business
You are married to someone who is not an Australian citizen
How much can you borrow?
With an expat home loan, the amount you can borrow depends on the lender you choose. Factors such as fluctuating exchange rates, foreign tax rates, any foreign debts you have and the impact of negative gearing (borrowing money to buy an income-producing asset that will not be able to cover the loan payments, cost of maintenance, interest or depreciation in the short term) can influence how much a lender will let you borrow, with LVRs ranging from around 60% to 80%. As a result, you might be required to provide a higher-than-normal deposit and/or use equity from properties you own within Australia.
Generally speaking, lenders will use the following criteria when considering your application:
An assumption that no benefits can come from negative gearing
The Australian tax rates (which will even apply to income from countries with no income tax)
Loaded repayments made on international loans
Between 60% and 90% of the income you receive
What are the accepted currencies?
The currencies that lenders accept change along with the financial market. Other factors may play a part as well and, often, lenders' decisions will vary depending on the circumstances. You will have a better chance of getting approval on a home loan if you receive your income in the following currencies:
Canadian Dollar
Chinese Yuan Renminbi
Euro
British Pound Sterling
Singapore Dollar
Hong Kong Dollar
Japanese Yen
New Zealand Dollar
Swiss Franc
US Dollar
Other currencies tend to carry restrictions. Often, you will not be able to borrow more than 80% of the property value with the following currencies:
Bahrain Dinar
Bruneian Dollar
Danish Krone
Fijian Dollar
Indian Rupee
Indonesian Rupiah
Kuwaiti Dinar
Macau Pataca
Malaysian Ringgit
Norwegian Krone
Oman Rial
Papua New Guinean Kina
Philippine Peso
Qatari Riyal
Samoan Tala
Saudi Arabian Riyal
Solomon Island Dollar
South African Rand
South Korean Won
Sri Lankan Rupee
Taiwan New Dollar
Thai Baht
Tongan Pa'anga
Turkish Lira
United Arab Emirates Dirham
Vanuatu Vatu
Vietnamese Dong
If you earn money in several currencies, some lenders will accept those currencies, given that they are on the lists above. Take note that currencies less powerful than the Australian dollar will reduce your borrowing abilities. Since different exchange rates apply to different currencies, lenders will have to account for changes in exchange rates while considering your application.
What are the requirements?
As with a regular home loan, you will need to provide proof of income, which includes six months of bank statements, last two payslips and an employment letter. Other supporting documents required include copies of your passport and visa showing that you are allowed to live and work abroad.
What are the steps that you need to take?
In order to succeed in your property purchase in Australia, make sure that you do the following:
1. Have your team of professionals
Conveyancer: A conveyancer's job is to complete searches on the property, manage the transfer of ownership and review the contract before you sign it. Take note that your appointed conveyancer must be in the same state as the property you are buying or at least be licensed to deal with that state.
Mortgage broker: Your mortgage broker can be anywhere in Australia – as they do not need to see the property you are buying – and, for most residential mortgages, their services are free. Just make sure that you choose one who has experience in helping non-residents apply for a mortgage in Australia.
Accountant: While appointing an accountant is not necessary, it can be beneficial for you. Your accountant can help you structure your financials and save money on tax as they are on Australian tax legislation. You will need an accountant most when you like to set up Australian companies or trusts to hold your investment.
Buyer's agent: The main job of a buyer's agent is to source the property and negotiate a great deal on your behalf. This person will deal with the real estate agents for you and ensure that the property you are buying represents a good opportunity. Your buyer's agent must, of course, be licensed and have some presence in the state where you are buying a property in.
2. Get your loan pre-approved
Make sure you get mortgage pre-approval before you begin looking for a property. Why? Good properties do not stay long in the market! More importantly, you know you are eligible for a loan and how much you can borrow.
How long does a mortgage pre-approval last? Find out in this article.
3. Confirm if you qualify with the FIRB
If you are a non-resident or a temporary visa holder, you are legally required to get permission from the Foreign Investment Review Board (FIRB) to buy a property in Australia. The FIRB approval process is simple, usually taking only up to two weeks from the date the application is lodged. Fees can vary depending on the value of the property or land you want to buy:
Less than $1 million: $5,000
Per every $1 million: $10,000
Agricultural land: Notify FIRB if you are buying a farmland worth $15 million or more so the fees can be substantial
You will actually only need to apply for FIRB approval once you have found a property. However, you should investigate their requirements so that you will not buy an ineligible property for foreign investors.
4. Look for a property to buy
When searching for a property, you can either do it yourself or have a buyer's agent do it. If you do not want a buyer's agent to do it for you, you can use comparable sales to value the property. To get a more accurate value, make sure that you compare your properties to other properties that have sold outside of the development.
5. Negotiate the purchase agreement
Australian properties usually sell for up to ten percent less than the listed price, but this varies depending on the market, location and type of property.
You can ask for a contract before signing and ask your conveyancer to look at it and add any additional conditions if necessary. A common condition is that the sale is "subject to FIRB approval", which allows you to cancel the contract in the unlikely event that you are not able to get that approval. If the seller allows a cooling off period, you can put a holding deposit and sign the contract. If you are unable to get a loan during this period, your maximum penalty will be the holding deposit, usually up to $1,000.
6. Complete the settlement
After your loan has been formally approved, you can then exchange contracts with the seller and put down a deposit, usually ten percent – but this is negotiable and differs between states. You will then need to undertake inspections and approvals as part of the conditions of your loan offer. These might include:
Building Inspection Report: which generally focuses on the structural integrity of the property
Termite & Timber Pest Inspection Report
Finance Approval: No matter how confident you are in your ability to obtain finance, your offer will always be subject to finance approval.
Once you have completed the conditional requirements of your contract, you can then advise the seller's agent that you will be proceeding to the settlement – the time when the ownership of the property is transferred and your loan is advanced.
Buying a home in Australia while you are living abroad can be difficult, but it is not impossible. if you keep in mind the points discussed in this article, your home purchase can be a lot easier and more rewarding.