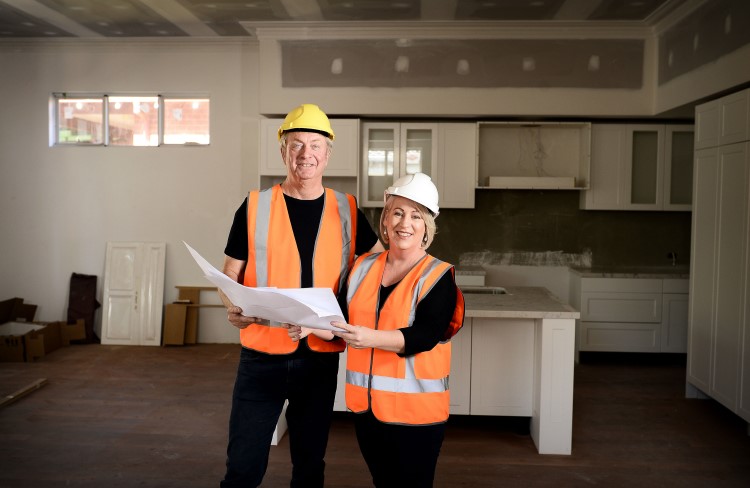 Homeownership takes responsibility and commitment. A house needs maintenance and care to make sure that it is in its top shape. After all, a house is an investment — for its value to grow, you have to ensure that it remains as attractive as it was the day you acquired it.
Most importantly, however, you have to treat your house not just as your property or possession but your home. If you recently bought it, it is likely that you will get to spend a huge chunk of your life living in it. Eventually, when the time to sell and move comes, a well-maintained house will be able to provide you a financial boost that can help you in your next home purchase.
"There are a few key life stages where homeowners find the need to renovate," says Suzanne Burke (pictured with her co-author, Steve Burke), co-author of the book Nail Your Renovation Without Getting Screwed.
You might also feel the need to renovate when your home does not satisfy your needs anymore.
"What suited them as a couple is no longer big enough once children start to run around. They soon find that toys are littered all over the house, and after tidying up, there just doesn't seem to be enough room for everything. The time has come to add more space and more storage," Burke said.
Another clear reason to renovate is when you think that occasional maintenance work and fixes just would not cut it. When all the problems pile up — tiles need regrouting, plumbing starts to malfunction, kitchen looks outdated, windows appear tattered — renovation is the best thing you could ever do for your humble abode.
Your Mortgage reached out to Burke to discuss her strategies for renovating a home. In this interview, she shares how renovations can help boost the value of a property. She also talks about which renovation projects are the easiest and hardest to do.
Your Mortgage: What should homeowners do and have before deciding to push through with a renovation project?
Suzanne Burke: Before renovating, consider the big decisions first. Should you renovate or detonate? That is, is the home worth saving or would it be more economical to demolish and build new? Or, perhaps it is time to move home? Undertaking a large renovation project can be stressful on the family, so some consideration needs to be given to moving home instead.
In many cases, homeowners will find that they love the street they live in, and simply cannot find an established home that meets their needs elsewhere. The big advantage of renovating is that you get to keep some of the character of the home. If you have lived there for a while there may also be some precious memories associated with the home too. By deciding to stay and renovate you get to preserve these.
Looking for a home to renovate for profit? Check out this guide and know more about turning a shabby property into a lucrative investment.
YM: Which parts of the house are the easiest and the hardest to renovate?
Burke: The easiest parts of the house to renovate are the bedrooms. There is no plumbing, the layout of the bedroom is relatively straight-forward and it is easy to achieve a great style and look. Even better, it is the easiest room to re-style when you want a new look. Simply change the bed linen and accessories and you can create a new look overnight.
The hardest rooms in the house to renovate are the kitchen, bathroom and laundry. Each of those rooms requires the services of professional tradespersons such as plumbers, electricians and tilers to achieve results. When dealing with wet areas, mistakes can be very unforgiving and expensive to fix if not done properly. For this reason, it is worth investing in a professional instead of DIY to ensure it gets done right the first time.
YM: What renovation projects would boost the value of the property?
Burke: The two best renovation projects for boosting the value of the home are increasing the street appeal and making sure you have a great kitchen.
To increase the street appeal of your home, you can spend up big or do it cheap. If you have some dollars to spare, consider a roof restoration or a re-roof. If you have dated face bricks consider rendering your home or get professionals in to re-paint. DIY and affordable ideas include pressure cleaning old driveways and paths, tidying up the garden by weeding, planting fresh flowers and pruning and performing a general declutter.
Inside the home, there is no doubt that the kitchen is the heart and hub of the home. A great kitchen can add considerable value to a property, but is also one of the most expensive rooms to renovate.
YM: How can homeowners save on renovations without sacrificing the quality of work?
Burke: The easiest way to save on the cost of your renovations is to look for goods and materials on sale. If you know you will be replacing whitegoods, consider waiting for Boxing Day sales or purchase after major events such as Mother's Day or Father's Day when there are more likely to be discounts.
If you are purchasing materials such as tiles for your kitchen or bathroom, you can make considerable savings by shopping around and sourcing tiles on sale.
These seven tell-tale signs would help you determine if your house needs renovation.
YM: Why is it important to be environmentally-sensitive when renovating? What can homeowners do to ensure that their renovation projects are environment-friendly?
Burke: We all care about the world we live in and we need to make sure it is in good condition for the generations to come. It is little wonder then, that homeowners are increasingly asking what steps they can take to ensure that their renovation is environmentally sensitive.
The good news is that there is plenty we can do. Simple choices such as planting a sustainable garden are something we can all achieve. Choose water-wise appliances such as front-loading washing machines and dual-flush toilets to save on water use. Select energy-efficient appliances to reduce your energy use. Solar hot water systems have been around for years and now you can also use solar energy to power your home. Installing insulation can help keep your home cooler in summer and warmer in winter, reducing your energy use and keeping costs down too.
YM: What are the biggest mistakes homebuyers commit when renovating?
Burke: Most homebuyers grossly overestimate what they can achieve with a limited budget. Without a fully costed plan, most people will find that they run out of money before they finish. To avoid this, plan and budget your renovation in advance. If you have no idea about how much things cost, get professional quotes for the complete scope of works before you lift a hammer.
Click here to know more about six financial mistakes that can ruin your renovation project.
Photo by: Richard Hatherly