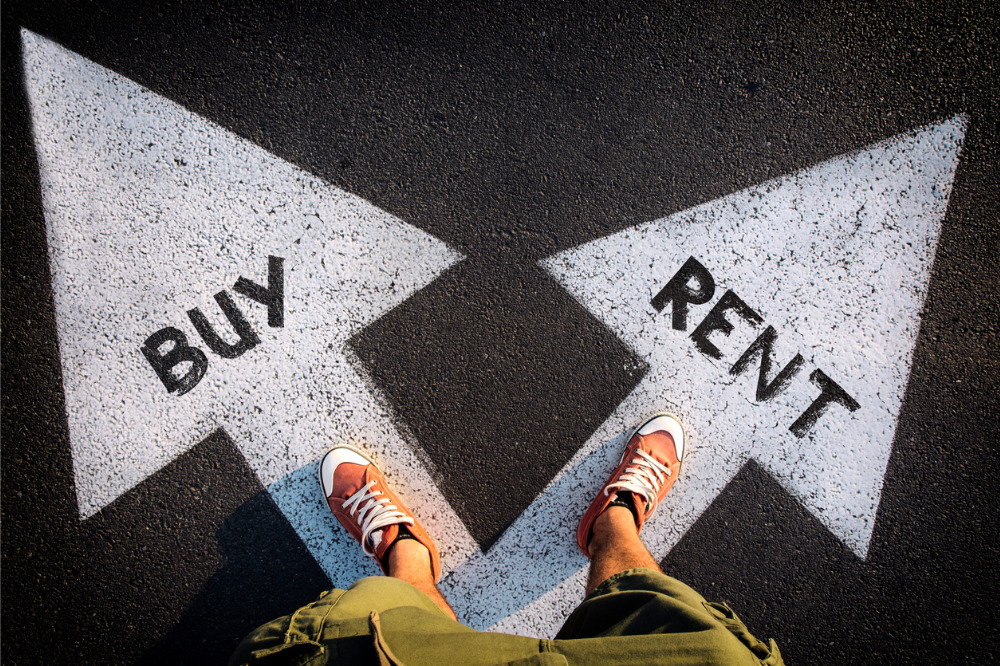 Should you buy a home and reap the sense of security that comes with it? Or should you continue renting and enjoy the flexibility it provides? The decision should boil down to what suits you best personally and financially.
Choosing between purchasing a house and renting is one of the biggest financial decisions many of us must make. So, it pays to carefully weigh the benefits and disadvantages of each before settling on a choice.
Is homeownership the better option for you?
More than two-thirds of Australians polled in a recent Finder survey believe that the conditions are right to purchase a home – a level of confidence not seen since the start of the pandemic – and for good reasons.
A spate of government grants and record-low interest rates have opened opportunities for many potential buyers to get on the property ladder.
However, many experts warn that rushing to purchase a property just to access these state-sponsored subsidies may do more harm than good in the long run. Buying a house, much like any huge financial investment, requires sufficient planning and preparation. Here are some potential benefits and drawbacks of homeownership.
Pros
1. It gives you a sense of security and freedom.
Having your own home gives you a sense of certainty because you know that you will not be evicted as long as you keep meeting your mortgage repayments. You also do not have to worry about rent increases, lease terms, or getting along with your landlord. Another advantage of owning your place is that you have the freedom to make changes and renovations that can add value to your home.
2. Properties tend to increase in value over time.
The latest figures from CoreLogic revealed that Australian home prices have not only exceeded pre-pandemic levels, but reached a "fresh record high," shattering the previous peak recorded in September 2017. This is the kind of news many homeowners are waiting to hear because a rise in market prices often means there is also an increase in the value of their properties.
However, property values can also drop if the housing market experience as downturn. When this happens, it is important to keep calm and bear in mind that homeownership is a long-term investment.
3. You can build up your equity with each payment.
As you pay your mortgage, the equity on your property also builds up. You can tap into this equity and use it to fund huge personal spending such as a child's education, new car, home renovation, or investment property.
Cons
1. It entails heavy financing.
What makes purchasing a home a daunting endeavour for many is the heavy financing typically involved. To understand if homeownership suits your financial situation, you must carefully consider several initial and continuing costs. These include:
Upfront costs
Deposit – usually 20% of the property's value
Lenders mortgage insurance (LMI) – if you do not have enough for a 20% deposit
Loan establishment fees
Stamp duty
Connection fees for utilities
Legal fees, including solicitor or conveyance fees
Ongoing costs
Mortgage repayments
Land tax
Council rates and body corporate fees
Repair and maintenance costs
2. The value of your property may decrease.
As mentioned earlier, a downturn in the housing market can negatively impact the value of your property.
How much does the average home cost in Australia?
CoreLogic recently released its national home value index revealing record-high figures across the country. Here is a rundown of the average home prices, according to the comparison firm's January 2021 data.
| | |
| --- | --- |
| Metro area | Median value |
| Sydney | $879,299 |
| Melbourne | $692,162 |
| Brisbane | $527,862 |
| Adelaide | $473,170 |
| Perth | $484,280 |
| Hobart | $523,932 |
| Darwin | $426,215 |
| Canberra | $686,524 |
| Combined capitals | $659,731 |
| Combined regional | $428,919 |
| National | $583,157 |
Source: CoreLogic (31 January 2021)
Is renting the better option for you?
There are certain situations when renting makes perfect sense. It may be that you are drawn to a place where it is more affordable to rent than buy a property or your lifestyle just is not suited yet for homeownership. But similar to owning a home, being a tenant has its advantages and disadvantages.
Pros
1. It gives you more flexibility.
Some people say that with homeownership you are buying security, but with renting you are buying flexibility. Being a tenant allows you to move freely from one place to another once your lease is up.
2. You do not have to pay for the upkeep of the property.
Generally, your landlord is responsible for the repair and maintenance of the property – unless, of course, you intentionally caused the damage. Your landlord also takes care of the council rates and body corporate fees. However, as a tenant, you are expected to keep the property clean and orderly.
3. In some locations, it is a cheaper alternative to buying.
Many lifestyle and career opportunities open in inner or near-city areas where properties may be too expensive. This is often true with many young professionals at the onset of their careers. At this point in their lives, renting makes perfect sense.
Cons
1. There is a limited sense of freedom and stability.
As a renter, you have little say on how long you can stay on the property. Your landlord can ask you to leave after your lease expires or they can decide to sell the property. You are also not allowed to make any structural changes in the home – like drilling holes in or painting the walls – unless you have your landlord's permission.
2. Rent money is dead money.
This is the most popular argument against renting. Rent money is something you will never get back. When you purchase a home, you can build equity and eventually pay off the mortgage. Renting does not lead to any of these. Additionally, rental payments never stop and may even help your landlord pay off their mortgage.
How much does it cost to rent?
Rent.com.au recently released its rental market snapshot for January 2021. Here is how much it will cost you to rent an apartment unit and a house in the different capital cities.
| | | |
| --- | --- | --- |
| Metro area | Median rent (apartment) | Median rent (house) |
| Sydney | $475 | $600 |
| Melbourne | $380 | $440 |
| Brisbane | $410 | $467 |
| Perth | $375 | $430 |
| Adelaide | $345 | $420 |
| Hobart | $383 | $480 |
| Darwin | $400 | $570 |
| Canberra | $495 | $597 |
| National median | $420 | $470 |
Source: Rent.com.au (January 2021)
Is buying a home cheaper than renting?
A recent report by mortgage broking firm Aussie has found several suburbs across the country where purchasing your own property can eventually save you money. But because of the many factors involved, it is difficult to conclusively say if buying a home is cheaper than renting one. If you are still on the fence between homeownership and being a renter, it is best to carefully assess your personal and financial situation before arriving at a decision. Our rent versus buy comparison calculator can help you evaluate which option suits you best in the long run.