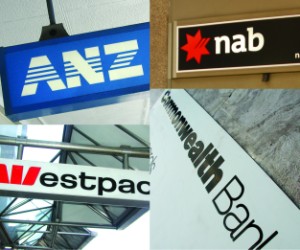 UPDATE: Westpac is the last of the big four to announce rate changes after the central bank released its decision earlier this week. While it will be cutting its owner-occupier rates by only 20 basis points, it will offer a higher rate discount at 0.35% for investors who wish to take on an interest-only SVR home loan. Read more here.
Following the Reserve Bank of Australia's move to slash the official cash rate and the call of Treasurer Josh Frydenberg to pass on the rate cut, three of the big four banks already announced changes to their home-loan rates.
The banks – save for Westpac, which has yet to make a statement on the rate cut – decided to slash their standard variable rates (SVR). While Commonwealth Bank and NAB announced that they will pass on the 25-basis-point rate cut in full, ANZ plans to cut its rates by only 0.18%.
Mark Hand, ANZ group executive for Australia retail and commercial, said the decision of the bank not to pass on the rate cut in full was due to a number of factors such as business performance, market conditions, and the potential impact of the move to its customers and depositors.
"While we recognise some home-loan customers will be disappointed, in making this decision we have needed to balance the increased cost in managing our business with our desire to provide customers with competitive lending and deposit rates," he said, "Home-loan customers looking for certainty with their repayments can look to lock in our historic low fixed-rate home loans for our two- and three-year terms."
Also read: Competition likely to heat up as more lenders follow the rate-cut tide
On the other hand, Commonwealth Bank group executive for retail banking services Angus Sullivan said the bank will reduce the interest rates on its SVR home loans by up to 0.25%.
"We have carefully considered the RBA rate decision and the current funding environment, together with how we continue to meet our regulatory commitments, capital requirements, and community expectations," he said.
With the variable-rate reduction, owner-occupiers paying principal and interest for a $400,000 home loan would be paying $62 less monthly.
Find out how much you could save monthly by speaking with an expert
Sullivan urged Commonwealth Bank borrowers to speak with their lending specialist to fully understand how the recent rate changes would affect their repayments.
"Our home lending specialists are on hand to review our customers' home-loan options free of charge and ensure their arrangements remain appropriate for their circumstances," he said.
NAB also decided to slash the rates of its SVR home loans by 25 basis points. Mike Baird, NAB chief customer officer for consumer banking, said this latest move brings the bank's variable rates to their lowest in more than four decades.
"We strongly believe reducing rates is the right thing to do by our customers and reflects our focus on earning trust in the community and rewarding our loyal existing customers. NAB is determined to continue supporting our home-loan customers by being a bank they can rely on throughout the lifetime of their loan," he said.
The table below shows the updated standard variable rates of the big four banks. The changes to the bank's SVR home loans will take effect on 14 June for NAB and ANZ, on 18 June for Westpac, and on 25 June for CBA. Take note that of the big four banks, only NAB and CBA decided to pass on the full rate cut to its borrowers.
Big four bank's changes to Standard Variable Rates (SVR)

ANZ

CBA

NAB

Westpac

Owner-Occupier Principal & Interest

5.18%

5.12%

5.11%

5.18%

Owner-Occupier Interest Only

5.73%

5.67%

5.68%

5.77%

Investor Principal & Interest

5.78%

5.70%

5.71%

5.73%

Investor Interest Only

6.24%

6.14%

6.16%

6.09%