One of the first questions I ask anyone enquiring about Property Bloom's property development project management services is: "What is your goal? What do you want to achieve from your development?"
The reason I ask is because some people want to create positively-geared property with the highest possible yield because they want to add to their cash flow. Generally, these people may have lower incomes but still want to build a property portfolio. The income from the properties will increase their taxable income. They don't want property that is going to drain them financially.
Others are looking for negatively-geared property where they can create lots of equity. Generally they are people on higher incomes, paying a lot of tax and need property that will help offset some of the tax they are paying. They need high depreciating property and want to use the equity created through development for their next deal.
There are very different development strategies for each outcome. After this initial chat, we recommend a discussion with their accountant and lender take place to ensure that the development strategy that they want is actually correct for their situation.
Once, we've established the development strategy, we look within this category for the right development site for them.
A high cash flow development will be one that produces a 7.7% + gross yield and Property Bloom is achieving this with our granny flat developments. I've included figures on our latest granny flat completed below: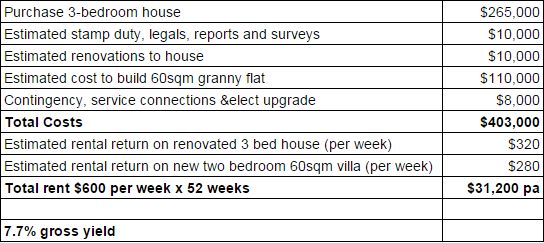 This is a cash flow strategy, not an equity creation strategy, as a valuer is likely to value the property at cost plus upgrades
unless there are direct sales comparables in the market
. This is because the flat cannot be subdivided from the house and may be considered purely an upgrade to the existing house.
Let's take a look at how a Dual Occupancy project compares to the Granny flat development.
Here's an example of a Dual Occupancy development that Property Bloom is currently working on within the Newcastle area of the Hunter Region of NSW:

The rental return on the above two villas would $450 a week each which gives a gross yield of 6.4%. Not too bad in the low interest rate environment we are in right now.
Be clear with your goals. Yield or Equity and sometimes you may achieve a balance between the two.
With cash rates now down to 2.25% and banks fixed rates around 4.29% (for 3 years), yields are increasing.
To create a good amount of equity in your development be sure to buy the land at the best possible price, look for relatively flat land which will help keep site costs low and build just what the market needs, not above it -- don't over capitalise. If you can keep your building costs low but still deliver a good product, then you have met a few developer golden rules.
---

"I was bitten by the property bug, there was no turning back."
Jo Chivers proves that women can indeed have it all- a career that you are passionate about and a family. While all of this sounds great, it does require hard work, dedication, perseverance and a bit of risk-taking.
Jo's love of property development inspired her to leave her corporate career and pursue her true passion. After educating herself in property investing, she started building up her own property portfolio. After purchasing a few blue chip properties in Sydney, she soon realised how negatively geared they were and began researching outside of Sydney. She discovered a more affordable, large region of NSW where she completed her first property development. Soon her friends were asking her to find them sites and manage their developments.
She realised there was a need for an all encompassing project management service and her business Property Bloom™ was born. Ten years down the track, she has developed over 60 properties for clients, creating literally hundreds of thousands of dollars in equity and high end yields.