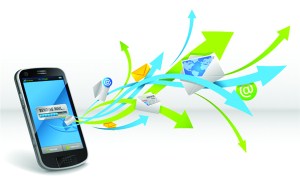 Gone are the days of saving receipts or keeping a little black book of your purchases. With so many of us concerned about money management, now is the time to take a fresh approach to budgeting- preferably something easy to do, not time consuming and let's face it, requiring minimal effort.

If the last time you attempted a budget ended in another disused notebook added to the sock drawer (back in '06), luckily another way has landed.

Enter smartphone apps.

Apps have already helped us pass the time on the commute home with games, song downloads, record our weight and fitness- why not our finances as well?

Check out Your Money Magazine's choices for the best personal finance apps according to your individual needs:

1. You're after a general tracker of your finances: mint.com
mint.com offers a pretty amazing app, and the best part is it's free. Quickly becoming the personal finance app of choice for more than six million users, this app has a lot to offer.
It streamlines all of your financial comings and goings into one place so in a matter of clicks you can see a snapshot of your:
savings
bills
investments
car expenses
mortgage repayments
The app is read-only and offers the same security as online banking, so your information is always secure. What's more is you can access nifty personalised graphs and tables, and with its 'bills reminder' function, there are no excuses for paying late fees again.

Mind you, there's no such thing as a free lunch- so there will be advertising associated with using this app.

2. An app that helps you calculate the true cost of using credit: debt-dog.com

This one cost 0.99c and reports to be "the app credit card companies don't want you to know about". It lets you know what your credit card purchases will cost you if you don't pay them off right away. The app lets you see how much your minimum payments will be and how long it'll take to pay off your purchase.

This app is very simple, and while you can't customise it to your individual card (to include variables such as interest rates and annual fees) it will make you more aware of the true costs behind purchasing on credit.


3. You're after a tool to track your income and expenses: check out iwallet.com
For most of us our financial wellbeing comes down to managing two things- income and expenses. This handy app helps you keep track of your incoming funds so you don't spend more than you make.
It's also very versatile, and allows you to email the reports and charts it generates to your chosen email account. Be aware that this app is only compatible with Apple devices.

4. You need guidance in your pocket with regular tips on kicking bad habits: iExpenses Online
Another free one, this app was designed by financial advisors and offers tools which help you manage and indeed improve your financial situation. This is a very comprehensive app that offers the added features of making plans and aiming to meet targets. You can also link your priorities to your expenses, so you can limit the amount of outgoing funds on 'low-priority' items.

Time to app-ly yourself


This is by no means a comprehensive list, but is a great starting point to making your financial wellbeing part of your everyday consciousness.

With the ever expanding app-world, you're bound to find one which suits your individual needs. The number one tip to remember is that no matter what kind of budgeting system you use, sticking to it is the key.
Latest News
Reporting season: Don't be blinded by the figures
To maket to market to buy your first house
Job cuts on the way: Time to be prepared