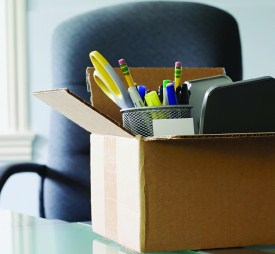 Could Australia be headed for a recession and will you be ready if it does? Bluescope Steel has just announced 1,000 sackings, how would your household cope with job loss?
In the wake of BlueScope announcing 1,000 jobs are on the chopping block, and speculation raging that further job cuts are likely just around the corner, Western Australian Premier Colin Barnett has warned Australia could fall into a shallow domestic recession.
"To some extent the success of the mining and petroleum industry has been concealing and making people blind to what's actually happening within Australia," Barnett said yesterday.
He added, "Don't blame the mining industry, don't blame China, look at (the lack of strength) of the domestic economy."
Australian Workers Union national secretary Paul Howes has blamed the job cuts on the strength of the Australian dollar, while Treasurer Wayne Swan said the proceeds of the mining tax would ease pressure on the manufacturing industry.
Westpac too weighed in on the speculation, warning the decline in the manufacturing, retail and construction sectors would lift the unemployment rate from where it stands at 5.1% to 5.5%, by as soon as the middle of next year. The major bank estimated a further 36,000 jobs will be lost.
With debate and speculation running red hot around the country, just one thing is for sure: now is the time to take stock of your financial outlook and have a plan waiting if your income takes a hit.
5 ways to prepare for job cuts
1. Expand your dollars
Now is the time to consider sideline money-making ventures. The biggest problem that comes with losing your job is that bills and mortgage repayments keep flowing in. Having more than one stream of income will provide a little relief in any interim period. One place to start is by learning more about investing. There are a plethora of books to assist you, and yourmoneymag.com.au continues to offer daily news and information on personal finance.
2. Reflect on your current job
Spend some time thinking about your current skills and abilities. What do you need to do to improve in your field, and what actions are required to accomplish this?
3. Update your resume
Now may be the perfect time to dust it off and update your more recent professional and personal achievements. Seeing your personal achievements on paper will help you take stock of what you've accomplished and help keep the current climate in perspective.


4. Network
Touch base with your personal referees, or if the ones you had are out of date, think about whom you could list. As the saying goes, it's not what you know, but who you know. That can be true in many ways, so it's well worth considering expanding your network of contacts. Find out about seminars, professional conferences and community events that you could attend. These are great places to meet new people and make new contacts.
5. Upgrade your skills
If you feel you've been a little left behind by the onset of new technologies, now is the time to update your skills and generally widen your knowledge. Having the latest skills set combined with experience may give you the winning edge.
Food for thought
ANZ economist Ivan Colhoun said the latest jobs data released by the ABS in July, showed the economy was only creating about 3,000 new jobs a month - well below the 10,000 level needed to stop unemployment rising.
Yet, the most recent data from the treasury in Canberra tips unemployment to fall back to 4.75%, where it sat for the first half of this year.
Your Money Magazine says it's not time to head for the hills just yet, follow independent financial advice to put yourself in the best possible position- and sit tight.

-Stephanie Zillman

Latest Articles
Nine's reno show indicative of housing market
How to survive the bear market
What's spooking Australian investors?