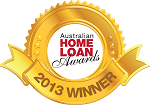 ME Bank
ME Bank has established itself hands down as the pick of the banks in Your Mortgage's inaugural Australian Home Loan Awards.
ME Bank has been one step ahead of the field in multiple categories for banks; rated at the top of the game for customer service, speed of approval, variable rate loans and refinancing loans. It also snared silver medals for fixed rate loans, first homebuyer loans and property investment loans. This adds up to seven finishes of first or second out of nine categories – a comprehensive victory by anyone's reckoning.
"This win is further proof that ME Bank's fairer banking approach resonates with customers," says ME Bank CEO Jamie McPhee.
"Our customers like products to be straightforward, easy-to-understand, transparent and low cost, and they want to be treated with respect. They love having a genuinely fairer alternative to the other banks."
ME Bank wasn't the only former credit union to charge onto the bank scene after re-branding; Heritage Bank was also in fine form, taking the silver medal in the bank of the year category.
While it was daylight between first and second, Heritage Bank managed a strong performance, with one gold, one silver and one bronze medal under its belt.
The gold came in the category of best loan for first homebuyers; while Heritage took silver in the best variable rate home loans category and bronze for best fixed rate home loans.
AMP Bank followed up on its bank of the year title in Your Mortgage's 20th annual Mortgage of the Year Awards, with a bronze in the same category in the Australian Home Loan Awards. AMP secured a podium finish with gold medals in the best loan features and best fixed rates categories, as well as a
bronze in the best loans for first homebuyers category.