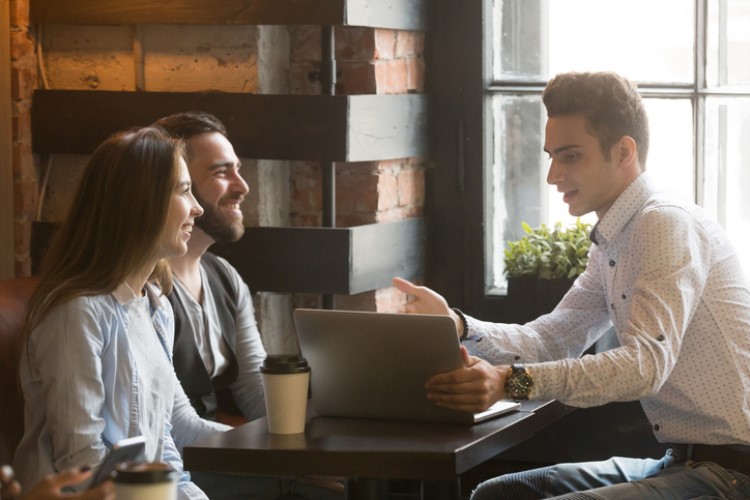 The first steps to buying a home are always the most challenging — with no experience and limited knowledge, first-home buyers might easily fall into traps that might haunt them for the rest of the process.
In a digital world, home buyers often rely on everything they can access with a mouse click, so much that they forget that there are real people out there – like mortgage brokers – who can better help them achieve their goals.
Want to speak to a real person? Sign up here for free, expert advice on the best rates
Mortgage brokers are professionals who provide financial advice to people planning to buy a home. They guide these buyers through the complexities of home-loan application, which is becoming rigorous now due to the stricter lending rules imposed by banks.
While first-home buyers nowadays can get answers to their questions with a quick search on Google, it is still highly advised for them to seek the help of a mortgage broker to help them navigate the home-loan process in real life. Here are the reasons why you should consider reaching out to a mortgage broker:
Brokers help you build the perfect home-loan application
One of the steps you have to take when buying a home is ensuring that your financial health is in check. Taking out a loan is a huge financial commitment, making it necessary for you to secure your finances first. This is one of the first things mortgage brokers can help you with.
Reaching out to a broker is a wise move if you want to improve your chances of getting your home-loan application approved. They can give you an idea of your credit-worthiness based on your credit score, sources of income, expenses, and lifestyle.
Brokers have studied how lenders assess home-loan applications, giving them the wisdom to help first-home buyers manoeuvre the rigorous processes applying for a mortgage may entail.
Brokers can also help you get a pre-approval, which is crucial in securing a home at auctions. They can help you determine which lenders are more suited to your needs and financial capabilities, making it easy for you to clinch a home-loan pre-approval.
In crafting the perfect home-loan application, your brokers can guide you in doing the following things:
1. Proving that you can afford a mortgage
First and foremost, what the lenders need to see is your credibility. Your credit rating represents your credibility as a borrower. To make sure that your credit score is at an ideal level, your broker might advise you to settle other financial obligations on time. Be prompt in paying your utilities and phone bills and make sure that you stay on top of your credit card payments. Your lender will see you as a promising applicant if your credit report is as spotless as possible — no missed or late payments.
2. Showing that you have a stable source of income
The next thing your lender will want to see when you apply for a home loan is your employment stability. If you reach out to mortgage brokers, they will probably advise you to show your lender that you can hold onto a job. Typically, lenders will require their applicants to be at least six months in their current position.
If you are a self-employed, part-time, or casual worker, the process gets a little bit trickier, since you have to prove that what you are earning is stable enough to afford servicing a loan. A mortgage broker can help first-time home buyers to find the right lender and the ideal home-loan product for your situation.
3. Checking your home-loan application documents for mistakes
The goal here is perfection — one small mistake can delay your application process for days. A minor correction is enough for your mortgage application to receive the thumbs-down.
Brokers can help your polish your mortgage application, leaving no stone unturned and ensuring that all information is accurate and substantiated.
Brokers make your mortgage work according to your needs
Applying for a competitive home loan does not just involve looking at the cheapest interest rate possible. It also encompasses finding the right home-loan features that can help you fulfill your financial commitment.
Aside from helping you borrow within your means, mortgage brokers will assist you in taking advantage of useful home-loan features that will tremendously improve your financing deal. Brokers are well aware of what lenders are offering and they can help you find the right features to come along with your loan. They widen your choices, allowing you to check out different offerings by different lenders. The wide array of options having a broker unlocks will help you make the smart choice when choosing which mortgage product to take.
What are some of the home-loan features mortgage brokers typically suggest?
1. Redraw facilities
If you are open to making extra repayments on top of your monthly dues, your broker might advise you to take advantage of home-loans with redraw facilities.
A redraw facility allows you to access the pool of extra repayments you made towards your loan. The amount you take can be used to make big purchases such as renovations, buying a new car, or even investing in a property.
If you do not use the pool of funds you accumulate, they automatically go into your loan payment, eventually shaving years off your loan term. This way, you can settle your loan quicker.
2. Offset accounts
Brokers will tell you to use an offset account if you have a significant amount of funds in your savings account.
How does offset account work? It operates like a high-interest savings account — the only difference is that it is linked to your home loan. The amount you have in your offset account is held against your loan balance daily. This means that the interest rate only applies to the difference between your loan balance and the funds you have in your offset account.
However, the amount you have in your offset account is not considered as extra repayments — it merely reduces the interest rate charged to you. The upside to this is that you have ready access to these funds just like you do with a regular savings account.
Your relationship with brokers goes beyond the approval of your home-loan application. You can always reach out to them to ask for opinions regarding refinancing, changing some of your home-loan features, or switching to variable or fixed rates.
Is redraw or offset best for you? Speak to an expert and find out
Brokers teach you how you can buy your dream home
One of the main selling points of seeking the help of brokers is the after-hours service they provide. This advantage is perfect for busy professionals who may not have enough time in the day to take care of their housing affairs.
As mentioned earlier, brokers can also assist you in organizing your documents, particularly those pertaining to the financial aspects of your transaction. This will help you avoid costly risks that can derail your goals of having the keys to your dream home.
Brokers can guide you through the home-buying process, providing you with advice and tips at every step. Together with your solicitor, your broker can represent you when meeting with your vendor and lender. Acting at your best interest, brokers can also be tasked to relay your financial concerns with the other party. They can also represent you during the settlement process — this is the final stage when you and your vendor exchange documents and seal the transaction. It ends with you getting the key to your home.
Brokers' services are free
Perhaps one of the most significant advantages of having a broker is that their services are for free — lenders usually pay brokers in commissions when they successfully refer an applicant. This fact may cause raised eyebrows, but there are ways to make sure that your broker is acting in your best interest.
First, only work with brokers who are members of the Mortgage & Finance Association of Australia. MFAA brokers are required by their code of practice to disclose any information that you need to know.
You can also check their qualifications and industry experience. Ask their previous clients (if you know some) how they handle their transactions. You can also read blogs and broker-related forums to find ones who have the best experience.
At the end of the day, brokers will always put your financial needs first and will look for the best home-loan deal that would work for your current needs and financial capabilities. As a first-home buyer, having a mortgage broker is not really a necessity, but it is good to have someone experienced and knowledgeable to accompany you in your journey to buying your dream home.
Speak to a broker to get the best rates, free advice, and a clear path to your dream home here