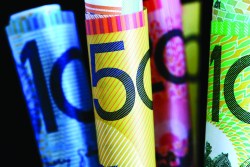 New research has shed some light on the way Aussies like to pay, and why some payment options continue to be favoured over others.
Earlier this year, Roy Morgan Research undertook a study of consumer payment patterns on behalf of the Reserve Bank of Australia, in order to determine how Australian payment systems can be made more responsive to the needs of its users.
Of the most significance, the research identified a steady decline in cash use, with debit cards appearing to become the main substitute.
It canvassed reasons for choosing particular payment methods, and consumer reactions when faced with credit card surcharges and factors that might increase the use of online payments.
The main findings included:
Cash is the dominant method where average payment values are low and where quick tender times are preferred, such as at take-away stores, pubs and small food stores, however average cash use is steadily declining.


Cheques are used infrequently and tend to be used when the average payment value is high, such as for holiday travel, while BPAY stands out as a key method for paying household bills.


Cards are used across a wide range of merchants, with debit card use particularly strong in the petrol, electrical/furniture, holiday travel, supermarket and health merchant categories, while credit cards are used most heavily for holiday travel.


The importance of speed possibly explains why cash continues to be used for low-value transactions; however, it also suggests that there is the potential for cash displacement as transaction times for card payments decline with the introduction of touch-pay systems, such as Visa Pay Wave and MasterCard PayPass.
Your Money Magazine investigates the main factors Australians cite as the pros and cons to each payment system and identified some food for thought:
Cash
Anonymity
Avoid eftpos minimums and transaction fees
No pin to remember
Inconvenient to carry change
No automated record of your payment
Credit cards
Takes no immediate bite out of your bank balance
Widely accepted
Accumulate rewards points, frequent flyer miles, platinum/gold benefits
Allows you to build a credit history
Automated record of your payments
Can be slapped with fees, such as late payment and interest
Not using money you already have
Eftpos/ Debit credit cards
Have the security offered by major banks and credit card companies
Use your own funds
Automated record keeping of your payments
Can incur minimum spend fees
Touch-pay systems
Aimed at replacing low-value purchases
No pin or signature required, just tap against card reader
Widely accepted
No accidental payments, can only be tapped to work
Can only be tapped once
Currently no cash-out with purchases
If card is lost, payments can be processed with no pin required