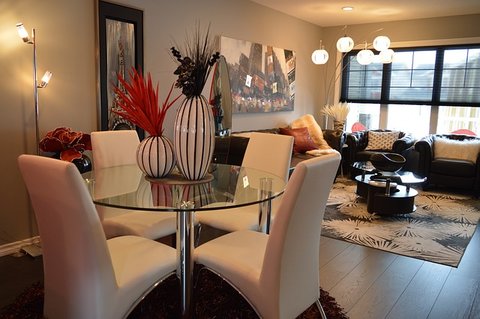 New and luxurious apartment developments are springing up in Melbourne, boasting curious amenities like wine cellars, private cinemas, grand libraries, and sleek lap pools that offer panoramic views of the city.
While such luxuries might strike average house buyers as being slightly decadent, experts say these high-end creature comforts are key to encouraging empty nesters to trade in their family homes, releasing much-needed supply into the broader property market.
Sally Capp, Victorian executive director of the Property Council of Australia, said high-quality developments were needed because there weren't enough downsizing opportunities for the aging population.
"They're selling the family home, they've got a good piece of equity, but to move, they're looking for a downsize option that gives them quality and lifestyle," she said. "What we're finding, in the market, is they're sitting on the family home because they don't have the right option to move to, and that means we don't have enough liquidity to create opportunities for families or appropriate increase of density on those big family blocks."
Empty nesters who're seeking "the right option" should look no further than 661 Chapel Street in South Yarra. The apartment complex boasts a 2000-plus bottle temperature-controlled wine cellar, a well-appointed sports lounge, barbecue pits, steam rooms, a sauna, and a sleekly designed 25m-long lap pool that offers stunning views of Chapel street.
Ngan Chee Meng, CEO of the complex's Malaysian developer, Gamuda Land, said the apartments target discerning downsizers who want the convenience of apartment living as well as the comforts of a family home. "We have taken the magnificence of a traditional mansion or large-scale, stand-alone home and reimagined it in high-rise form," he said.
Though luxury amenities come with higher owners' corporation fees, the Melcorp Strata booking portal for the Prima Tower reveals that many of the development's communal spaces are frequently used. The 17-seat cinema saw frequent bookings, and the virtual golf rooms and meeting rooms were also popular with residents.
However, not all promises of luxury and comfort deliver as advertised. Paul Nugent, director of Wakelin Property Advisory, said buyers should stay clear of apartments with pricey lifestyle amenities, unless they were genuinely high-end.
"They sound very attractive … but it just contributes to very high owners' corporation fees; it's potential for things breaking down and needing replacements and not being used. Why would I want to put my wine in a wine cellar with everybody else's?"