After deciding to get serious with her investment strategies Priscilla Darcy did a truly phenomenal deal: $250,000 in capital growth immediately after a reno and subdivision
It's a tale for a high school business textbook, without the phallic objects scribbled into the margins: a young woman buys a collection of properties, renovates them and uses the profits to buy a dream home with her husband.
We set our scene in an eastern suburb of Melbourne. The year is 2006 and our protagonist is working as a flight attendant. She is spending each week in a different region of Australia, but when at home she has a secret passion. Nurturing a love she has held for property since a teenager, she spends her nights fiercely researching areas to invest in.
She decides on a property investing strategy and the rest, as they say, is history. She buys a block of three units in Frankston, spruces them up to get higher returns and pockets nearly $250,000 in manufactured capital growth.
Rewind 12 years and Priscilla Darcy wasn't quite as savvy an investor. She was preparing to buy her first investment property – a one bedroom apartment in Melbourne's Docklands area – and says she was swayed by some very clever marketing.
"Looking back, buying the property was perhaps a mistake," she says. "They had some very specific marketing that was aimed at people like me – young and single women. They marketed the great lifestyle, the ocean views and the large space and even though it was an investment property, it worked on me. I bought the property off-the-plan, but didn't know what I was doing."
Priscilla says that initially the investment was a fruitful one. She had purchased the property for $300,000 in 2000, aged 21, and had settled in 2002 when the property was built. Being a new, furnished, property in a popular Melbourne area her first rents were exceptional. Five hundred and fifty dollars a week was getting her a rental yield of 9.5% and Priscilla thought she had started her investing off with a bang.
Then her lack of research into the area came back to bite her. "Docklands property prices crashed," Priscilla says. "They were building so many new developments in the area and it became oversupplied. Looking back, I had paid the price for being young and silly."
Changing focus
Wanting to get perspective on how her property disaster had come to pass, Priscilla sought a property mentor. She found one in Tabitha Bright of Positive Real Estate (profiled in Your Investment Property's September issue), who made her realise that she had to take a more focused approach.
Priscilla decided that for her next investment she would need to identify four components in a property in order to motivate a purchase.
1. The first was that it needed to be in an area that was growing, where population factors would support an ongoing demand for housing.
2. The second component was that it needed to be something she could renovate and subdivide. This ruled out new properties and set her on course to looking for properties that had good, solid bones, but needed updating.
3. Another essential factor, she decided, was the ability to buy undervalue. In her Docklands purchase she had bought off-the-plan and this removed any chance of her negotiating the price. This time round she was adamant that she needed to buy under the market. This would give her the best chance of getting capital growth.
4. The last, and possibly most important, aspect to a future property purchase would be a long list of expanding infrastructure in the area. "I wanted an area where there would be something that would be bringing new people into the area all the time. There had to be a push factor, something that was going to continue to make the area desirable for people."
Under her new criteria, Priscilla decided on Frankston – a greater Melbourne suburb on the Mornington Peninsula, about 40km south-east of the city.
The way Priscilla saw it, the area ticked all the boxes. A lot of money was being pumped into development on the Frankston foreshore and a major clean-up of the area was underway. Gentrification was alive and well and the government had identified the area as a growing population node, a significant part of its 2030 population plan.
Infrastructure improvements were planned to speed up travelling distances to Melbourne and when added with all the other advantages of Frankston, Priscilla couldn't resist. "I remember writing my strategy out on a big piece of paper and having it where I could see it every day. Frankston fit into that plan perfectly," she says.
Looking for help giving your portfolio a boost? get help here.
Getting to business
After keeping a careful watch on Frankston listings, Priscilla one night stumbled upon a block of three 2-bedroom units going for sale. The listed price was $450,000 and she phoned the vendor's agent straight away.
Without even seeing the property she put down an offer of $390,000. The agent was quick to respond and told her the vendor was willing to meet her halfway at $410,000. She accepted and later signed a contract of purchase.
She says that being armed with numbers helped her negotiate the price down. "I had done my homework," Priscilla says. "I knew what two bedroom units in Frankston were worth and knew what I could reasonably offer. I was also lucky because the vendor needed to go overseas soon and was in a hurry to sell."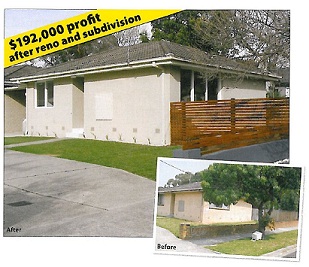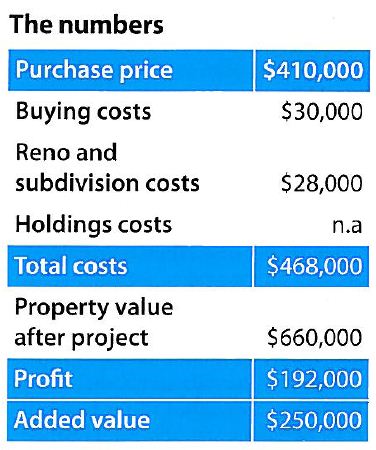 The financing
When Priscilla eventually visited the properties she was happy to see that they had good bones. "They were neat but in very 'original' condition, not attractive at all. They had no major problems, aside from small issues with the plumbing, but just needed a bit of maintenance. They were standard 60's style brick units and I knew that a cosmetic renovation would be enough."
The problem was her finances. Unlike when she purchased her off-the-plan unit in Docklands, she didn't have a large pool of funds to play with.
In fact, her Docklands property had been the result of over seven years of saving. She had decided at age 15 that she wanted to take control of her financial future and started saving vigorously for an investment property.
Working as a then manager of a restaurant she ploughed head first into the goal, working six day weeks on 12-hour shifts. The end result was a positive one. By the time she was 21 she had saved up close to $70,000, which she used as the deposit for the off-the-plan unit.
Part of the reason she had managed to save so much was because she was still living with her parents. The same wasn't true when she bought the Frankston units. Aged 27, life was a different ball game. No longer possessed of as much money to invest with, she had to be more prudent in her decisions.
Purchasing the units using equity from her Docklands purchase, Priscilla had to borrow $10,000 from her parents to finance her plans to renovate the units and subdivide them into single title. She further took out funds off her credit card to add to her capital because she simply couldn't afford to finance the project on her savings.
Rolling up her sleeves
With pressure mounting to make the project work, Priscilla admits she occasionally had her doubts. "I did have times when I thought what am I doing? But I think that's why it's important to study what other people have done before you. It makes you realise you are making an educated decision. That's how I told myself this wasn't a gamble," she explains.
Part of making the project strategic, not risky, was making sure the renovation was cost effective. "I only did cosmetic renovations that would make a big impact for the least amount of money," says Priscilla.
Much of the work she did herself. She painted kitchen cupboards, rendered some of the exterior brickwork and landscaped the gardens. She also installed crushed rock in flower beds and courtyards and replaced door handles and a range of other nitty-gritty details such as outside numbering.
Her holding costs were minimised because two of the units were already tenanted. She could get straight to work renovating the one, but her tenants had conveniently agreed to let her renovate the other properties while they were still there.
"They didn't mind because it was just little bits and pieces being worked on that didn't impact them much and in the end they were getting some improvements," she says.
Getting cut
Priscilla claims that the trickiest part of the entire process was getting the units subdivided while still working as a flight attendant. She had bought the units on single title, but wanted to separate them into individual title. She anticipated that town council regulations would be a potential factor in her plans and made sure that the units were eligible for subdividing before she settled on the property.
She says that this alone made a big difference. "I knew I had the green light on a subdivision and got multiple quotes from conveyancers and land surveyors. I'd advise anyone considering a similar project to do the same. The first quote I got for a land surveyor was $10,000, but by the time I was up to my third quote I had one for $2,500, plus expenses."
The total costs of subdividing the property came to $3,500 and together with her renovation costs of $24,500 the project had reined in at $28,000 over six months. She says the improvements were instant.
"The initial rent on each unit had been $135 per week and after the reno the rent became $170. A valuation soon after showed the value of all three units together was now $660,000 and within a three year period that value was up to $700,000."
The capital growth and rental returns showed just how successful the project had been. The rental increases pushed the yield from 5.1% to 6.5% and the capital growth she manufactured weighed in at $250,000, according to her first valuation. When subtracting the costs of her project this equated to a $192,000 profit.
The aftermath
When reflecting on the success of the project, Priscilla mentions the doors it has helped open up. "By accessing some of the equity in the units I was able to buy a dream home in Brighton with my husband. We had always wanted to live there because it is so close to the city and you have the beach at the end of the street. We have a beautiful big backyard and it's every we've always wanted."
In the six years since completing the renovation and subdivision the value of Priscilla's units has increased to $800,000 and the rent has climbed to $230 a week on each (a current yield of 4.5%).
Priscilla also sold her original Docklands apartment in 2011, eventually getting $450,000. But her latest adventure has been the greatest of all. She is now a mum and says she has a new found perspective on property. "Anyone who says property is hard hasn't had children yet."