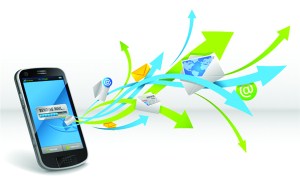 Think it's safe doing banking from your smartphone? Not if you consider the 300% growth in iPhone fraud in the last nine months.
Yet many smartphone owners remain oblivious to the safety risks. NAB's head of fraud operations and investigations Grant Baxter, says that the banking sector is not proactively informing its customers of the dangers of conducting online transactions, and particularly when using smartphones.
Speaking at the Banking Technology Summit 2011, the fraud specialist said more needs to be done to educate customers about the security risks of banking using mobile devices.
During a roundtable at the Banktech conference in Sydney this month, Baxter said educating consumers was an "absolute challenge" for the bank because some customers did not understand the capabilities of their smartphone and their handset's level of security.
According to Baxter, the big four banks — NAB, Commonwealth Bank of Australia (CBA), Westpac and ANZ —are not effectively educating customers about smartphone fraud.
Your Money suggests the following tips for securing your mobile banking:
- Continually update your SMS bank code details
- Regularly delete messages from financial institutions and especially before sharing or discarding your handset
- Never send personal information via text message
- Keep your handset updated by contacting your mobile service provider
- Never jailbreak your phone, this can leave you open to attracting a virus or Trojan
- Install security software on your phone
- Only connect to secure networks with password protection
- Always download apps from reputable sources, or you may unintentionally download a virus.