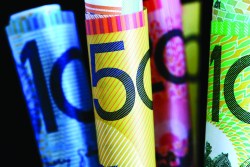 The Australian Securities and Investments Commission (ASIC) has launched a campaign to help reunite Australians with their unclaimed money.
Currently the pool of unclaimed money has risen to a record level of $636mn, which is over $28 million more than 2010.
An additional 157,431 parcels of money have been lodged this year and added to the database administered by ASIC.
Australians have average $652 per capita waiting to be claimed – enough to buy a new plasma TV
Hundreds of thousands of dollars are currently waiting to be claimed by individuals. The biggest amounts:

$992k – Carlisle, WA
$785 k – Perth, WA
$642 k – Matraville, NSW
You may have unclaimed money if you:
haven't made a transaction on your cheque or savings account for over seven years;
stopped making payments on a life insurance policy;
moved without leaving a forwarding address;
have noticed that regular dividend or interest cheques have stopped coming; or
Were the executor of a deceased estate
The Fair Work Ombudsman also holds unpaid wages and allows you to search for unpaid wages on their website.
If you can't find the money you believe you are owed, ASIC may be able to conduct a more comprehensive search on your behalf. Contact their info line on 1300 300 630 for details.