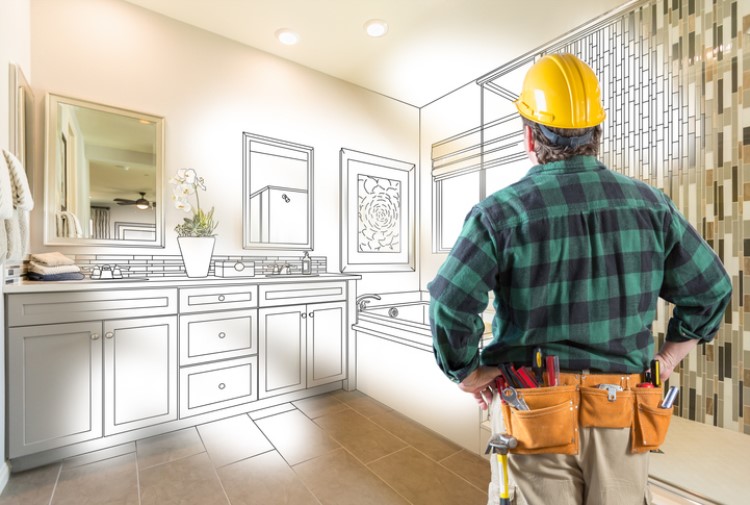 More Australians are investing time and resources into renovating their homes. In fact, research from the Australian Bureau of Statistics (ABS) revealed that homeowners have spent $8.7 billion on house renovations in 2018 – equivalent to $25,000 per renovator.
While more homeowners are enthusiastically diving into their home makeover projects, many are also unaware of the financial pitfalls they could face should they hire unlicensed tradespeople to do their renovation work. This is something homeowner Rachel Palmer learned when she hired a tradesman to split one big bathroom into two smaller ones.
"We did not know he was not licensed, he came to give window quotes, naïve of us, but we asked him hoping he knew anyone who renovated bathrooms and he replied that he did," Palmer told Your Mortgage. "[However, the tradesman] failed to employ a decent tiler, who went on to not tank, waterproof, or apply/use angles in either bathrooms sufficiently enough."
The damage caused by the shoddy workmanship placed Palmer in a $55,000 hole. "We took him to Fair Trading," she said. "They could not ask him to rectify the issues because he had no license, and so they told us to take him to NCAT [New South Wales Civil and Administrative Tribunal]. He owed $48,000 through NCAT money orders, including court cost reimbursements, plus bankruptcy and court costs totalling $7,000 were awarded to us. [But] to this day, AFSA [Australian Financial Security Authority] cannot gain a penny out of him, he refuses to hand over official records."
Cherie Barber, a renovation expert working with Allianz Australia, said that cases like Palmers underscored the importance of securing the services of licensed tradespeople for renovations.
"Tradies need to be licensed for the specific work they're performing," said Barber. "For example, only a licensed electrician can replace lights in your home. These days, you can quickly do an online check of a tradie's licence through the relevant governing body in your state or territory."
Barber also highlighted the importance for homeowners to work with their insurers to understand the scope of their coverage before starting any renovation work.
"Insurers may only provide limited cover or not cover you when you are renovating, for example, if your renovations are over a certain value," said Barber. "Before you commence any renovation, check if you are covered under your current policy or if you need to take out additional insurance."