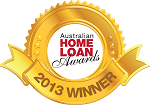 UBank
This award is fairly self-explanatory; the lender with the lowest interest rate for home loan repayments takes out the prize. However, don't forget that borrowers are unlikely to vote positively for a lender if they are not also happy with some of the other features.
Much emphasis is placed on interest rates in the media and by countless Australian property owners.
We all hold our breath on the first Tuesday of each month, when the Reserve Bank meets to decide what to do with the official cash rate. We then wait expectantly to see if our lender will pass on all, or at least some, of the reduction or increase.
If you are with a lender that has one of the lowest interest rates, you stand to save tens of thousands of dollars over the life of your home loan. While it doesn't seem like much, half a percentage point in difference can really add up over time. This can be put down to the 'pile-up' effect of compound interest.
The overall winner in the best interest rate category is UBank; an offshoot of National Australia Bank that offers extremely low interest rates by saving overhead costs on advertising, actual bricks and mortar presence and some aspects of the flexibility that can be offered by other lenders. Essentially, UBank is what it is; if you want to refinance, are happy with a maximum LVR of 80%, are looking to borrow between $100,000 and $1m, and pleased to choose between standard variable or fixed rates, you can sign right up. If you are looking for an offset account, you will have to go elsewhere.
UBank offers loans for refinancing only, at a standard variable headline and comparison rate of 5.47%, as of December 2012. For fixed interest loans, UBank offers headline rates of 5.03% for one year, 5.13% for three years and 5.81% for five years, placing it ahead of all competition in all but the five-year fixed category.
The other winners in the best interest rate category were Loans.com.au for non-banks, and Newcastle Permanent for credit unions.