It's that time again. Fitch Ratings has published its signature postcode delinquency report, providing a fascinating insight into those areas where the mortgage delinquency rates are well above the national average. Are you operating in a high-risk area?
By value
In terms of overall mortgage values, the country's delinquency hotspot was Nelson Bay, NSW, which reached a 30-plus day arrears rate of 6.6% in September 2012. This was an improvement on its March 2012 Rate of 7.8%, but wasn't enough of a drop to take it off the top spot.
"Nelson Bay has been the worst performing postcode in Australia since this report was first published in November 2007. Stagnation in the local housing market has increased the time required for foreclosed properties to sell, leading to an accumulation of arrears in the 90-plus day bucket (5.78% at end-September 2012 versus 4.57% at end-March 2012). Properties backing mortgages in arrears tend to be high-value properties, where the mortgage balance is on average almost three times the average loan balance in Nelson Bay," said the report
"If these foreclosed properties were to be sold and the 90+ day arrears cured, Nelson Bay arrears would improve significantly.
"Other postcodes, such as Surfers Paradise (QLD), Pacific Paradise (QLD), Waterford (QLD), Greenacre (NSW), Rooty Hill (NSW), and Green Valley (NSW), remain among the worst performing by mortgage value."
The top 20 delinquency hotspots by total value were as follows: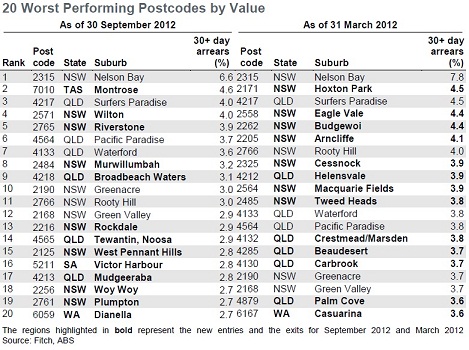 By number
When it came to those areas with the worst delinquency rates by number of mortgages in arrears, Tasmania's Montrose was the worst performer – with 32 borrowers out of 1,000 in delinquency.
"Montrose is the only postcode in Tasmania among the 20 worst performing postcodes. Montrose was not included in the postcode analysis in previous reports as it did not meet the eligibility requirement of having more than AUD100m worth of mortgages in the Fitch data set," said the report.
"Surfers Paradise (QLD), Eagle Vale (NSW), Cessnock (NSW), Waterford (QLD), Nelson Bay (NSW), Crestmead/Marsden (QLD), Green Valley (NSW), Eagle Vale (NSW), Macquarie Fields (NSW), and Helensvale (QLD) remained among the worst performing postcodes by number of mortgages in arrears, with 18-29 delinquent borrowers out of 1,000."
The top 20 delinquency hotspots by number were as follows: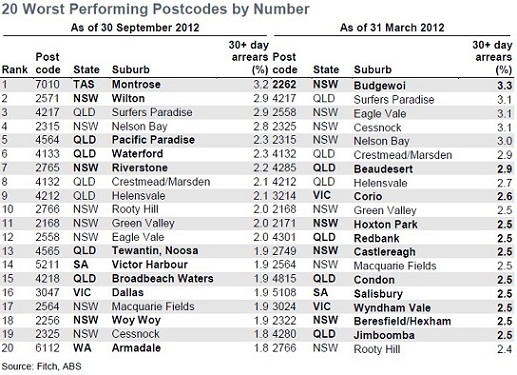 Other findings... Gold Coast in trouble
Other highlights of the report, as highlighted by the Fitch Ratings team, included:
Delinquencies are down: Delinquencies across Australia decreased to 1.2% at the end of September 2012, down 0.4% from 1.6% in March 2012. The current rate of delinquencies is significantly below the five-year average of 1.56%.
Monetary policy a boost: All Australian states saw improvements in mortgage performance. Improvements were driven by the RBA's decision to further reduce the cash rate by 0.5% in May 2012 and 0.25% in June 2012, and the subsequent reduction in mortgage interest rates. Regions southwest of Sydney, west of Melbourne, and south of Brisbane – where serviceability is key to mortgage performance − benefited most from the cuts.
Affluent regions best performers: Lower Northern Sydney (NSW), Inner Brisbane (QLD), Northern Middle Melbourne (VIC) and Central Metropolitan Perth (WA) were the best performing regions in their respective states, by both mortgage value and number of mortgages in arrears.
Worst State: Queensland remained the worst performing state, with a 30-plus day delinquency rate of 1.41%, although its performance had improved significantly − it was down from 1.86% in March 2012. Most of Australia's 10 worst performing regions were in Queensland.
Gold Coast East worst region: Gold Coast East (QLD) replaced Fairfield-Liverpool (NSW) as the worst performing region in Australia, with a 30-plus day delinquency rate of 2.44%, and 16 out of 1,000 borrowers in arrears. The level of 90-plus day arrears is 1.14%, above the Australia-wide average of 0.5%.
Tourist areas benefit least: Gold Coast West (QLD) and the Sunshine Coast (QLD) were the second and fourth worst performing regions in Australia, respectively. Coastal regions that rely on tourism are less affected by monetary policy and more by the high Australian dollar, housing prices, occupancy rates and rental yields. This is evidenced by popular tourist destinations being among the worst performing suburbs.
Bright prospects post-Christmas: October and December 2012 cash rate cuts are expected to benefit Australian mortgage performance in the first quarter of 2013, and offset seasonal Christmas spending.