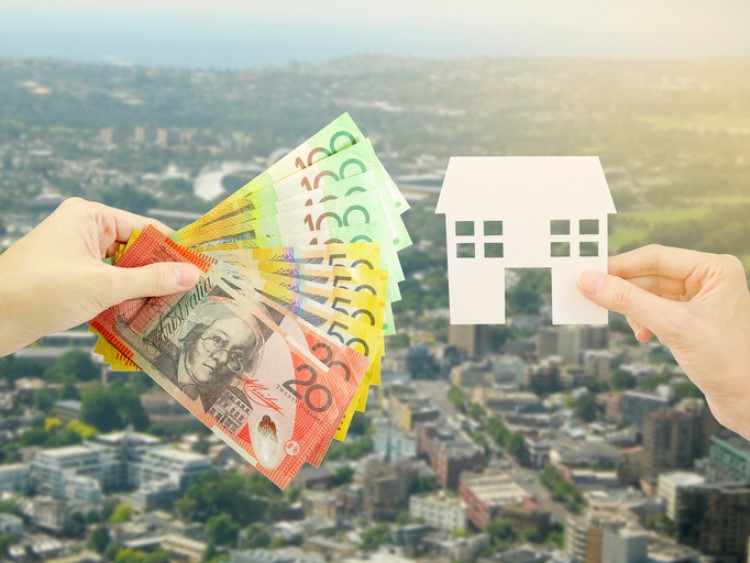 Over the past 25 years, there has been a significant growth in the share of housing costs in the spending of Australians, an analysis from Commonwealth Securities (CommSec) shows.
The primary driver of the change in spending was the fluctuations in the economy that affected the employment market, wage growth and wealth, CommSec chief economist Craig James said.
There have been changes to the spending patterns of Australians since 1994 — CommSec figures show that the share of spending on housing, insurance, health, education, medicines, and electricity and gas have increased while allocation for other essential needs such as food and clothing, as well as on furniture, household appliances, and purchase of cars shrank.
"Housing costs – paying the rent or the mortgage – now occupy a bigger share of household spending. Over time, the relative cost or affordability of so-called essential items like food, clothing, cars and household goods has fallen, allowing Aussies to buy bigger and better homes," James said.
Housing costs only took up 17.6% of Australians' spending in 1994. This share jumped to 19.4% this year — this means that Australians are allocating almost one-fifth of their budget for mortgage repayments or rent.
On the other hand, the proportion of spending on food recorded one of the most significant declines, from 11.2% in 1994 to 9.4% in 2019.
The chart below shows the difference between the share of household spending in 1994 and 2019: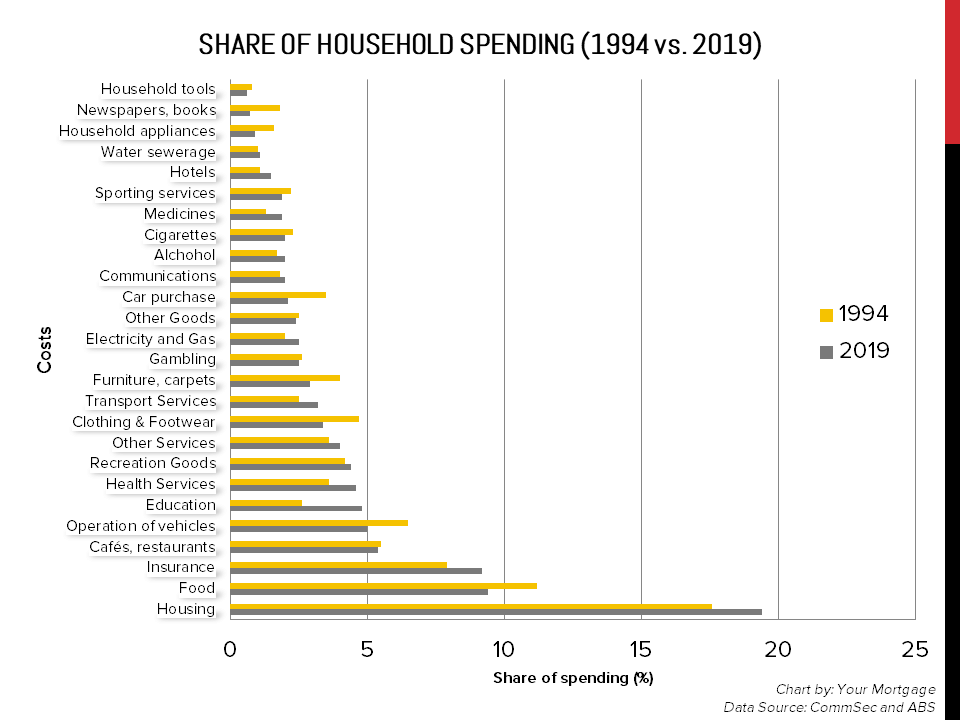 Changes in income and wealth
The analysis also found that in the last 25 years, wages have risen by 165% while consumer prices — as measured by inflation — grew by only 85%. At the same time, household income per capita increased by 181%, faster than the 176% increase in per capita spending. Wealth per person also showed significant improvement, jumping by 326%.
James said the growth in income and wealth had encouraged homebuyers to upgrade their homes.
"People can afford more expensive and better quality homes because interest rates have fallen to record lows and a smaller proportion of household budgets now goes to essentials," he said.
While Australians in the 20-30 age bracket face a more expensive housing market, they are still able to take advantage of the fact that the share of spending for essentials has diminished, said James.
"But Gen Z and millennials also have different priorities, favouring travel, 'experiences' and smaller homes," he said.
Have income and wealth growth deteriorated?
However, despite these seemingly overwhelming growth rates, James said there had been a slowdown in income and wealth gains in the past three years.
"With globalisation serving to restrain inflation, wage growth has also eased. Consumers have drawn down on savings to adjust to the slower growth environment. On average, household income grew at a 2.9% annual rate over the past three years, behind a 3.9% lift in spending," he said.
Taxes have also become a burden, rising 5.7% annually in the past three years.
"Tax now takes 14.7% of household income — a near 13-year high — reflecting 'bracket creep' and tougher enforcement by tax authorities," he said.