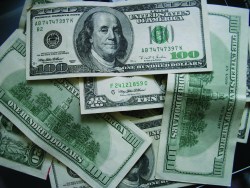 Our dollar dipped below $US1 last night, trading at one point as low as US98.77c, down more than US3.5c at the lowest point.
What's behind the dramatic fall?
Market observers have said the fall in the Australian dollar is a culmination of:
Ongoing concerns about European debt and Greece bailout;
Stagnating European and US economies; and
A general fear that we are slipping back into a global recession.
How will global fears affect Australia?
Indeed, for more than 6 weeks now, cut price interest rate markets have been reflecting the view that overseas weakness will catch up with Australia, and the RBA will need to cut rates to stimulate domestic growth.
The RBA is giving nothing away, but many financial analysts are predicting cuts by Christmas.
Financial observers used to lament that when the US sneezed, Australia would catch a cold. The reality is not quite as stark, largely due to our stable resource sector, but the Reserve Bank (RBA) has said Australians will feel the effects of the still unfolding economic crises in Europe and the US.
Earlier this week Your Money Magazine spoke with AMP's chief economist, Shane Oliver, who said Australia is likely to feel effects in export markets, consumer confidence and through share market falls. He also predicted the RBA would cut official rates by the end of this year, see Greek default risk: What it could mean for Australia
What has the RBA said?
Addressing the Euromoney Australian and New Zealand Debt Capital Markets Forum in New York last night, RBA deputy governor Ric Battellino said "A topical question at present is whether the recent turmoil in global markets will eventually overwhelm the positive effects on the Australian economy from China."
Battellino said overseas financial uncertainty was undermining local consumer and business confidence, and the turmoil could also be weakening the Chinese economy, resulting in reduced demand for Australian resources.
However he added it was simply too early to know exactly what is unfolding: "For one thing, nobody yet knows when, or how, the issues that are causing the financial turmoil will be resolved."
Battellino said the issue continues to be at the forefront of RBA board meeting's, and said "Markets do seem to have reached a pessimistic assessment and this appears to be based mainly on the assumption that weakness in the US and Europe will flow through to Australia."
Why is this happening?
The US economy has remained in turmoil since the global markets were thrown into chaos in August, when some major indices plunged as much as 15% after the US lost its AAA credit rating over its inability to resolve the sovereign debt crisis.
Now in the final weeks of September, global markets remain threatened by the troubled US economy and continued debt crises plaguing the EU.