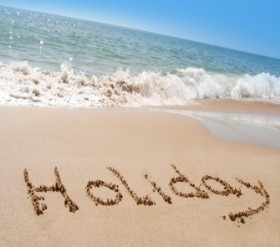 Planning
1. Don't assume package holidays are cheaper
Holiday packages are great inspiration if you don't have much holiday planning time. Someone else has figured out which airline to fly and where to stay. All you have to do is pack your bags and go but do package deals represent good value?
Package-deal providers theoretically pass on the benefits of bulk-buying to you, and sometimes include no-cost add-ons like internet, breakfast and free city tours. However, they might also be keeping costs down by offering roundabout routes to your destination or including only three nights' accommodation when really you'll need four, so make sure you understand all the detail.
2. Choose a destination with a favourable exchange rate
Although it's a lot cheaper to stay home and do nothing, many overseas destinations are looking cheaper than they have in a long time, which is as good a reason as any to grab a few fistfuls of the strong Aussie dollar and see the world.
In the States, a US$20 steak dinner would have cost you 31 Aussie dollars back in March 2009 when the Aussie dollar was purchasing only 64 US cents; now, however, that same steak will cost you more like 19 or 20 Aussie dollars.
Being in the US itself is now around 35% cheaper than it was 18 months ago, but note that many currencies around the world are pegged to the US dollar: if you want to ride the Peak Tram, lose yourself in the ruins of Petra, or check out the world's highest building in Dubai, you'll be pleased to learn that the Hong Kong dollar, Jordanian dinar and Emerati dirham are all pegged to the US dollar and so are now 35% cheaper too.
3. Be aware of which countries are cheap and which are expensive
Regardless of exchange rates, the cost of staying and traveling in different countries varies dramatically. Intrepid travelers who don't mind a bit of dirt and discomfort have the pick of some really cheap 'off the beaten track' destinations like most of South and Southeast Asia, some Middle-Eastern and North African countries like Syria and Morocco, and most of South America outside of the slightly more expensive Chile and Argentina. Even travellers who like comfort and safety can make some smart choices.
If you're after that quintessential alpine holiday, you'll halve your accommodation, activity and eating expenses by going to the less known but equally beautiful Slovenia rather than neighbouring Austria.
For any given destination, the preliminary chapters of a good travel guide book will give a good idea of how much you can be expecting to spend on a daily basis. The Economist's Big Mac Index provides a simplistic but useful at-a-glance comparison of expense.
Flights
4. Use comparison websites first, then check out the airlines' own sites
Discount airlines are constantly battling it out for your dollar, so start making this work in your favour. Check out great airfare comparison websites like webjet, farecompare, jetabroad and lastminute to compare the prices offered by various carriers.
Then compare your shortlist with the prices available directly on the airline's website. For domestic flights within Australia, this almost always means you get the same low fare but avoid the booking and 'price gaurantee' fees levied by the comparison sites. It can also work for international flights.
5. Take the scenic route
If you have time on your hands or quite like breaking long flights, check out round the world fares or fares that involve stopovers but use routes on which competition is fierce and prices are low. It might seem illogical but there are times when travelling further can actually work out to be the cheaper option.
6. Fly off-peak
Half of the world wants to fly in December for Christmas holidays and in Europe one of the most expensive times to fly is in July and August during their summer holidays. Choosing to flying off-peak can halve the cost of your flights.
Similarly, travelling to London in October rather than January would save you more than $300 and flying to Bangkok in October rather than January would save you around $1,000.
If the season is non-negotiable, specifics like day of the week and time of day also affect how much you'll pay. Flying mid-week rather than around the weekend, or flying at unpopular times such as very early in the morning, will cost you less than peak times between 9am and 7pm.
7. Make the most of low-cost carriers
In certain regions of the world, if you need regional or local flights you can save thousands by opting to use one of the huge number of low-cost airlines. It makes sense to use a major airlines for long-haul flights but once you're in the region you can jet around for next to nothing using low-cost carriers (for example, Ryanair and Easy Jet in Europe). The important thing to note is that these airlines will not show up on any webjet-type searches you do, so it pays to use a specialist information source on low-cost carriers like attitudetravel . Note that most overseas low-cost carriers are only bookable online on their own websites.
8. Become a courier
How do you fly to London return for $200 and a number of other spectacular destinations for pocket change? Easy - travel as an air courier. Courier companies like DHL or UPS sometimes need air-couriers to escort precious cargo, like time-sensitive business information, around the world. If you're flexible and available to travel at short notice, getting listed with an international courier service could lead to heavily discounted (or even free) flights to some very interesting destinations.
Accommodation
9. Book well in advance for peak season, at last minute for low-season
In general people usually book accommodation around one month out from when they travel and correspondingly prices in major hotel chains tend to peak a month out from check-in. The best deals on accommodation in the peak season, during which hotels are likely to get booked out, are therefore to be had by booking well in advance. In the low season, however, hotels are likely to find themselves still with empty rooms just a day or two before your check-in date and might be so eager to get some of them filled that they'll discount heavily.
If you're happy to look around for accommodation once you've arrived in your destination, especially in Europe where many hotels are privately owned, look for boutique or owner-operated hotels where the person at the desk actually cares whether or not you check in. Ask them the price, then ask them if they can arrange something cheaper – it can't hurt to ask and they'd rather have the room filled than not.
10. Shop around on the web: try an online aggregation site first
hotels.com
expedia
booking.com
hotelclub
lastminute
stayz
wotif
Many websites and hotels claim to have the 'lowest rates available on the web' but don't be misled by advertising; you're always going to be better off shopping around. If the quote you find on a hotel booking website is drastically lower than the rate quoted direct from the hotel's website, it can't hurt to call them up and ask them to match or beat it.
To read independent reviews of the hotel you're considering, visit tripadvisor.
11. Give a "secret hotel" a shot
If you like the sound of champagne hotels at beer prices, give a lastminute "secret hotel" a shot. The premise is that by booking a 'secret hotel' whose identity is only revealed after you book and pay, you can receive as much as a 75% discount on luxury hotels. The discount, star rating and locality of your choice is guaranteed but the hotel should come as a pleasant surprise.
12. House sit, swap or couch-surf
If you want a change of scene but haven't got the cash to blow on the Ritz, couch surfing, house-sitting or house swapping are some free alternatives. Couchsurfing is a social networking website for travelers who move from couch to couch, sharing stories and making friends. Caretaker is a place to get listed for house-sitting or find a caretaker for your place, and homeexchange has descriptions of potential house-swaps around the world. Each website has testimonials and honor systems to keep it fun and safe.
Car hire
13. Start your search on car-hire comparison websites
To find the best deal on any given day, start your search on car hire comparison websites like compare2save or webcarhire. Then compare your shortlist with what you can find directly on the hire company websites, and remember to check you've included all fees in your calculation.
14. Book in advance
Hire-car companies say their pricing systems are static and encourage you to book ahead, and this is usually the best way to go. One sure-fire way of paying over the odds for car hire is to turn up at the airport terminal without any prior booking, although even if you do unavoidably find yourself in this situation it's worth both comparing prices at the different companies' desks and asking for discounts off the rates they first quote.
15. Look beyond the big brands
If you want to really get the best prices on car rentals, look beyond the big brands. There are loads of family-run or boutique car hire companies operating on a local basis that will often undercut the majors by a large margin. You might get an older car or a smaller choice of pick-up and drop-off points (some will not have airport offices, for example, or will require you to get a shuttle bus to their office five minutes away from the airport), but particularly for long hires the saving can be worth it.
16. Don't pay extra to lower the car-rental excess
Paying to reduce the excess on your rental car insurance is the hire-car equivalent of – 'would you like large fries and coke with that?' There's no doubt that paying just a little more each day for holiday driving peace of mind is a compelling idea, but the $20 or thereabouts they ask for will add up quickly over the length of a holiday. You should have your excess covered, but there is a smarter way to do it – via your regular travel insurance.
Many travel insurance providers offer rental car excess coverage alongside other insurance basics like personal injury and theft. Some even provide rental car excess cover as a basic inclusion - so don't make the easy mistake of paying for it twice.
If your current travel insurance provider doesn't offer rental car excess cover, check out the offerings from QBE, GIO, as well as private health funds like MBF and HCF. Paying for one-off comprehensive travel insurance with all the inclusions will cost you a lot less than $20 per day, and you'll get a lot more coverage for your money.
17. Watch out for hidden extras
If you want to keep costs low, keep an eye out for little extras that could turn into nasty surprises.
One of the biggest money drains associated with hire cars is the petrol surcharge for returning your rental with an empty tank. Most car hire places will charge between $2.20-$3.00 per litre to fill it up for you – nearly $1 more per litre than you would have paid to fill your tank around the corner. On a 50L tank, that's $50 better off in your pocket than theirs, so be sure to fill your tank to within the required 7/8 before you return it.
Also, quite frequently – whether by mistake or sneakiness is hard to say – hire companies will hit you for all kinds of oddball fees. Common offenders include tolls you've already paid for, tire fees, extra-driver fees, fuel surcharges and charges for pick-up outside of 'normal office hours' (particularly dangerous if your hire begins on a Sunday). Query any charges that you don't understand and you might find they'll take them off the bill.
18. Ask about relocation rentals
If you want to save seriously big bucks on car hire and aren't on a tight schedule, call around and ask if any of the hire companies have cars that need to be relocated.
Companies will often give you a free pass to take the car wherever you want for two or three weeks, as long as the car is at its due location by the set date. Everybody wins – you get dirt-cheap car hire (from A$1) and the company doesn't have to pay for an employee to drive the car out and fly back. Check out standbycars or relocationcarrental for $1 per day car rentals waiting for you right now.
If you want to get really shrewd, relocating a motor home will take care of both the car and your accommodation. Get inspired at drivenow
While you're there
19. Eat where the locals eat
Wherever you are in the world there are further savings to be had by getting off the tourist trail. If you want to save money (and eat the best food around) – eat where the locals eat.
Finding a great place to eat can be as simple as walking two streets back from the main tourist drag. Look for restaurants filled with locals and without 'tourist-friendly' menus - you'll find the food will both taste better and cost significantly less.
As for basics like bottled water, snacks and chocolate bars, avoid buying these from the vendors in the tourist districts at all costs – typically they will charge between two and three times the prices charged in a local grocery store or supermarket.
20. Outsmart the mini-bar
Try to make a habit of locating your local supermarket as soon as you arrive in your destination, to stock up on bottled water, snacks, soft drink, beer, wine and anything else you might like to have on hand, and create your own mini-bar snack selections. Then once you get into your room, pack the hotels offerings away (out of sight, out of mind) and set up your own guilt-free goodies to enjoy at your leisure.
21. See things for free
Once you're on the ground, fed and rested it's time to explore your destination. Start by working out what on your to-do list you can see for free. Free walking-tours or even going jogging are a great way to get to know a new city and take in the sights. Walking is not only good for you, but allows you to really soak up the local atmosphere in a way that those tacky tourist buses won't. Why pay A$25-$50 or more for something the local council or hotel may provide for free? Use a good guidebook, ask your concierge, or use the resources of the local tourist information office.
Another way to really get to know a city is to brave its public transport system and choose trains and buses over cabs. You'll not only save money but also get a much richer experience.
22. Use city passes
Most major cities with comprehensive public transport systems sell city passes or tourist cards that get you rides on a variety of public transport without having to work out the complexities of local ticketing systems, as well as entry to a host of tourist hotspots for a flat fee. Whether they represent good value or not will depend on how you like to take in a city: as a rule, they suit those wanting to get a lot of sightseeing done in a short time rather than those that want to take things at a leisurely pace.
23. Join the online coupon revolution
Whoever said there is no such thing as a free lunch hasn't discovered the online coupon revolution, which can mean 20-90% off the things you want to do. Forget snipping those squares out of your local newspaper – just get online for a list of today's deals for wherever you are in the world.
These websites have amazing discounts on all kinds of activities – great deals like 50% off a day's sailing and scuba diving courses reduced from $600 to just $99. You'll also find discounted entry on popular tourist destinations and markdowns for your favourite retail outlets.
International travellers should check out sites like couponcraze .
Money
24. Use your credit card
The list of merchants willing to swipe your Visa or MasterCard is getting longer all the time so there's no longer many reasons to carry much currency around with you at any one time.
25. Use ATMs overseas – but wisely
The world has come a long way since travellers cheques were the smartest way to take your money overseas and though fantastic plastic will take you a long way, there are times when cash is just a necessity.
The global recognition of cards carrying the Cirrus/Maestro logos (those two overlapping coloured circles in the corner of your card) means your cash card will work in many thousands of ATMs around the world.
Like with credit-card spending, you'll pay a 2-3% currency conversion fee on your ATM cash withdrawals, and on top of that most banks will charge a flat fee per use of $4-5, but the exchange rate they apply should be sufficiently better than the rate you'll get over-the-counter for you to end up better off… to say nothing of the convenience factor.
Note, though, that the flat fee of around $4-5 each time you make an international ATM withdrawal means it gets proportionately more expensive the more times you get cash out, hence the importance of minimising the number of times you do so.