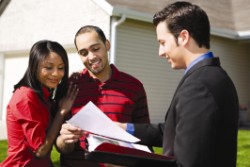 Your real estate agent will earn a healthy commission out of the sale of your home so make sure they earn it.
If you're selling…
A real estate agent that lists your property for sale may have some obligations to potential buyers but ultimately they are your representative as the seller. Unfortunately not all agents are equal so make sure you know exactly where you stand and take these 11 simple steps to get the most out of your agent:
1. Before signing up with an agent, compare commissions and fees among the local competitors. Armed with this information, see which agents are prepared to bargain with you for a lower fee.
2. Don't be afraid to ask them the tough questions, including how many properties they have sold, how long have they been working in the local area, how many properties they have currently listed, average time a property they list takes to sell, and ask for examples of recent sales of properties that are comparable to yours
3. Although you should ask for a quote on the market value of your property, don't rely too heavily on the figure as it could be artificially inflated to as the agent's strategy to beat their competitors. A spokesperson from Consumer Affairs Victoria recommends you ask them to justify the quote they've given you, possibly by similar properties that have been sold for similar prices in the area.
4. You should also ask prospective agents what she or he will do to ensure your home sells for the best price possible; in this case, you're more likely to receive a realistic answer
5. Ask to receive regular reports detailing the progress they've made in attempting to sell your property, including how many prospective buyers they have made contact with
6. Good real estate agents should also provide you with up-to-date data about the sales made in your local area
7. Agents should update the advertised price of a property to reflect any changing level of interest
8. Ask them for advice on how your home should best be presented to potential buyers; what is their marketing strategy for your property?
9. Ask for their advice on how your property should be sold; they should arrange and run any inspections or auctions
10. Agents should disclose to you all written and verbal offers made by potential buyers
11. Once a deal has been reached, your agent should arrange the signing of the contract and hold onto the deposit
If you're buying...
Property buyers don't necessarily hire an agent, but rather deal with several agents representing properties they're interested in. These agents act for the person selling the property so don't fall into the trap of thinking they will act in your best interests. Agents that have listings you are interest in should:
• Answer any questions you have about listed properties
• Set up a time for an inspection
• Alert the seller to any offer you make
• Organise the signing of the contract
If you're hiring a buyer's advocate, make sure they are licensed. You can expect a buyer's advocate to search for potential properties, do your bidding at auctions and represent you in other aspects of the buying process.
-- By Stephanie Hanna