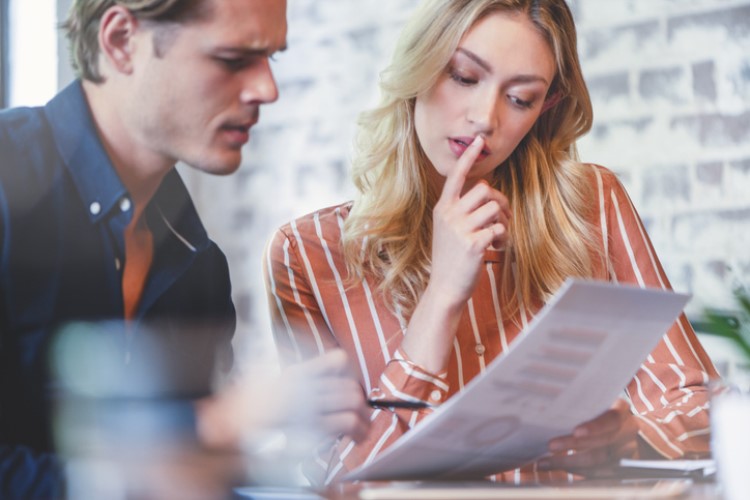 Applying for a loan is not as easy as it sounds — it actually takes ample preparation for you to be able to undergo the process without any hiccups. One of the most crucial things you should be able to ascertain the soonest is how much you can safely borrow. The keyword here is "safe" — you need to know your threshold. This means that the likely amount you will be borrowing must not only be within your budget but will also allow for some breathing room. The big question is — how can you really know?
Understanding your borrowing capacity
To know how much you can safely borrow, you have to understand the concept of borrowing capacity. Basically, banks and lenders use this factor in determining how much an individual can actually borrow.
Raj Ladher, home loan specialist at Your Mortgage Broker, said there are multiple factors that can affect your borrowing capacity but your income is a crucial part of this.
"With your income in mind, the banks will also assess what your lifestyle expenses are along with any liabilities you may have such as credit cards, personal loans, and other financial commitments," he said.
Other factors that will affect your borrowing capacity include the mortgage term (or how long you are planning to pay for your loan), your age at application, and your retirement age.
Boosting your borrowing capacity
Borrowing capacity is something you can improve — there are tried-and-tested ways that can help you boost this borrowing power to ensure that you will get to borrow enough for your needs.
Sarah Megginson, managing editor of Your Mortgage, Your Investment Property, and Your Investment Broker, said it is crucial for borrowers to look at their existing debts if they want to increase their borrowing capacity.
"Paying off personal debts is one of the most effective ways to boost your borrowing power," she said.
One tip for borrowers with credit cards: Banks usually consider your credit limits as if you owe the amount in full. Megginson said it would you boost your borrowing power when you reduce your credit card limit.
Borrowers with credit cards should consider not just paying their balance but also reduce their credit limits. Megginson said lenders typically assume that a borrower owes the maximum
"If you can immediately reduce your credit card limits as low as possible, and actively work to pay them off swiftly, you could increase your borrowing power significantly," Megginson said. "The criteria that lenders use varies, but generally, every $5,000 in credit card limits or personal debts you have reduces your borrowing power by up to $25,000. That means $20,000 worth of personal debts could reduce your borrowing power by $100,000."
Knowing how much is safe to borrow
Now that you have an understanding of your borrowing power, you can create a plan that will help you determine how much you can safely borrow.
Ladher said borrowers need to get a good grasp of their financial circumstances. They need to be able to understand their cash flow by looking at their net income and lifestyle expenses for a certain period. A period of six months, Ladher said, will already give you an idea of your finances.
"Going through lifestyle expenses can be quite confronting. However, it is better to go through these expenses prior to committing to a loan amount that will comprise your lifestyle. There also needs to be a consideration on what contingency funds you have should you have issues with your employment or unexpected expenses," Ladher said.
Ladher believes that it is not practical for home buyers to borrow the maximum amount that a bank would lend. Day-to-day budget should always be considered.
Your Mortgage's Borrowing Power Calculator can help give you an estimate of how much you can afford based on your income and expenses. This calculator can determine how much you can borrow under a certain interest rate and a loan term.
Here is an example: Let's assume that you are a single home buyer with an annual salary before tax of $70,000 and expenses amounting to $2,800 monthly. For this example, let us say that you have a credit card with a credit limit of $9,000. You are planning to apply for a loan that has an interest rate of 2.5% for a loan term of 25 years. How much can you borrow with these given circumstances?
With the given factors, Your Mortgage's Borrowing Power Calculator shows that you can apply for a mortgage amounting to $200,000. This will have a monthly repayment of around $900.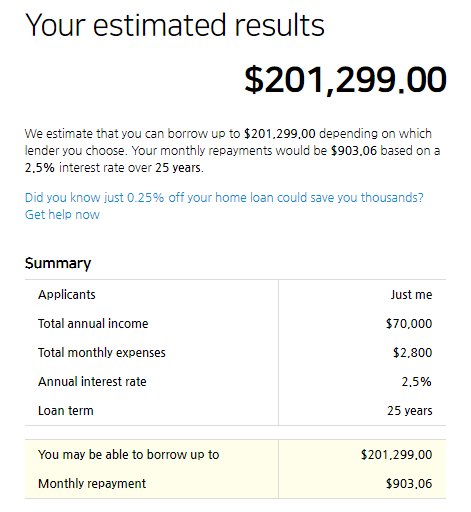 Megginson said while online calculators are not definitive, they could give you a really good indication of the ballpark figures you can aim for when applying for a loan.
"Tools like online borrowing and repayment calculators and extra repayment estimates can really help you understand what your financial situation looks like now, and what it could look like in the future," she said.
Knowing how much you can afford to spend will be able to help you get a clearer understanding of your borrowing power before you even start looking around for your new home. This makes it essential for borrowers to have a plan, Megginson said.
"You might be looking at homes around the $500-550,000 mark with a $50,000 deposit, only to discover you can only borrow $420,000. Or, you might be putting limitations on yourself when really, you can afford to spend a little more," she said.
This is especially true in today's market — being aware of how much you can borrow and crucially getting a pre-approval before you begin shopping for property will put you in a really strong position. Megginson said this will equip you to make offers and give sellers the confidence that you can afford to buy their property.
Reaching out to mortgage brokers
You do not have to do these all these planning alone — mortgage brokers will be able to assist you in determining how much you can safely borrow.
With their industry knowledge and expertise, mortgage brokers can assist you in navigating the lending market and in understanding your financial overall financial health.
"Mortgage brokers provide a personalised service by understanding your current circumstances along with your requirements moving forward. They take the time to deep dive into your financials and will make a recommendation based on your lifestyle as opposed to your maximum borrowing capacity," Ladher said.
If you are interested in seeking help from a professional, try to visit Your Mortgage Broker website.