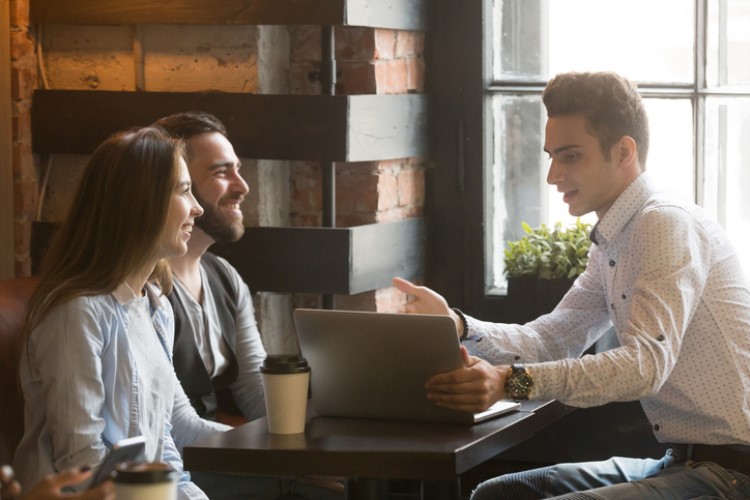 A buyer's hunt for the right property has become just as primal as their instinct to tap into DIY alternatives that can keep some extra cash floating around in what could quickly become a dry-bed bank account.
The back-and-forth conundrum over whether to hire a property conveyancer, or not, has become more neck straining than keeping up with the flight-path of a neon ball caught-up in a deuce rally.
With conveyancing fees costing a buyer anywhere between a few hundred dollars up to a couple thousand, it's no secret that turning away from the legal-apropos of settling a property can invoke a more budget-friendly approach. In fact, buyers can now opt into purchasing DIY conveyancing kits, which guide them along by means of a check-list.
But going about legal proceedings DIY can also be risky, and restrictive in parts, and after all, doesn't painting a wall yourself still come with its own costs?
Every buyer's goal, buying confidence, and level of expertise when it comes to tackling the ebbs and flows of the property market all come unique – so it's rather more effective to tackle the dilemma from the inside-out.
By first understanding what a property conveyancer provides, the extent of their legal work, and how they can assist the buyer, only then can one realise whether they are capable of managing the legal process on their own (minus the legal fees), or whether factoring the costs of hiring a legal professional is a more worthwhile approach.
What does a property conveyancer do?
A conveyancer is a legal trailblazer when it comes to settling a property, or the process in which the property is transferred. They ensure all necessary documents are prepared, reviewed and finalised to legal standards, whilst also making sure settlement day runs according to plan.
Backed by years of hard work and experience, a conveyancer is well prepared to actively respond to any problems that arise throughout the settlement process, be in close reach for reliable advice, and also uncover vital information about the property – which if overlooked could be stressful for the buyer in the long run.
Stumbling upon an unknown property, no matter how beguiling, can be like meeting a stranger. In saying this, the conveyancer not only knows the right answers to dig for, but they also hold the privilege to access wide-ranging information about the property; sealed data and archived records which may not be as easily obtained by the buyer.
Some of these legal investigations are directed towards finding out whether any future developments are in the pipeline within the property's vicinity or suburb, if there any land or environmental issues that could hinder the property, if there are any boundary problems to resolve, and if there are any outstanding levis that need to be paid.
A conveyancer can also handle a buyer's deposit by holding it in a trust account, ensuring its security, and then its proper transferal when the property is finalised. If there are delays with the bank, or a mortgage has not been discharged yet, a conveyancer is experienced on pulling this through. In addition, they will tally-up any other necessary rates and taxes required to be paid and inform the buyer of these as early as possible to avoid it being flagged as an unexpected cost.
Transparent and efficient communication is vital when it comes to settling a property, and a conveyancer is best skilled in working with all other parties involved, such as the other seller's lawyer, the bank, and local government and council bodies.
In terms of properties bought off-the-plan, especially under circumstances where the developer instigates structural or architectural changes to the initial plan, a conveyancer is able to take the lead in remedying the onset of dispute – and also inform the buyer on whether the developer's changes breach their rights.
What risks can a buyer open themselves up to when not hiring a conveyancer?
Having run through a conveyancer's role in the settlement of a property, it's not to say that a buyer can't go DIY. It's possible, and some people choose to do it, but it's a good idea to know of a few possible risks prior to starting such an endeavour.
First off, buying a property will be one of the biggest financial transactions a person will do, so it's common thought to want to get it right.
Conveyancing is a career, skill and craft that takes years to build. Without the legal experience, training, and lived-in hindsight to draw from, buyers and sellers may be more prone to making a mistake, no matter how tooth-combed and cautious their approach.
Here is a closer look at some of the possible risks and disadvantages of DIY conveyancing:
Missing a small but important step in the paperwork, or not holding the most up-to-date paperwork, which can likely occur considering the tendency for laws and regulations to often change or update. Not properly finalising the transferal of the property into a binding financial agreement can also be of strife to the buyer years down the track.
There is a higher chance of settlement being delayed if paperwork is missing or the bank is experiencing delays. Whilst a conveyancer might be able to speed things along, a buyer may not be as well-versed on overcoming a certain administrative road-block.
Not being informed of Government schemes, concession rates and incentives that could have otherwise saved the buyer tens of thousands of dollars.
Overlooking, or not accessing appropriate resources for information about the property. With the number of large-scale developments occurring country-wide, it's important for a buyer to know exactly what they are signing into.
Timing is important, and the buyer not going about certain processes in ways which will protect them can be problematic. This includes the best way to place an offer on a property, as well as the seller accepting the offer so as not to turn down other interested buyers at the wrong time.
The seller aims to gain the highest possible offer, and the buyer aims to offer a price that not only secures the property, but also financially best suits them – and neither wants to get it wrong. Therefore, without the professional advice of a conveyancer, a buyer may open themselves up to the possible risk of paying too much, or the seller accepting too little.
It ultimately comes down to individual preference on whether to work with a conveyancer in settling a property, or venture down a DIY path. It's important to be well-researched on either option and become familiar with the possible risks involved.
However, allocating budget towards a conveyancer or solicitor can provide added security, alleviate stress, make sure the process runs to schedule – and most importantly ­– ensures that everything is executed correctly first-time around and in accordance with the law.