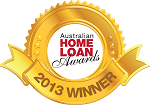 Westpac
It would be fair to say that the Big Four did not get a lot of love from consumers in the Australian Home Loan Awards. The big names that hold the majority of the nation's home loans are lagging behind according to their customers. You keep a suspicious eye on them when the RBA moves interest rates; you watch the advertisements where they tell you how focused they are on what you want and need; you listen to them say how important your call is when you
wait on the phone to make an inquiry; and, you have now taken the time to
let us know how you feel about the way they conduct their business.
Now, you have told us that Westpac is a clear standout in this field. While other majors languished near the bottom of the scoring in all categories – losing out to sometimes under-staffed and largely unheard of financial institutions – Westpac was actually competitive.
So competitive in fact, that it landed a bronze medal in the best bank for property investment category.
A large part of this can be put down to the flexibility of all seven of its major home loan products. Each has the option to make interestonly repayments, extra repayments (including up to $30,000 per annum for fixed rate products), the option to take a 'repayment holiday' (subject to bank's approval), and the option to make redraws.
Apart from its one medal, Westpac dominated the other Big Four institutions across the board:
Loan features
Westpac's superior range of features gave them the edge according to consumers. Interest-only repayments and a predominantly fee-free environment for ongoing costs, combined nicely with a varied product range, and discounts of between 0.2% and 0.7% on the majority of loans.
Speed of approval
Westpac gave customers the least anxiety from application through to loan approval, ensuring purchase opportunities did not slip away.
Fixed rate loans
Westpac's fixed products were especially pleasing, with the many options they presented to customers. Westpac allows for fixed rate periods of anywhere between one and 12 years; $30,000 worth of additional repayments allowed per year; and 0.2% discounts on fixed rate loans of over $150,000.
Congratulations Westpac for taking out the Major bank of the Year award.