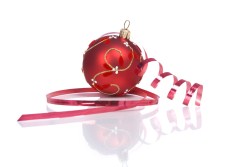 Dare we say, Christmas is just three months away. That means one thing for many Australian families- without a good plan, your credit card is in line for its annual beating.
By the time Christmas rolls around each year, for many it's already too late to prepare financially, and the expenses end up on credit.
It's that period of the year when you're suddenly expected to effortlessly come up with money for all the regular bills, plus extra for parties, presents all round, holiday activities for the kids, maybe time away at the coast- the expenses go on and on and on.
It doesn't have to give you a heart attack though, and by sitting down a few months (or several) in advance, you can avoid the horror of a huge statement come January.
The first move is to sit down and make a plan. Ask questions like, "Who will I buy presents for, and how much will I spend?", "How much will I need to spend on travelling and accommodation?" and "How much time can I afford to take off work?". By answering these questions you can start a budget savings plan.
Presents
Love it or hate it, presents are a major expense at Christmas time. It's easy to get swept up in the season, but it pays to be clever and fairly rigid about whom you're buying for. Make a list of the sort of presents you plan to buy so you can take advantage of any pre-December sales. After you know these individual costs, add them all up into one fixed gift budget. By doing so you'll be better equipped to stay on target.
Travel
If you have to drive or fly for Christmas, it's advisable to account for these expenses in your budget. You needn't be rigid to the dollar, but it's important to estimate and allocate a portion of your money accordingly. Remember to consider any ticket expenses, activities, and potential miscellaneous costs.
Holiday income
Do you get paid over Christmas? Is your workplace closed for a period of time? You need to work out how much you'll need to compensate for any loss of income over the holiday period. If you're unsure, ask your employer. If you know you won't be paid for a week of work, tally how much you'll be down for December and January and attempt to make it up elsewhere.
After getting an idea of how much you'll need over Christmas, add the costs together. You'll see if you can afford to continue with your plans, or if you'll need to drop a few expenses. If the figure is daunting, reconsider non-fixed costs such as your expenditure on gifts.
Additionally, many credit unions and banks offering specific high-interest Christmas savings accounts, which automatically deduct money from their pay or via automatic transfers into their separate account.
Through careful planning, you won't need to be a scrooge this Christmas!