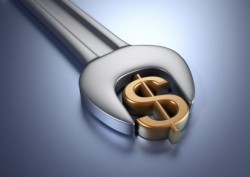 Many banks and credit unions still impose severe penalty fees (or exception fees) for bounced cheques, direct debits and overdrawn accounts. Here's the
Your Money Magazine
guide to nasty bank fees and some tips on how to avoid them.
If you thought they'd been abolished our outlawed, think again. Several major banks have made a big song and dance about getting rid of nasty fees for things like rubbery cheques, overdrawn accounts and not having enough money in your account to cover a direct debit.
There are plenty of banks and many credit unions, however, that continue to charge these heft penalties and have no intention of changing the practice. Here are some examples YMO has uncovered during our research on everyday bank accounts:
• AMP eASYtransact account: $45 dishonoured cheque charge
• Hume Building Society: $20 dishonoured cheque charge
• NSW Teachers Credit Union: $35 dishonoured cheque charge
Some financial institutions will charge you for an inward dishonoured payment – that is, being charged because the person attempting to send you money doesn't have enough funds to do so. For example, People's Choice Credit Union charges $15 for a dishonoured inward and outward direct debit payment.
Overdrawn accounts also attract hefty penalties. Many accounts penalise you with a high daily interest penalty (such as 16%) when your account is overdrawn. In other cases, you may be charged a fixed penalty – such as $40 in a Suncorp Everyday Basic account.
Late last year, there was a class action suit against the ANZ's penalty fees. However, it was ruled that fees for non-payment, honour, dishonour and over-limit were not penalty fees but rather "fees for service". The only charge that was considered to be an excessive penalty was late payment fees.
How can you avoid penalties?
1. Look for an account that doesn't have any penalty fees or ANY fees for that matter. NAB's Classic Banking account has no fees for overdrawing, dishonoured cheques or direct debits.
2. Wait for government reforms: they've already been developed in response to credit card penalty fees. From 1 July, new credit card holders will not have to pay over-limit fees unless they specifically agree to do so upon purchasing the card.
3. Change your behaviour: With a slight change in behaviour, you can avoid such penalties. It's important to frequently check your balance, to know if you might slip up. If you think you may not be able to meet your direct debit payments, try to reschedule them at a date where you know you'll have enough money in your account. This prevents you from being charged for a dishonoured direct debit and overdrawn account.
4. For credit card holders, make your repayments well before the due date, to allow time for processing. Since customers are still vulnerable to over-limit fees for the next several months, it pays to keep a regular eye on your credit card transactions so you're aware of how close you are to the spending ceiling.