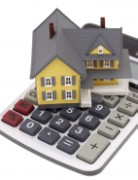 Many lenders are hungry for your business right now and that means they're prepared to negotiate on interest and fees, offering discounts that could save you thousands.
There are signs that first home buyers are starting to re-enter the market and if the Reserve Bank takes rates lower again in February, this trend could continue. Aussie Home Loans is predicting the official cash rate to be a whole 1% lower (3.25%) by this time next year.
If that happens it could create a "perfect storm" for first home buyers to re-enter the market, according to Aussie founder, John Symond. He says the combination of lower interest rates and lower property prices will make it easier for first-time borrowers to save for a home.
Meanwhile, if you're considering refinancing or borrowing to invest and you have your finances in good order, now is a great time to start talking to brokers and lenders.
Rochelle Hall is principal of the Aussie Home Loans brokerage in Strathpine, Queensland. She says she has just negotiated a full 0.95% interest rate reduction with a lender for an A1 client and that such deals are quite common at the moment.
"It's not only the major banks that are fighting it out for business, it's the non-majors too and they're reducing rates and reducing fees," says Hall.
She says a year ago the hot competition was for borrowers with big deposits who wanted big loans, "the cream" of the market but now there's hot competition for lower loan amounts, even those in the $200,000 range and lower deposits (10% and lower).
Not surprisingly, Hall says the best way to make the most of these current borrowing conditions is to use a broker.
"We are definitely running on pricing at the moment but the key is to know which lenders are doing what. I can honestly tell you the chances of getting the best deal available if you don't use a good broker are next to zero," she says.
Hall says the key to finding a hot home loan deal is to
Determine your needs
Identify which lenders will approve the loan based on those needs
Determine which lenders are willing to negotiate on rate and/or fees
Quite often the home loans advertised by lenders are their most expensive and if you know the right questions (and the right people) you can end up with a cheaper loan that's not being heavily advertised.
Fee reductions are also common at the moment and Hall says many lenders are willing to waive annual package fees for the first year. These fees are commonly charged on home loan packages that have discounts off the standard variable rate and offer other benefits such as fee-free transaction accounts. This represents a saving of around $395 on some packaged loans.
However, Hall says borrowers may not realise that there are smaller, non-bank lenders who are offering comparable interest rate deals without the ongoing annual fee.
Hall doesn't think opportunities to negotiate will diminish any time soon but recommends talking to a broker as well as shopping around for direct deals.
She also says there are some lenders, such as AMP, that are only accessible through brokers and are currently offering highly competitive deals.
A good place to start your search for the hottest home loan deal available is to keep an eye on advertised rates.
If you're looking to refinance, UBank is currently offering a 6.14% refinance-only deal
State Custodians Mortgage Company's standard variable rate is 6.17% and you can fix up to 50% of the loan for three years at 6.04%
Use these advertised examples to start your conversation with other lenders or a broker.
-- By Jackie Pearson