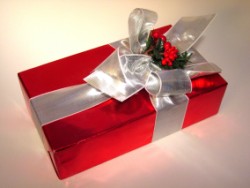 Your Mortgage is here to save your Christmas from the doom and gloom of financial woe. Here's the YMM guide to spending less and smiling more this Christmas.
It's Christmas! Scrumptious food and baubles galore! A time when everyone is happy, generous and loving! A time when we spend recklessly and suffer a painful debt hangover in the New Year!
Christmas can be more about credit cards, lay-buys and impulse purchases than family, friends and joy. We all go into the end-of-year spending season with good intentions, but it can get to the point where we spend more time with fellow cranky and miserable shoppers than our loved ones.
So save your sanity and bank balance this year by following some simple rules.
1. Choose the right credit card
There aren't many of us who can get through Christmas without whipping out the plastic, so choose a credit card you can get the most benefit out of.
If you're confident that you can pay back the balance for all the purchases you make within a certain period, then the world is your oyster! There are a number of options available which mean you may be able to spend almost interest-free!
Now while 0% p.a. may seem like a Christmas miracle, there are a number of traps you need to beware of. If you don't pay back the entire amount owing by the time the six months is up, then 'BAM'! You'll be hit with a whopping interest rate of over 20% p.a.! That will definitely break your piggy bank and stretch your wallet.
Then again, if you're a smart cookie, you can sniff out a deal which gives you the best of both worlds. For example the Citibank Clear Platinum Card has a 0% p.a. for six months and a reversion rate of 11.99%, and a discounted annual fee for the first year. This kind of card is best if you're not as confident about paying back the balance in its entirety.
Now that's not to say that the Virgin and American Express cards aren't good – both offer pretty amazing frequent flyer reward programs. But don't be tempted straight away! Be honest with yourself – if you don't fly a lot then why choose it?
Or why not take advantage of a cashback offer? Take a look at the Bankwest Breeze Gold Mastercard which offers 10% cashback on your purchases over the three month festive season! This kind of card gives you a little more leeway if you don't end up paying back the full balance within the limited period as it has a lower interest rate of 10.99%. But make sure you do some calculations first, or the amount you pay in interest may be more than what you earn in cashback!
Be careful. Whatever card you choose, watch out for the side-costs. Annual fees can go as high as $700!
2. Shop online
It may surprise you but only 6% of Christmas purchases are done online! This is an untapped goldmine of bargains and convenience.
Let's take a look at one of the most basic (and annoying) Christmas gifts: a CD of carols by the suave Canadian crooner, Michael Bublé. In shops you could pay up to $32.99, but on eBay you could bag it for $14.95 with free postage! Instant saving!
It requires you to do some scrounging around and clicking galore, but the savings will add up so quickly that you'll be jumping for joy. If you're an extra keen bargain-hunter, you can find gifts you like in stores then scope them out online. You could save hundreds.
Another money-saving move is to join online shopping websites which offer exclusive sales to members. Sites such as www.dealsdirect.com.au and www.topbuy.com.au have some great offers right now, and even provide free shipping within Australia for the Christmas season!
When you're shopping online you can also use promotional codes and vouchers to save even more. There are websites where people post discount codes and if you take a quick look at sites like www.topbargains.com.au and the aptly named www.ilovecoupons.com.au, you could save more than you anticipated!
3. Cut down your gift list
It's understandable that every year the list of people we need to buy gifts for gets longer and longer; Christmas is indeed about sharing the love! But there comes a point where enough is enough.
Let's be honest. Will your sister-in-law's neighbour's father really care whether he gets a tacky mug or not?
First of all it's important you have a strict list that you have planned out well before you actually go shopping. This not only means your shopping gets done quicker, but that you're less likely to impulse buy!
When it comes to families, buying presents for each person can be expensive. So why not buy one big present for the family or small gifts for just the kids! Happy kids do mean happy parents after all!
Finally, don't be worried about being ruthless. Your future self will thank you for it.
4. Take the DIY path
As they say, it's the thought that counts! If you make your own gifts, not only will it be kinder to your wallet but they will have a personal touch that no store-bought gift can give.
And if you don't trust your creative skills for gift-making, why not try your hand at gift-wrapping instead! Even if it's saving the $5 you would have spent on a roll of wrapping paper, that's $5 you'll be glad to have in your pocket when the New Year comes around.
5. Wait for the sales!
While this is probably the simplest trick in the book, it's also the most effective. Buying gifts when they're cheaper makes sense. Sure this requires a lot of forward thinking, but if you're able to snap up a bargain months before Christmas then do so!
This also applies to greeting cards, wrapping paper, trees, decorations and those dreadful dancing Santa dolls. Of course everything to do with Christmas is going to be cheaper after it's over – stores will be desperate to get rid of their excess stock, so this is a fail-safe option!
So make a trip to those Boxing Day sales and take advantages of stocking up for next Christmas at up to 90% off! This will also take away a lot of the stress during December if you already have everything you need. You may even be able to decorate your tree with those expensive crystal decorations you've been eyeing for years!