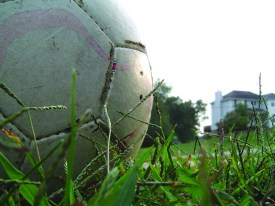 It's about time good guys caught a break, but it's only going to happen if you kick your own goals. Many consider financial goals the hardest ones to kick, but this need not be so.
It won't be easy, (everybody would be doing it if it was) but there is everything to lose by not making and following your own financial plan. Achieving financial success means feeling secure, and preserving a comfortable future for you and your family.
The first step
You should ask yourself to imagine how you want your future to play out. Do you want to live in a nice home, be able to help your kids, take holidays and retire debt free? To make that dream become a reality, you need to keep track of your money management goals.
It's you on the penalty spot
Fix bad habits before moving forward. Just about anything and everything can take precedence over fixing your money habits if you let it.
What do you want?
Have you written down your goals? Are they easy to refer to and remind yourself? Do you want to buy a house? Increase your super? Make property or share investments? Go on regular holidays? You should record your expected income and compare your goals to what is realistically achievable.
Remember your goals
If you want to achieve your goals, you need to start living them. If keeping focused means putting a personalised message on your phone, your desktop, your toilet door- it's worth it. It may read "Eye on the prize" or more simply "I want to get wealthy". However you remind yourself of your goals, the point is to stick to your plans to realise your long term financial dreams.
Sky's the limit
You may be earning a certain amount now, with the potential to increase somewhat over time, but is that going to cut it in the long term? If you've got big dreams but limited cash flow; start thinking outside the square. Ways to increase your future cash flow may include:
Buy an investment property
Borrow to put a share portfolio together
Start a small business
Build up your super so you retire on $100,000 a year in retirement, adjusted for inflation
Budget
This is a top tip you will often find us at Your Money Magazine spruiking - and for good reason. Having a budget is the key to living within your means, and providing a nest egg for your future. If you don't have one, you're far less likely to achieve your long term goals.

Become a student of wealth
It pays to know your stuff. For example, research the ways you can get more from your tax, investigate household savings such as installing a solar system, any government rebates, a more cost effective car. There are endless ways you can save money, and make no mistake: you will thank yourself. Increase your knowledge by regularly monitoring your expenditure, and always looking for ways to keep more money in your pocket.
What now?
Peter Switzer from the Switzer financial services suggests the following 7 step guide to getting started:
Write down your goals
Cost the goal
Do the budget to see where you are at now
Draw up the plan to make it happen
Make the changes to ensure your goals come true
Put the goals in a place where you see them every day to make sure you stick to your plan.
Remember: If you do your plan, it will put you on the road to riches.
Latest Articles
Fill up while petrol prices are low

Could solar save you?

Safeguard your super

Gold rush: should you resist?