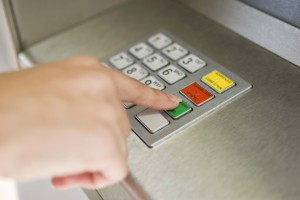 If you're not careful you can be slugged three times when using an overseas ATM. One $200 withdrawal could cost $16. Here's how to beat ATM fees next time you travel overseas.
The last thing you want to feel like when you're on holidays is a victim but that's exactly what you can become if you withdraw money from an ATM without doing your homework.
First there will be the direct ATM fee, which can cost around AU$5, depending on the location. You may be lucky enough to be in a country where the fee is disclosed on the ATM screen and you're given the option of cancelling the transaction. Otherwise you won't find out about the charge until the next time you go online or check your statement.
Then your own bank – if it is one of the major big four banks in Australia – will charge either $4 or $5 per overseas ATM withdrawal.
But that's not all.
On top of their flat overseas ATM fee, the major banks also impose a foreign exchange commission of 2-3%. Ouch!
So how can you avoid these stinging fees?
1. Research the location
This will be easier if you're going to one location for your holiday. Do a few creative google searches like "cheapest ATM in Bali" to uncover reliable traveller blogs. If you are staying at a particular resort or using a tour company, ask for their inside information. Even better, get your friendly bank on the job to find the cheapest ATMs for you.
2. Use a pre-paid money card
Four brands of pre-paid travel cards are currently available in Australia. Here's a quick snapshot of how they rate.
American Express Global Travel Card
• Lowest fees and ongoing costs and no expiry date
• Not as competitive in terms of other features and flexibility
• Lack of Amex acceptance may be a problem in certain destinations
• Competitive exchange rates, especially for US$
ANZ Visa Travel Card
• Highest number of available currencies, which you can pre-load and lock in
• Fees are good value
• Reasonable amount of flexibility and features
Cash Passport Prepaid Mastercard Currency Card
• Fees and features not quite as attractive as competitors
• Comes up trumps in terms of how much you can laod
• Very flexible in terms of withdrawing and spending on your card
Commonwealth Mastercard Travel Money Card
• Relatively low fees and costs
• A great online and SMS banking facility to keep track of your money
• Can also lock in exchange rates for multiple currencies in advance
3. Open a premium account
Some 'high-end' transaction accounts have extra features, including free overseas ATM use. The NAB Gold Banking Account, for example, has no overseas ATM fees. Just look for the PLUS sign before using an ATM.
4. Transact with care
Plan your travel budget in advance and make larger withdrawals less often. Of course, the trade off is risk of theft, so if you're in South Central L.A., pay the charges! If you're in rural Austria, make one big withdrawal.
Use ATMs attached to open bank branches wherever possible. That way if the machine eats your card you can at least go into the branch and seek their help to recover it immediately.
-- By Jackie Pearson